Thekingofbuxton's Geography Resource Shop
227Uploads
4k+Views
1k+Downloads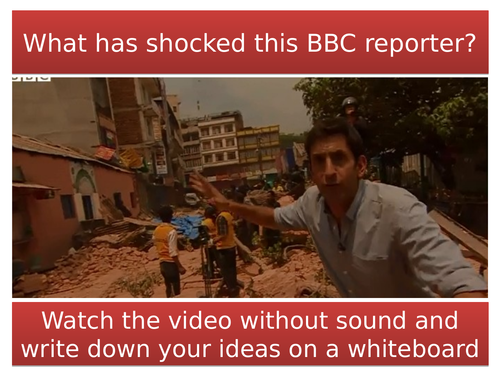 Learning Objective: To explain the causes and impacts of the Nepalese earthquake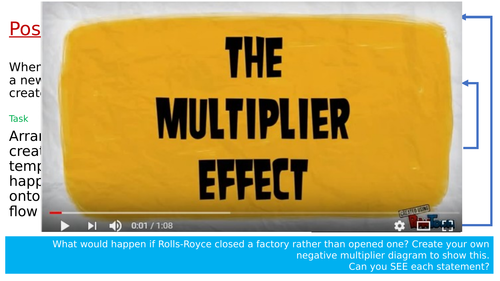 Lesson focused on the positive and negative multiplier effect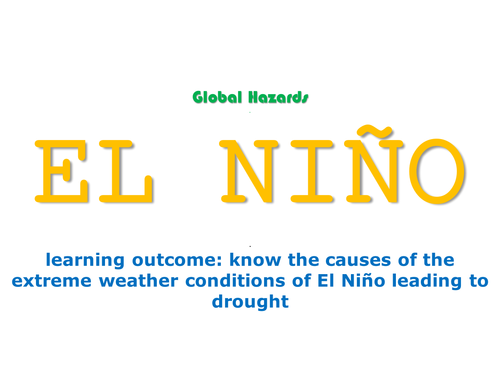 A lesson focussed upon the causes of the extreme weather conditions of El Niño leading to drought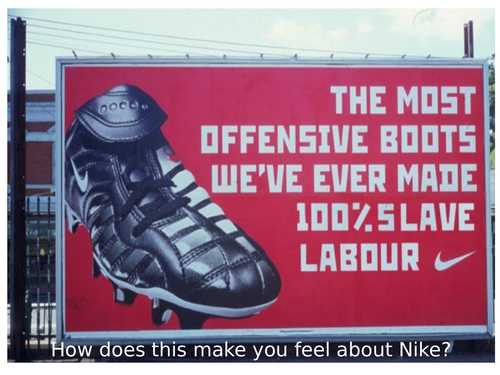 To be able to identify the features of a TNC. To be able to describe & explain the reason for sweatshops To be able to create a campaign to raise awareness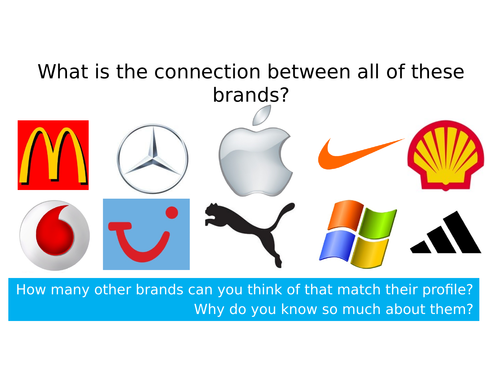 To be able to define what globalisation is. To be able to describe the factors that have allowed globalisation to occur. To be able to explain the advantages and disadvantages of globalisation.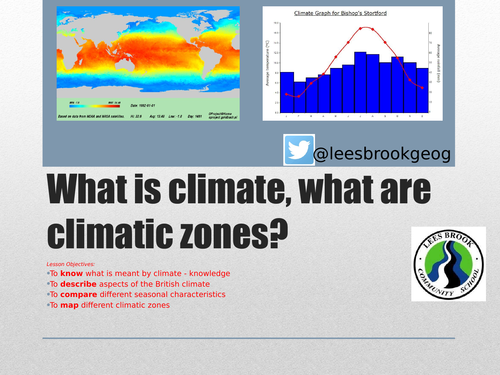 Lesson Objectives: To know what is meant by climate - knowledge To describe aspects of the British climate To compare different seasonal characteristics To map different climatic zones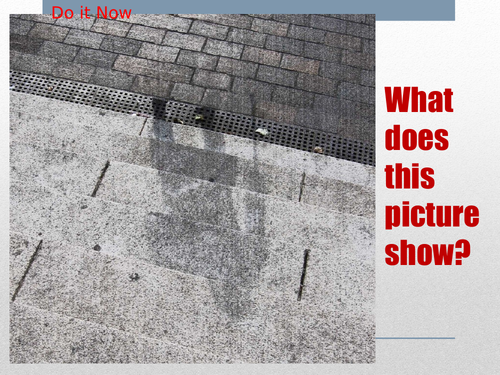 To understand the arguments for and against using more nuclear power in the UK To create a mind map showing advantages and disadvantages of nuclear power To construct a biased argument either supporting or opposing nuclear power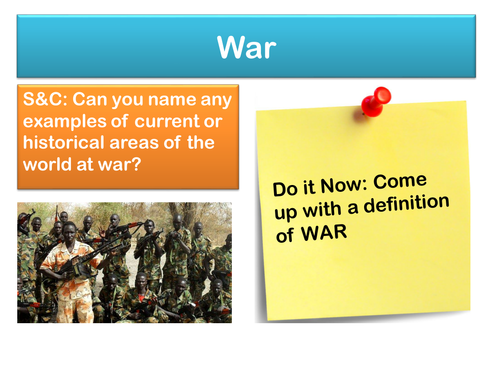 to understand the causes and impact of conflict in Sudan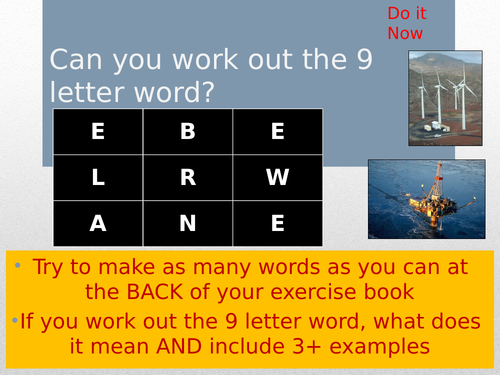 To analyse the possibilities of Renewable Energy in the UK To feedback on research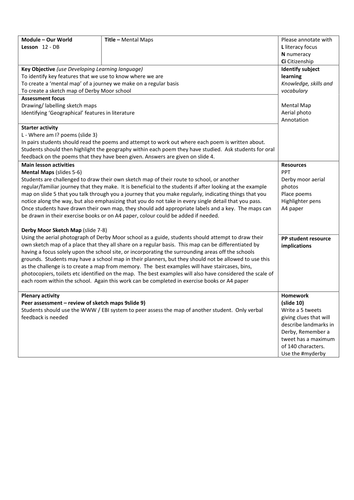 To identify key features that we use to know where we are To create a 'mental map' of a journey we make on a regular basis fully resourced lesson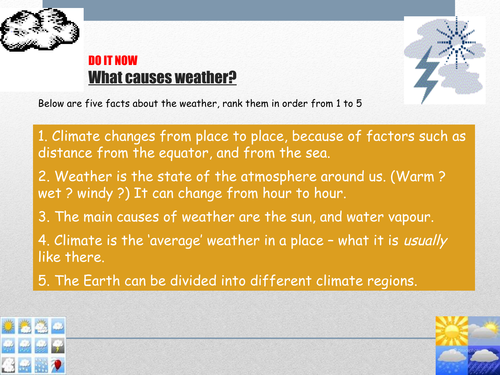 Objectives To use key geography words with confidence. To understand the part played by the sun and water vapour in causing our weather. To suggest what happens when these two causes work together. To write simple explanations for different types of weather.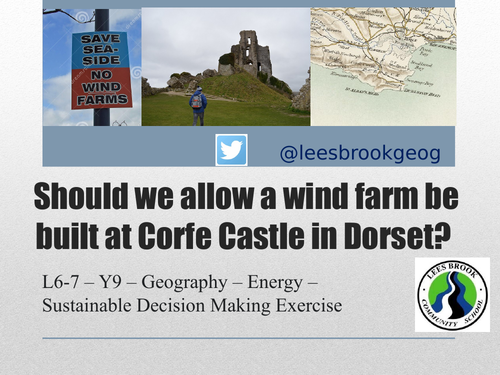 To understand map evidence and apply this to decision making. To use sources of evidence to support different points of viewTo propose a justified decision whether or not the wind farm should be built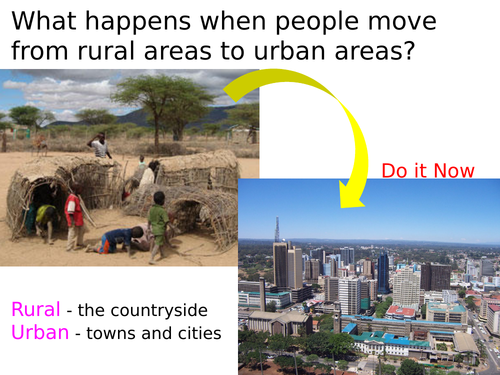 To to compare and contrast the different types of settlement in Kenya. To describe and explain the impacts of rural urban migration in Kenya.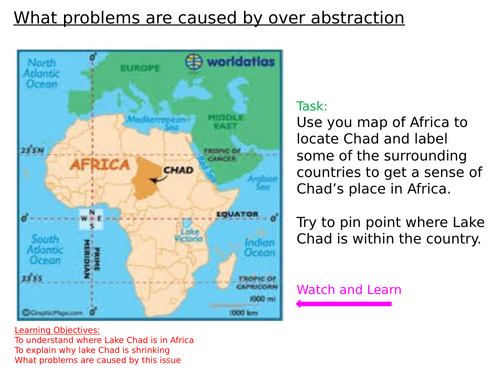 To understand where Lake Chad is in Africa To explain why lake Chad is shrinking What problems are caused by this issue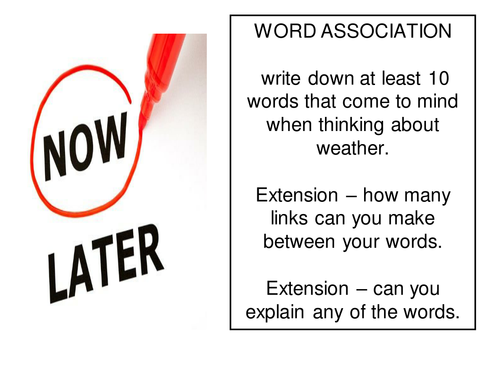 Intro lesson to the new OCR b new specification GLOBAL HAZARDS Unit. This lesson covers weather and climate definitions and comparisons , along with why geographers study the weather and and exam question homework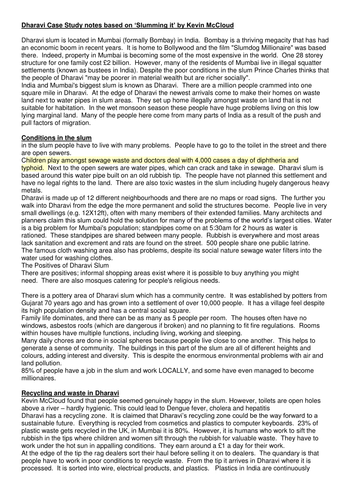 You should understand a range of OPPORTUNITIES and CHALLENGES in Mumbai, a NEE The ability to classify these opportunities and challenges as social, economic and environmental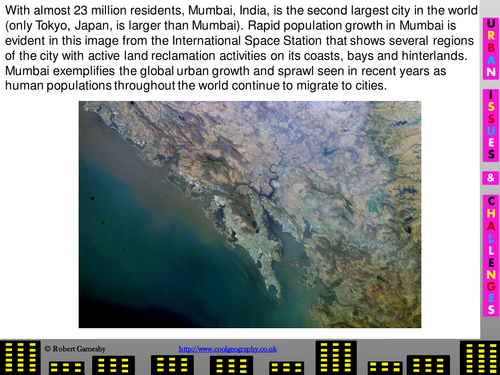 To be able to describe the location and growth of Mumbai To understand the location and importance of Mumbai, both nationally and internationally To evaluate the causes of growth in Mumbai: natural increase and migration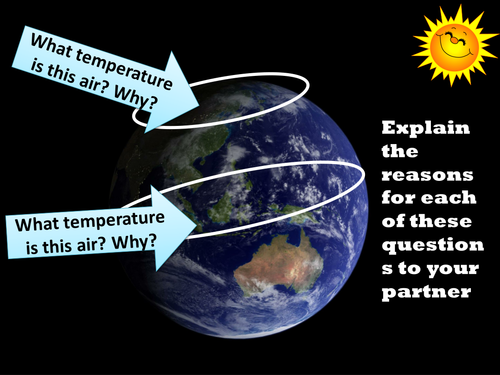 A fully resourced lesson focussing on atmospheric circulation for the new spec OCR B global hazards unit.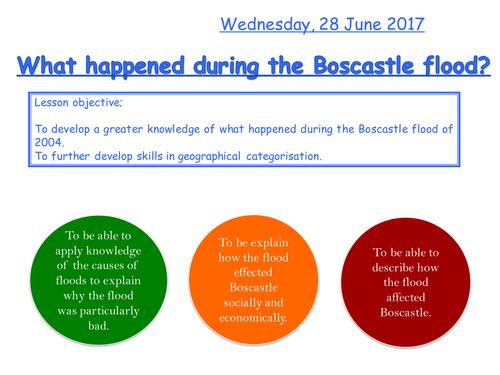 A case study of the causes, effects and responses to flash flooding in the UK, fully respourced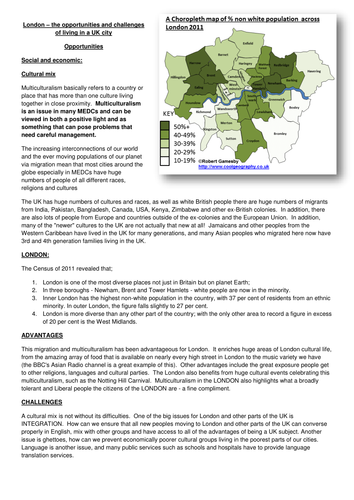 You should understand a range of social, economic and environmental opportunities available in London You should be able to explain (with reference to London); The cultural mix Recreation and entertainment Employment, Integrated transport systems Environmental: urban greening