Thescienceflask's Shop
Chemistry Resources for KS5 and Science Resources for KS3 and KS4
10Uploads
2k+Views
1k+Downloads
Chemistry Resources for KS5 and Science Resources for KS3 and KS4
Lessons on Topic 8 Energetics of Edexcel. It can be adapted for other boards. It includes powerpoints, handouts and worksheets on Exothermic/Endothermic, Enthalpy, Hess's Law and Bond enthalpy.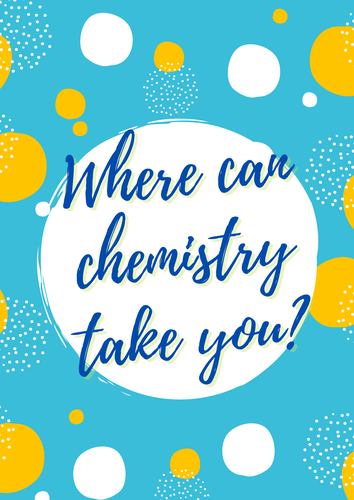 A display based onf the question 'Where can Chemistry take you'? Ideal for science careers promotions
Lessons on Topic 10 Equilibrium I for edexcel - I made this powerpoint with a combination of resources I found on tes
They are the lessons on topic 11 Equilibrium II for Edexcel. Including how to calculate Kp, Kc, and controlling the changes. I cannot take credit for all these resources. They are a mixture of my one and what I have found on TES.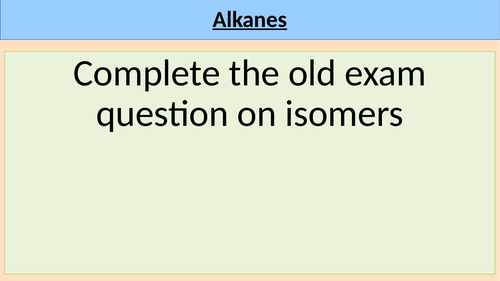 These are two lessons on Alkanes Topic 6 - Organic Chemistry for AS Edexcel. I would also include a demonstration of cracking and distillation of crude oil (see RSC practical sheet attached). I also include alkane + bromine water in dark and light and the combustion of the distillate of crude oil. I cannot take full credit for the resources as it is a mixture of resources I found on TES and my own work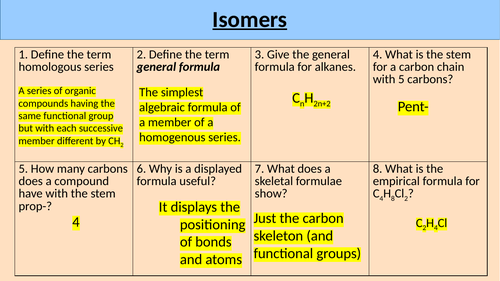 This is the second lesson of Topic 6 - Organic Chemistry for AS Edexcel. It covers isomerism but not stereoisomerism. I cannot take full credit for the resources as it is a mixture of resources I found on TES and my own work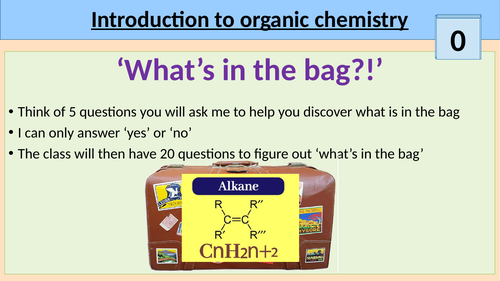 This is the first lesson of Topic 6 - Organic Chemistry for AS Edexcel. I cannot take full credit for the resources as it is a mixture of resources I found on TES and my own work