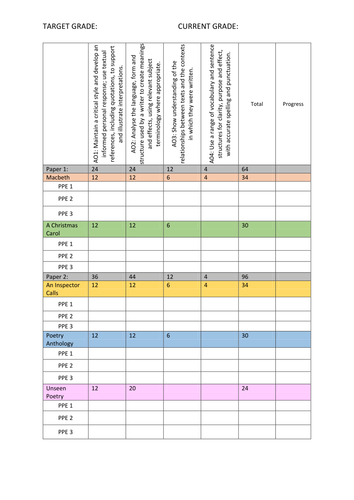 A one page target sheet for students to use as an overview to track their marks. This acts as a tracker sheet or a PLC for GCSE AQA English Literature. PPE= Pre-Public Exam. This is a PiXL term for mock exam. Can easily be adapted as it is a word doc.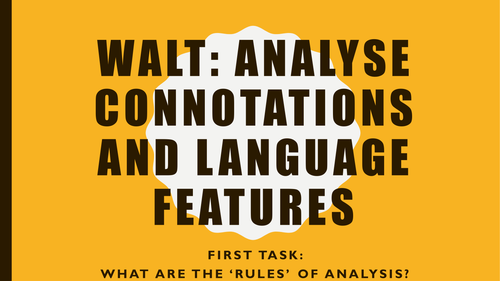 Good ppt for connotations. Starts with colours, then symbols and then word choices. Includes quiz on language devices. Includes matching activity on language devices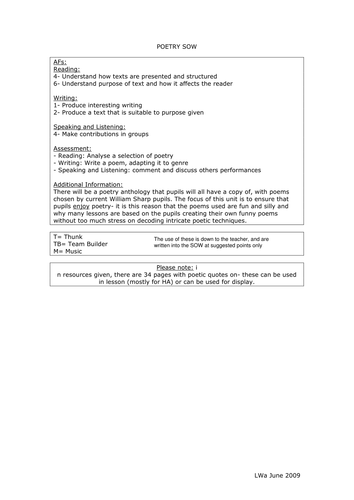 This is an comprehensive scheme of work that introduces poetry, explores how to approach unseen poems and structures analysis. Resources include: - 35 poetry quotes - unseen poems - framework map to analyse poetry This scheme of work is easily adaptable when teaching any poem. The scheme of work is extensive, and highly structured so tasks can be picked out to suit your class.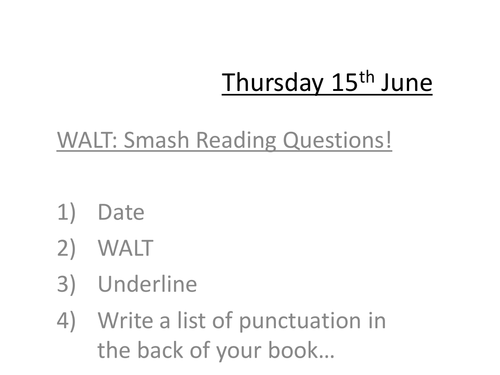 An in depth guide to maximising marks in A1,2,3 on the Educas Language paper. Skills included: - Skim and Scan - Reading comprehension skills - Step by step analysis of a text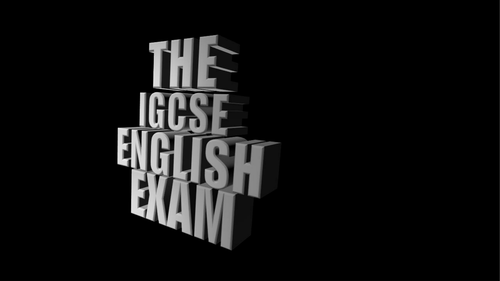 A large revision ppt that takes students through each question. Many examples are given. Attached also two mock papers made my myself. Reading comp task also included.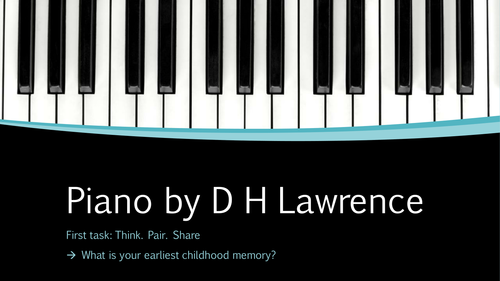 This is a detailed exploration with lots of tasks, comprehension questions and step by step animated annotation.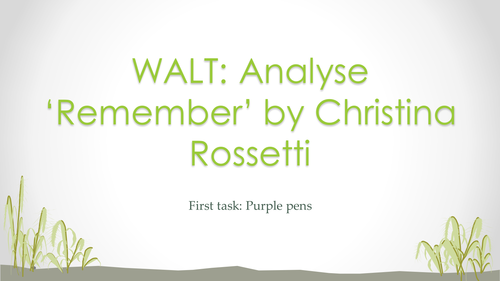 This is a detailed exploration with lots of tasks, comprehension questions and step by step animated annotation.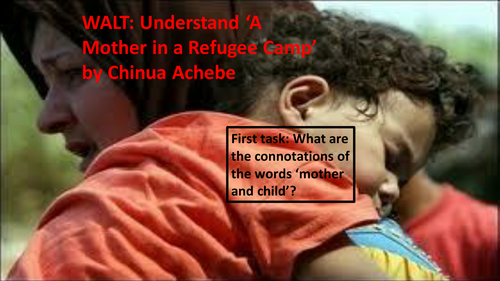 This is a detailed exploration with lots of tasks, comprehension questions and step by step animated annotation.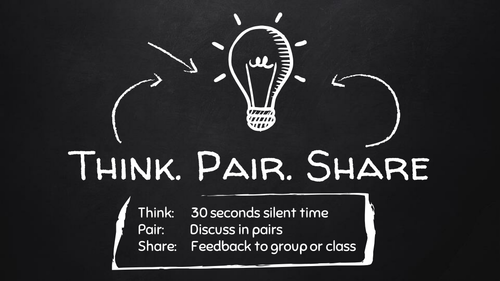 Ten attractive poster like slides that explore Kagan techniques and teaching and learning techniques to try. This is a great resource to print and put into pigeon holes.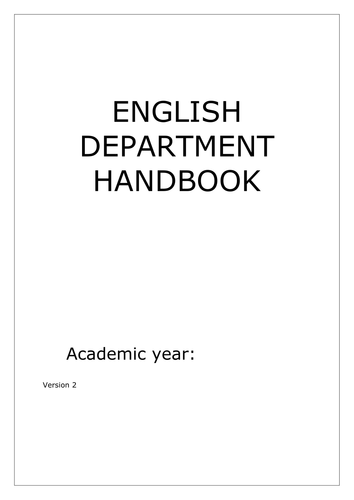 This is an example department handbook. It was originally made for an English department but can be suited to any. It is an incredibly comprehensive document. It contains the following: - Handbook -QA Calendar - CPD Audit -Department Development Plan -Curriculum maps -Reflection sheets for pupils, 'My Progress Path' -Student Voice Surveys and policies on: -ITT - NQT - S and L - Behaviour and many more Please note: there are some blanks as names have been removed.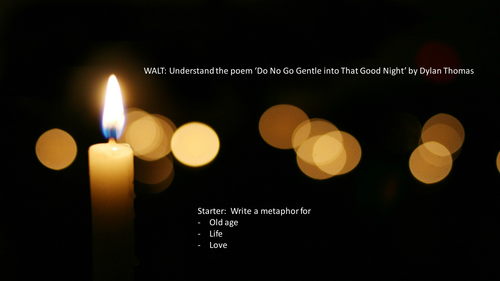 Detailed ppt that takes pupils through the poem with detailed annotation. Can easily be printed off and used as a revision guide.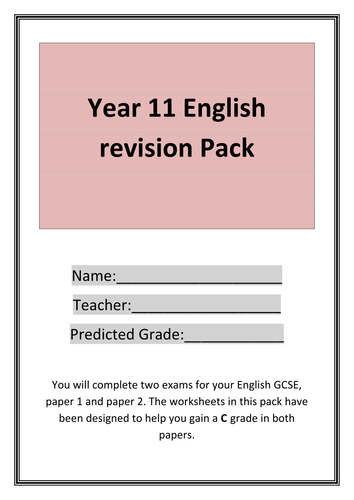 This is a revision pack for pupils. Each sheet is structured into three sections (learn, revise, remember) with timings set. It contains, revision sheets for:  Punctuation  Fact and opinion  Spelling and vocabulary  Organising ideas  Language techniques  Persuasive writing techniques And includes revision sheets for: - Pieces of Silver - The Red Ball - The Young Couple - Leela's friend - Games at Twilight - The Winter Oak The sheets are ideal to use individually as homework or used for cover lessons. Sheets are very accessible to students and can easily relate to any English exam board.
Includes: -literacy correct exercise -language features/tech/devices quiz and answers - crossword -several key quotes - annotated quote - two annotated pages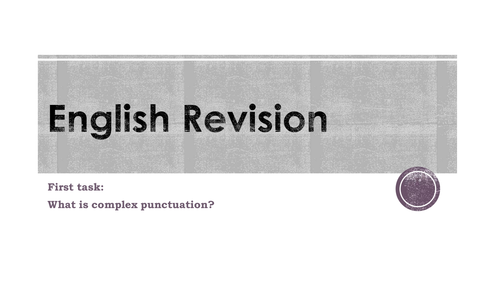 I have used an extract called The Fearless Dinner and made questions 1a)-1g) myself. I have also made a question 2- this is on the ppt slide. *Please note this resources is also used in my other shop item called ' ENGLISH IGCSE REVISION PAPER 1 CORE' Question 2 is not.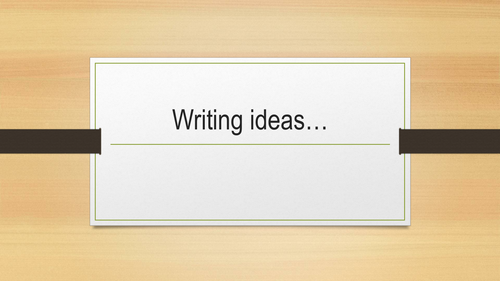 This ppt contains 16 different creative writing activities that can be adapted to suit age and ability. These are guaranteed to ensure your pupils enjoy writing and engage in it. Activities are very creative and innovative.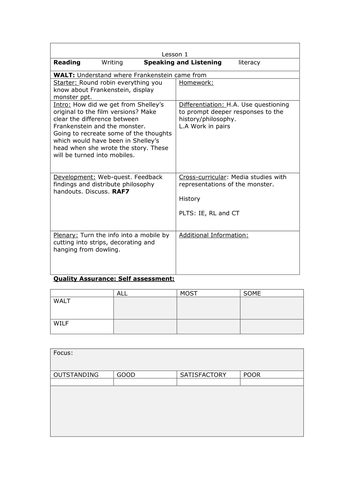 This is a detailed, lesson plan per page, scheme of work for Frankenstein. There are many ideas here that can be used. This can also be used for stand alone lessons or cover lessons as the description is very comprehensive.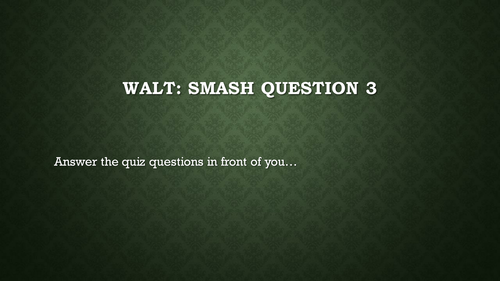 A detailed ppt that accompanies several resources including: - comprehension - Exam quiz - Exam starter - Exam question analysis - Comparison of answers resource - Text and question for 3a and 3b and answers - Another text and question for 3a and 3b and answers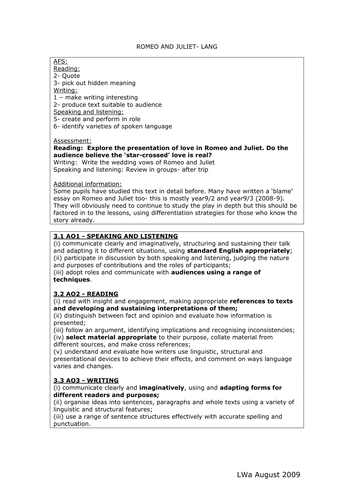 This can be adapted for any version or any exam board. Each page contains a detailed lesson plan, with extension and differentiation suggestions. This is ideal for cover work as lessons can be printed and are very comprehensive. Each plan contains a series of tasks so you can easily pick and choose what you would like to teach. Resources contain a lesson plan, wordsearch and homework tasks.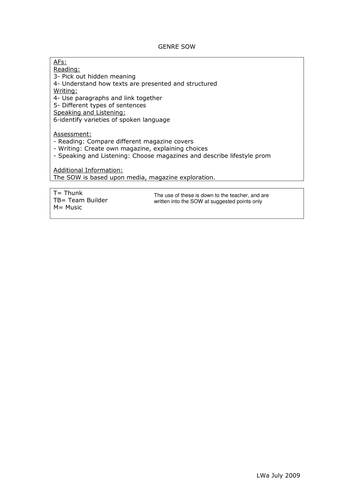 This is an extensive scheme of work that allows you to pick and choose. This has many ideas in and can easily be adapted to many lessons. The resources will be usable for many topics. Additional resource included- magazine covers. You will use these several times!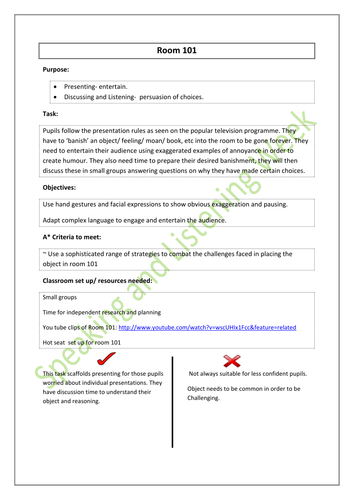 Each 'card' has a speaking and listening idea on, giving detailed information of what to do and how to do it. I have given these directly to pupils before and let them decide which ones to try.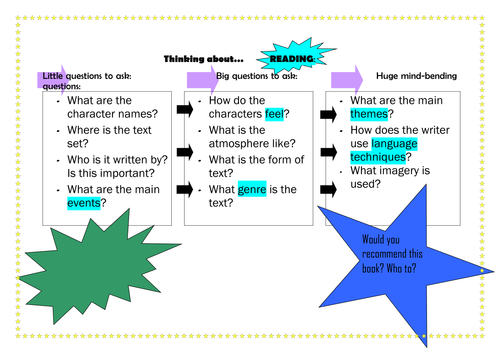 This two page document forms a series of questions/ tasks for pupils to complete focused on reading and writing that can be applied to any text. The mats are differentiated and pupils can choose which questions to answer. I have used a display before and have also laminated them back to back so that I can hand out when extension work is needed.