Olga N. Santoveña's Shop
Mummy, MFL Teacher and Translator EN - FR - IT > ES
3Uploads
66Views
11Downloads
Mummy, MFL Teacher and Translator EN - FR - IT > ES
Lesson plan for a monolingual class of upper-intermediate students, aged 18-25. Prepared questions in the warmer stage are not included. The lesson also includes the Materials and a Vocabulary Teaching Table.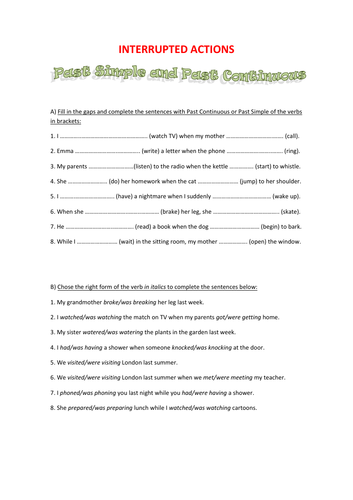 Lesson Type: Grammar Lesson Aims: To introduce and practice the past continuous to describe interrupted actions in the past. Lesson Objectives: Students will understand and know how to form the past continuous (to describe interrupted actions only) in an appropriate context; Students will learn to contrast the use of the past continuous and past simple (Action 1 was happening when Action 2 interrupted it); Students will make controlled and freer practice of the past continuous and past simple in this function. (to be completed)
Role Cards made by me for a mixed nationality class of Advanced C1 adults Follow up activity NAME OF ACTIVITY: Simulation (banning plastics from your town) HOW LONG: 20 min approx. AIMS: This activity helps to improve the speaking skills and recycle vocabulary. TEACHER'S INSTRUCTIONS: Set up the situation. Divide the class into groups of 3 students. Give the role cards to the students. Each student is then allocated a role within a specific scenario. For this activity the scenario is: one student is the mayor of a little town in the mountains where there's also a lake; the other two students are the community's representatives who want to suggest measures to reduce plastic pollution. Give the students some time to prepare. The Mayor needs to write some questions to ask, whilst the others need to prepare what they would like to tell the Mayor about their plans to ban plastics. Oversee and manage the simulation.