T Christian-Doherty's Shop
19Uploads
8k+Views
10k+Downloads
11 lessons based on map skills Can be used with any KS3 - particularly suitable for Y7 Normal lesson and LA lesson included. Resources are towards the end of the powerpoint. Please let me know how it goes by leaving a review or tagging me in a tweet :) @geoqueen
Create your own country lesson Can be used with any KS3 - particularly suitable for Y7 Normal lesson and LA lesson included. Resources are towards the end of the powerpoint. Please let me know how it goes by leaving a review or tagging me in a tweet :) @geoqueen
UK Human features lesson Can be used with any KS3 - particularly suitable for Y7 Normal lesson and LA lesson included. Resources are towards the end of the powerpoint. Please let me know how it goes by leaving a review or tagging me in a tweet :) @geoqueen
UK Physical features lesson Can be used with any KS3 - particularly suitable for Y7 Normal lesson and LA lesson included. Resources are towards the end of the powerpoint. Please let me know how it goes by leaving a review or tagging me in a tweet :) @geoqueen
interpreting maps and photos lesson (part 2) Can be used with any KS3 - particularly suitable for Y7 Normal lesson and LA lesson included. Resources are towards the end of the powerpoint. Please let me know how it goes by leaving a review or tagging me in a tweet :) @geoqueen
interpreting maps and photos lesson (part 1) Can be used with any KS3 - particularly suitable for Y7 Normal lesson and LA lesson included. Resources are towards the end of the powerpoint. Please let me know how it goes by leaving a review or tagging me in a tweet :) @geoqueen
scale on a map lesson Can be used with any KS3 - particularly suitable for Y7 Normal lesson and LA lesson included. Resources are towards the end of the powerpoint. Please let me know how it goes by leaving a review or tagging me in a tweet :) @geoqueen
Relief on a map lesson Can be used with any KS3 - particularly suitable for Y7 Normal lesson and LA lesson included. Resources are towards the end of the powerpoint. Please let me know how it goes by leaving a review or tagging me in a tweet :) @geoqueen
Map symbols lesson Can be used with any KS3 - particularly suitable for Y7 Normal lesson and LA lesson included. Resources are towards the end of the powerpoint. Please let me know how it goes by leaving a review or tagging me in a tweet :) @geoqueen
6 figure grid references Can be used with any KS3 - particularly suitable for Y7 Normal lesson and LA lesson included. Resources are towards the end of the powerpoint. Please let me know how it goes by leaving a review or tagging me in a tweet :) @geoqueen
4 figure grid references Can be used with any KS3 - particularly suitable for Y7 Normal lesson and LA lesson included. Resources are towards the end of the powerpoint. Please let me know how it goes by leaving a review or tagging me in a tweet :) @geoqueen
Introduction to map skills lesson Can be used with any KS3 - particularly suitable for Y7 Normal lesson and LA lesson included. Resources are towards the end of the powerpoint. Please let me know how it goes by leaving a review or tagging me in a tweet :) @geoqueen
Speak Like a Geographer classroom display - inspired by others I had seen. Hopefully it is useful!
Literacy tube map display to encourage students to use different vocabulary. Design similar to the London Underground Tube Map - colours the same as the various TfL routes/types. Inspired by other TES users but design changes were made by me. I do not own the roundel, that belongs to TfL (Transport for London).
A first day of school activity to get to know students, ice breaker activity. Tailored to geography lessons but can be tailored to other subjects (have included word, pdf and PowerPoint files, whichever is easiest to edit). Two can be printed per A4 page, just print double sided!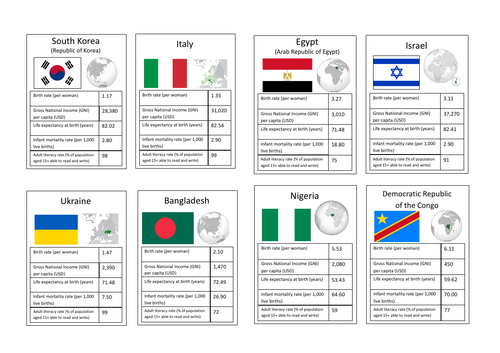 Development Top Trumps with a front card and also a definition card A range of HICs, LICs and NEEs. Edited from another version I saw, but different development indicators used.
Y8 lesson based on the jelly baby/jelly bean population game! Great way for students to understand how population changes over time and what influences it. I used Jelly Beans from Tesco as they were vegetarian and we have many students from multicultural backgrounds with various dietary requirements!
Original resource created by user: JonathanEGullis Instructions/Rules remain unedited. Year 8 interactive lesson adapted for Geography on the themes of development, trade, energy types, climate change, global warming, etc. Could be used across KS3 or adapted for GCSE. This lesson worked really well with my tricky Year 8 class, so hopefully this can help someone else too!
This was created for a Year 8 class to have a go at a GIS activity using ArcGIS online by ESRI. The whole idea behind this is allowing KS3 students to create their own maps of the English Indices of Multiple Deprivation by comparing Birmingham to the local area surrounding their school - hopefully this can be adapted to your own needs. I thought it may be an easy way to introduce GIS to the classroom, as some may find it daunting. ArcGIS online is free for schools through ESRI's GIS4School's initiative - if your school is not signed up then it's literally a click away! https://schools.esriuk.com ESRI have loads of GIS resources available too. I do not own the software, screenshots, or anything like that. I do not work for ESRI. I have had approval from a representative from ESRI UK Education who says it's fine for me to put this resource out there for free to help others in the profession, if you make any changes or seek to share this resource then that's fab! However if you're thinking of editing the resource and then charging for it - you will need a license to do so (contact the ESRI UK Education Team for more info on this).