Zhouxysharon's Shop
Hard-Working and committed A-level students with lots of resources to share with you ; )
7Uploads
9k+Views
104Downloads
Hard-Working and committed A-level students with lots of resources to share with you ; ) This is a comprehensive analysis of A Game of Polo with A Headless Goat by Emma Levine (from IGCSE EFL Anthology Non-fiction). 874 words! It includes the analysis of language and structure of almost all the points that might be used in exam. Hope it will be helpful! ; ) This is a comprehensive sample analysis essay of Young and dyslexic? You've got it going on by Benjamin Zephaniah (from Edexcel IGCSE English Language A, Anthology Non-fiction). 734 words! It includes the analysis of language and structure of almost all the points that might be used in exam. Hope it will be helpful! ; ) (It must be really useful lol) If you like it please let others know how great it is by RATING it! ; )) This is a comprehensive sample essay of Between a Rock and a Hard Place by Aron Ralston (from IGCSE EFL Anthology Non-fiction). 871 words! It includes the analysis of language and structure of almost all the points that might be used in exam. Hope it will be helpful! ; ) This is a comprehensive sample essay of poem Disabled by Wilfred Owen (from IGCSE EFL Anthology Non-fiction). 867 words! It includes the analysis of language and structure of almost all the points that might be used in exam. Hope it will be helpful! ; ) (it must be super helpful hahaha) Economics of IGCSE/Olevel workbook (with answer booklet!) If you like it, please let others know how great it is by RATING it!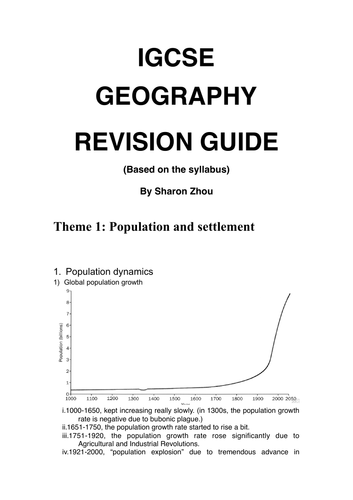 This is a revision guide for IGCSE Geography, covering chapters from population to river. It is base on the newest syllabus and include key points form textbooks or even from past paper mark scheme! 15 pages in total! Hope this can be useful and good luck in exam! The remaining chapters will be uploaded later. ; ) All case studies that might be used in exams are included here! 73 pages.