103Uploads
98k+Views
31k+Downloads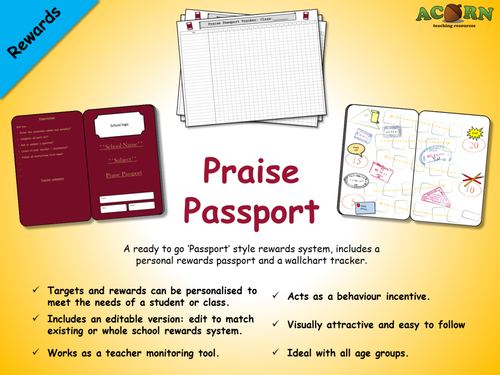 An attractive ready to go rewards system, ideal for classroom use. Included is the passport and a supporting wall chart. Targets and rewards can be personalised to meet the needs of a student or class. Includes an editable version: edit to match existing or whole school rewards system. Works as a teacher monitoring tool. Acts as a behaviour incentive. Visually attractive and easy to follow Ideal with all age groups. All reviews for our paid resources have received a 5/5 review (As of 17th January 2017)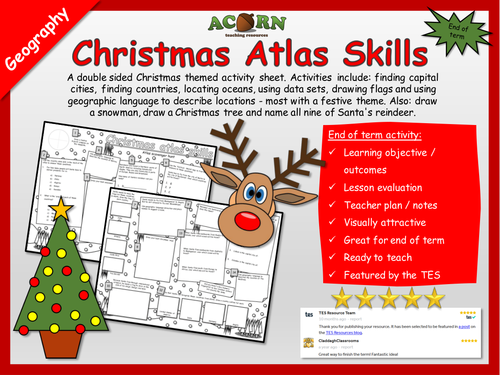 Fun and visually attractive, this Christmas themed atlas work sheet is great for end of term group activities. All you need is an atlas. A double sided Christmas themed activity sheet. Activities include: finding capital cities, finding countries, locating oceans, using data sets, drawing flags and using geographic language to describe locations - most with a festive theme. Also: draw a snowman, draw a Christmas tree and name all nine of Santa's reindeer. Included is a display slide with learning objectives and outcomes, an activity slide with instructions, teacher notes and a lesson plan. This resource was featured by the TES in their blog last year, and recieved a 5* review.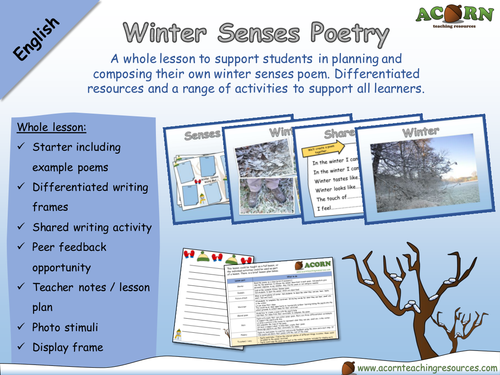 Another theme from our Senses Poem lessons. Fully resourced and ready to go! Our Autumn Senses poem was featured by TES in their blog and received a 5* review. All reviews for our paid products have been 5/5 (As of January 27th 2017). A whole lesson to support students in planning and composing their own winter senses poem. Differentiated resources and a range of activities to support all learners. Whole lesson: Starter including example poems Differentiated writing frames Shared writing activity Peer feedback opportunity Teacher notes / lesson plan Photo stimuli Display frame Created by Acorn Teaching Resources - www.acornteachingresources.com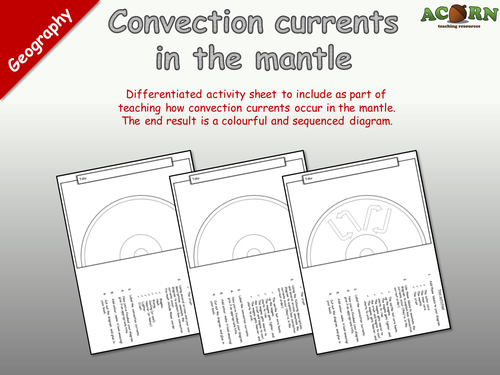 "Differentiated activity sheet to include as part of teaching how convection currents occur in the mantle. The end result is a colourful and sequenced diagram." An activity requiring students to draw an annotated diagram to show how and why convection currents occur in the mantel. The sheet has several activities built around this including; labeling the key features, adding arrows, explaining the processes, including a title and colouring it in. There are three versions to suit higher, middle and lower ability groups / students.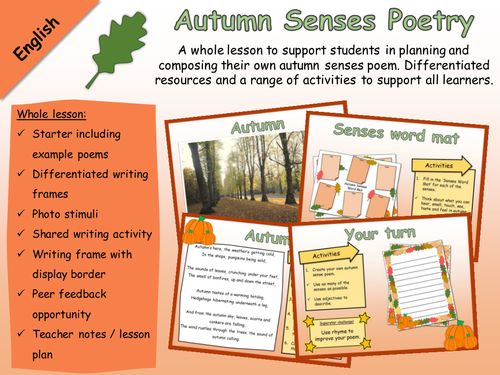 A whole lesson to support students in planning and composing their own autumn senses poem. Differentiated resources and a range of activities to support all learners. Whole lesson: Starter including example poems Differentiated writing frames Photo stimuli Shared writing activity Writing frame with display border Peer feedback opportunity Teacher notes / lesson plan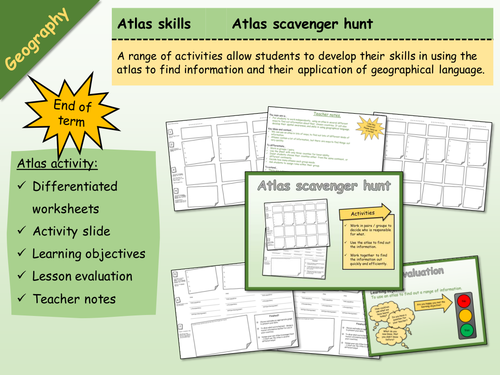 Whole lesson with instructions and teacher notes. Ideal for end of term. The main aim is… For students to work independently, using an atlas in several different ways to find out information about their chosen countries. It will also develop their spatial awareness, and skills in using geographical language. Key ideas and content… We can use an atlas in lots of ways, to find out lots of different kinds of information. Atlases contain a lot of information, but there are ways to find things out very quickly. Print in A3 - double sided.

Sequencing activity: River landforms - waterfalls This is suited to KS3 but does work with KS4 - you'll need to add more detail (processes of erosion etc.). There are four slides to help the teacher explain the processes involved and introduce the keywords. The activity sheet requires students to complete three activities. 1. Cut out and arrange the tiles. 2. Add the labels from the sheet. 3. Add the descriptions from the sheet. There is also an animated consolidation slide to allow teacher/students to check accuracy. For higher ability - ask the students to underline the key terms, add more key terms and write their own descriptions. Two version of the sheet are included; one in colour and one in outline black & white. Every review we've received for a premium resource has been 5/5* (As of February 20th 2017)

Diamond 9 templates - great as part of an activity where students need to rank, prioritise or make decisions.

Three labelled PPT diagrams to include in a lesson, to help when teaching... - Cliffs and wave cut platforms - Caves, arches, stacks and stumps - Headlands and bays Three worksheets to help students learn or demonstrate understanding. The worksheets have several tasks to help the students complete the diagram and link it to the processes of erosion. As of the 20th January, every single review we've had for a premium resource has been 5/5*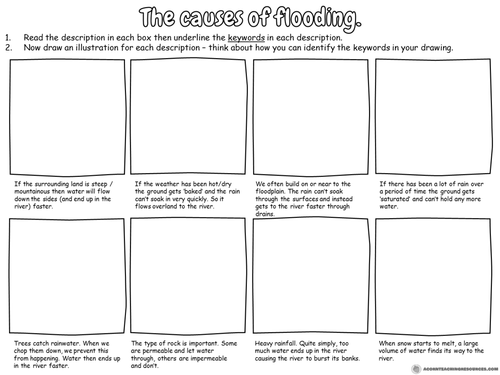 A simple activity to be included with teaching about the causes of flooding. Students read the descriptions and draw a diagram for each one. Ideal for lower ability groups.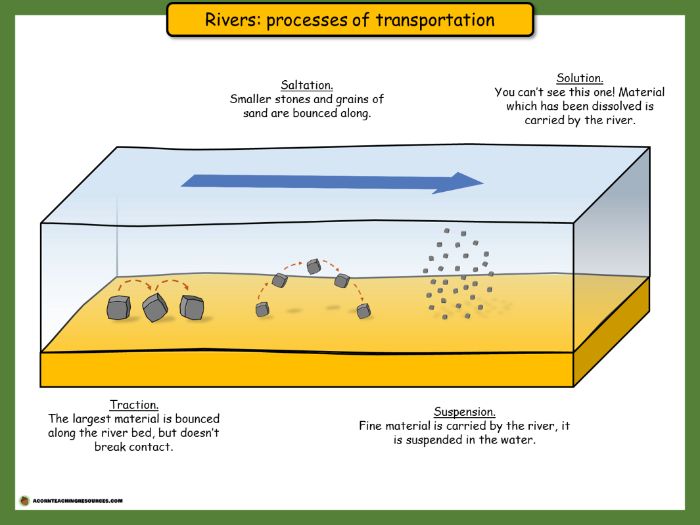 2 posters in PDF intended for use as either a resource or classroom display. Print in A3. www.acornteachingresources.com

AQA GCSE Geography - Unit 2 Section A - Urban issues and challenges - The emergence of megacities An activity packed and differentiated lesson teaching students about the characteristics of a megacity, their growth and their location. Included is a wide range of resources which can be applied in many ways. Whole lesson > Key concept starter > Discussion prompts > Key ideas > Map/distribution activity > Graph skills > Photo analysis > Exam style questions > Class discussion > Learning evaluation > Summary activity > Homework > Lesson plan > Teacher notes > Fully resourced > Visually attractive and ready to teach! The main aim is… To teach students about the characteristics of a mega city, their location, their growth (and reasons for it) To link to key concepts such as urbanisation and migration. Make it clear 'world cities' share many of the same characteristics – it's the population, the magic number, which makes it a mega city. Statistics and population data vary. For example, Paris has a population a little over 2 million, however, in some figures a wider area is taken into account. Make this clear to the students. The emphasis should really be on the growth (the emergence) of megacities in NEE's. Key ideas and content… Mega cities have a population of over 10 million people. They have similar characteristics – similar to those of world cities. Their emergence is mostly in Asia and more recently, Africa. There is a pattern! The number of mega cities has grown significantly over the last 50 years. Rural-urban migration and natural increase are driving rapid urbanisation in LIC/NEE's. To differentiate… Several activities have been differentiated already – use sheets as appropriate. Discuss and model the exam style questions. Allow independent / group thinking time for the discussion. Provide the key terms as a checklist when answering questions. To extend… Students can add information / data to the maps. The data could be presented in different ways. Actual examples can be added to the photo analysis activity. Students could develop their own mark scheme for the exam style questions. To assess… Use the exam style questions as an assessment opportunity. Assess the distribution description to assess distribution questions.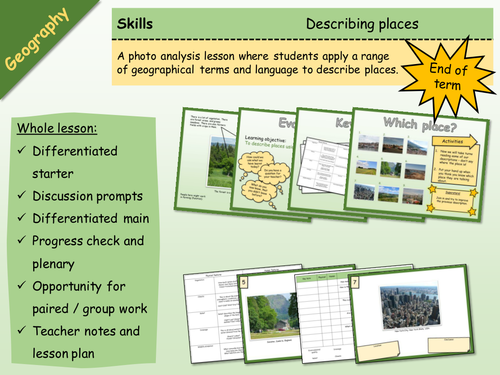 A big lesson with lots of opportunity for differentiation and engagement, as well as paired or group work. Basically, students learn how to describe places, and then apply this skill. It would work well as a skills building lesson in KS3, or as an end of term type lesson with either KS3 or KS4. There are differentiated resources for lower and higher, and a number of ways in which the activities could be undertaken (which are in the lesson plan). There are teacher notes and a lesson plan. The activities are clear, and there are Superstar extension activities. --- The main aim is… This is a big lesson which could be used as an end of term activity, or as a skills building lesson. Students either learn or develop their geographical terminology and then apply / demonstrate using photos of actual places. Key ideas and content… We can describe places using geographical language. It is more effective to use the correct key terms and descriptive language. To differentiate… Pass the sheets round on a timer, with the challenge of either adding more key terms or improving existing ones. Stick the sheets on the wall around the room, give each student a different key term to look for. Students go round the room. Insist on certain terms being applied. To extend… Insist on a description of features which aren't necessarily visible. Students find their own photos and analyse them. Peer assessment. There are some tricky terms in the key terms activity, use to stretch students. To assess… Discussion points. The work produced. Peer assessment opportunity.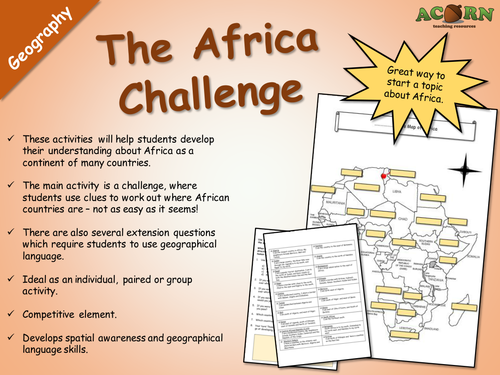 Ideal for KS3, but could be used with KS4. Introduce the continent of Africa and develop their spatial awareness of this massive continent. These activities will help students develop their understanding about Africa as a continent of many countries. The main activity is a challenge, where students use clues to work out where African countries are – not as easy as it seems! There are also several extension questions which require students to use geographical language. Ideal as an individual, paired or group activity. Competitive element. Develops spatial awareness and geographical language skills. As of the 16th February, all of our premium resources have received a 5/5* review.

Halloween acrostic poetry! Included are 4 examples, 3 differentiated word mats and 20 templates (all in colour or B&W outline). There are also several completely blank templates. These will make for excellent end of term work / display work. www.acornteachingresources.com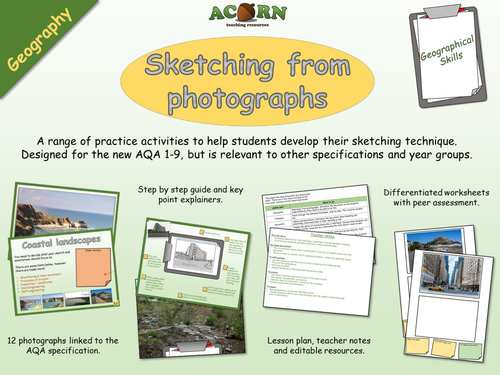 A range of practice activities to help students develop their sketching technique. Designed for the new AQA 1-9, but is relevant to other specifications and year groups. The lesson would be particularly useful to a GCSE group before they do their fieldwork, and will also be suitable for a KS3 class. There are also detailed 'key points' so students understand why they need to know how to sketch, and what technique makes it effective. On top of the field sketching there is a focus on application of key terms. The lesson has a range of visual resources, all relevant to the new 1-9 GCSE. A free wallchart is available to download at https://www.tes.com/teaching-resource/geography-geographical-skills-sketching-wall-display-11486949 The main aim is… To develop and practice field sketching / sketching from photographs technique. To effectively annotate and label sketches to show understanding. Key ideas and content… This is a practical lesson which would benefit from lots of student interaction and discussion. There are links to content, but it would work without – solely as a sketching lesson. To differentiate… Use the resources with the picture above a blank box for weaker groups. Focus on the same photos. Print the checklist. Display the photos on the board and discuss as a class. To extend… This lesson could be used several times in the same format. The teacher can add their own photos. Take the class on a local visit to practice the technique. Provide word banks for annotations. To assess… Peer assessment is woven into the main activity. Teacher should be able to see visual progress with the quality of sketching and level of annotations. All reviews for our premium resources have been 5/5 (as of 17th January 2017) www.acornteachingresources.com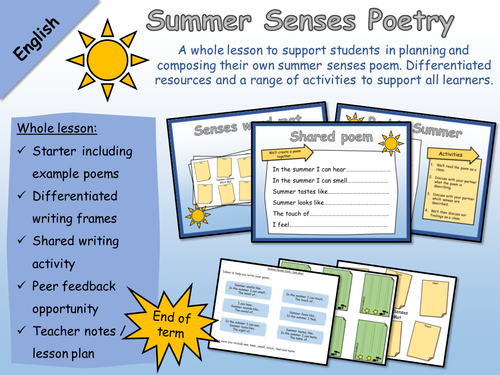 A whole lesson to support students in planning and composing their own summer senses poem. Differentiated resources and a range of activities to support all learners. Ideal for supporting SEN pupils in the writing of a summer senses poem. This resource would be a great activity for the end of term. A great way to introduce poetry to KS1 or SEN learners. Whole lesson: Starter including example poems Differentiated writing frames Shared writing activity Differentiated resources Peer feedback opportunity Teacher notes / lesson plan

Types of rainfall (animations and activity sheets) These are lesson elements intended to be used in the teaching of weather/climate and types of rainfall. - Three colourful animations to introduce / teach convectional, frontal and relief rainfall. - Three activity sheets with diagrams / written work. - Three outline activity sheets which can be used with higher ability students, or to assess. All reviews for our premium resources have been 5/5 (As of February 20th 2017)

Geography - AQA 1-9 - The Living World - Protecting Cold Environments (Whole lesson) A whole lesson (possibly a double with lower ability groups) which enables students to explore how the balance between economic development, and conservation, can be managed in cold environments. There are a range of differentiated activities which teach students the strategies they're requires to know. Culminating in students developing a mark scheme and answering a GCSE style exam question. Whole lesson > Key terms starter > Discussion prompts > Key ideas > Research activity > Exam style question with breakdown and structure > Class discussion > Learning evaluation > Summary activity > Homework > Lesson plan > Teacher notes > Fully resourced > Differentiated > The main aim is… To develop understanding of the issue between economic development and conservation. To discuss the balance of economic development, sustainable development and the need to protect wilderness areas. Key ideas and content… There are four strategies we need to know. There are advantages and disadvantages. Different people will have different opinions. To differentiate… See lesson plan, the notes in red are suggestions for lower ability groups. This lesson would certainly run over more than one session – for instance the exam style question work could be a lesson in itself with a lower ability group. To extend… See lesson plan, the notes in green are suggestions for higher ability groups. Introduce a research aspect to the main activity – students can research an example for each strategy. To assess… The summary activity can be assessed. The discussion points also provide assessment opportunities in lesson. All reviews for our premium products have been 5/5* (As of 26th February 201&) www.acornteachingresources.com

English - Halloween Haunted House For Sale - Adverts A series of activities on the theme of advertising a haunted house. Included are several templates, animated resources, peer assessment sheets, teacher notes, discussion prompts, word mats. This lesson will make a great end of term activity, and will create some attractive display work, as well as develop skills in persuasive writing. Activity 1 - Give the students access to the adverts, either printed out or displayed on the board. Students should work to identify the features of the advert using the instructions on the slide. This could be done as independent, paired or group work. A carousel activity would suit this task, especially if other tasks are built into the carousel activity station. Each advert can then be displayed to possibly annotate on the screen / aid discussion. Activity 2 - Work through the discussion prompts. Again, this could be done as independent, paired or group work and could be built into a carousel activity station. There is a printable prompt sheet for students to write on if appropriate. Activity 3 - Students should use a dictionary / discussion to build up a bank of words. These can be added to a printable word mat. Again, this could be done as independent, paired or group work and could be built into a carousel activity station. There is the further option to built up a bank of starters & connectives, a pre-populated list has also been planned for weaker groups. Word mat is displayed to aid discussion / assess understanding. Activity 4 - Students write up their own adverts using the templates provided and the work prior. This is suited to independent work, but could be done in pairs or groups. If previous activities have been completed as a carousel, this could be where students break away to work independently. Several templates have been provided, including one with blank 'photos' for the students who like to draw. Activity 5 - This is the main assessment opportunity. A sheet has been provided, however assessment could be done in many different ways and built in to match school / class policy or routine. www.acornteachingresources.com