61Uploads
16k+Views
2k+Downloads
Chemistry reources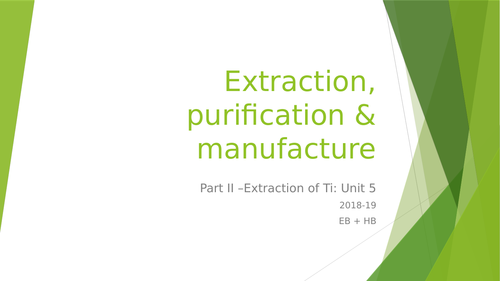 Around 3 hours worth of lesson(s). This was initially created for the new BTEC Applied Science U5 Chemistry: extraction, manufacture and purification of substances. However it can also be used for GCSE, metallurgy or similar science courses. It covers the extraction of these metals, energy requirements and disadvantages along with amphoteric behaviour of alumina.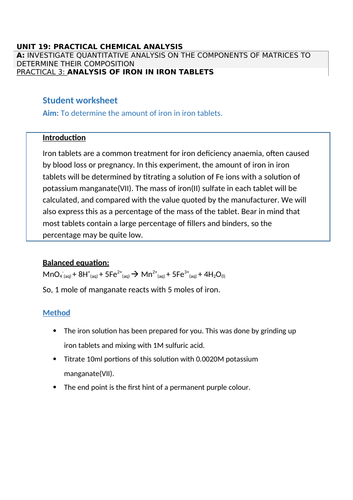 Student worksheet including introduction, method, space for them to record results, structured calculations and error analysis. Created for the new BTEC L3 spec, unit 19 Practical Chemical Analysis. Can also be used for A Level Chemistry, HNC or other analytical science courses. Suitable for level 3 courses including AS Chemistry, Applied Science and Access to Science. A PowerPoint including the basics of electronic configuration (orbitals, subshells, energy levels, energies of subshells and order of filling of electrons etc). Helpful to new teachers or those new to the topic on how to structure the lesson and ideas for activities. Note - does not include Hund's rule or noble gas shorthand, as I normally teach these on the whiteboard and by use of exam questions. A video I created on this topic: https://www.youtube.com/watch?v=B_wnrHAzCak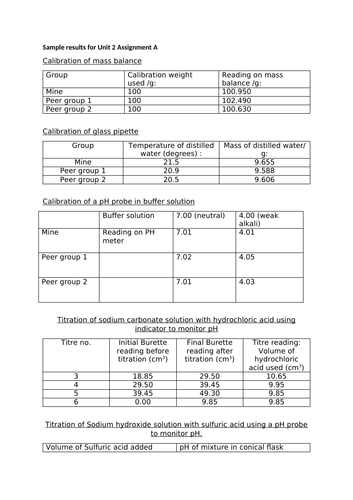 Sample results for practical-based assignments A, B and C for Unit 2 Practical Scientific Procedures and Techniques. Includes results for calibration of 3 pieces of equipment, 2x titrations (one using indicator, one using a pH probe) and colorimetry for assignment A. For assignment B includes results for calibration of a glass and digital thermometer in hot and cold water and cooling of both stearic acid and paraffin wax. supporting videos for assignments: A plotting and annotating pH curve: https://youtu.be/mgNhkUipZw0 Plotting and annotating colorimetry curve: https://youtu.be/IXXOmPygKXY Writing chemical foon a computer: B plotting cooling curves: https://youtu.be/92zysOBqKP8 Finding and referencing a literature value: https://youtu.be/b4jkipDtO9k Drawing a tangent to a curve: https://youtu.be/Ne-cxsjHPIM Includes amino acid and plant chromatography for assignment C. Note amino acid was paper chromatography and basil was used for the plant chromatography, which was thin layer chromatography. Solvents used for chromatography were as follows: For the amino acid chromatography we used a mixture of solvents in the following ratio: butanol, water and ethanoic acid in 4:2:1, respectively. For the plant chromatography we used a mixture of solvents again, in the following ratio: cyclohexane, acetone and petroleum ether in 5:3:2.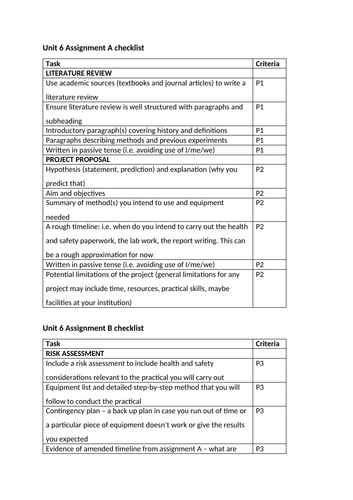 A student-friendly checklist that is not overwhelming. This was created for Unit 6 Investigative Project Assignments A, B and C/D. This is just a preliminary checklist to get students started and on the right track, as such it just covers the pass criteria. Another checklist covering higher criteria will be uploaded soon. I have also made 2 short summary videos which may be helpful for students or new teachers; one is an intro to what Unit 6 is about https://www.youtube.com/watch?v=3gVKhB_3jiM and the other is aimed at students and explains how to get started with the literature review in assignment A. https://www.youtube.com/watch?v=7r-dWTxqI9M Audit and action plan template also included, along with a suggested structure for the project proposal.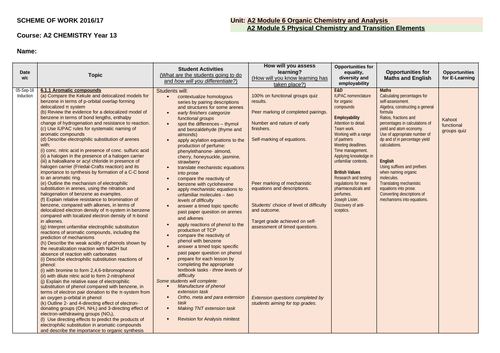 Schemes of work written for OCR A Chemistry Dates range from 2016-18 but can be easily changed. 1 SOW is for 1 teacher teaching the whole A2 (all modules) 1 SOW is for physical only (minus electrochem) which is for 1 teacher teaching 2 hours a week (co-taught) 1 SOW is for mixed modules for 1 teacher teaching 1 hour a week (co-taught)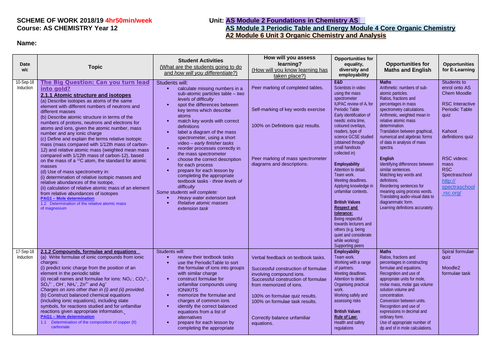 2x SOW + 1 overview created for the new OCR AS Chemistry syllabus, to assist with planning and save time! 1 SOW is written for 1 teacher teaching all modules (the whole year) - this has 2018-19 dates on 1 SOW is written for 2 teachers co-teaching. It shows ONLY the foundations and organic section (the other teacher would be teaching the physical topics) 1 overview is written for the first term (Sept-Dec) and shows allocation of topics for 2 teachers co-teaching the AS in 1 year.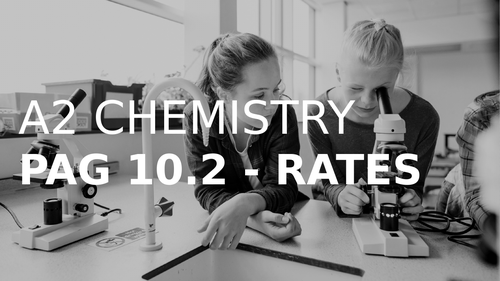 A resource created to assist teachers and students with delivery of the A2 OCR Chemistry PAGs. A PowerPoint to help you structure the beginning of the PAG lesson on 10.2 thiosulfate and acid. Can easily be amended and used as a template if preferred. Alternatively, this could be given to students as a guideline to assist them with their planning and calculations. Example results and graph for thiosulfate (part 1) included, showing the first order relationship. Possible extension opportunities include monitoring how temperature affects the rate of reaction - an Arrhenius plot could then be done as part of the analysis. Recommended for A-A* students. Gives students a checklist of what needs to be submitted. PowerPoint for PAG 9.3 rates attached also. This one includes OCR past paper questions (and answers) at the end as a plenary.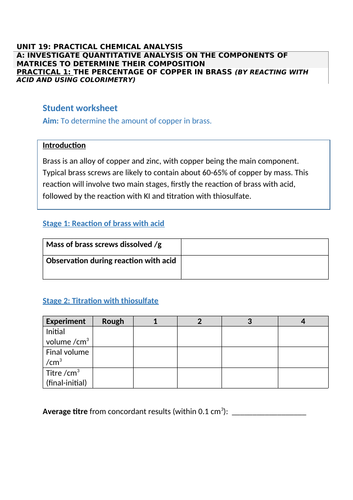 Includes: student worksheet with space to include results, readings and observations for each of the 3 stages, clearly labelled. 3 stage method, teacher and technician notes structured calculations and answers.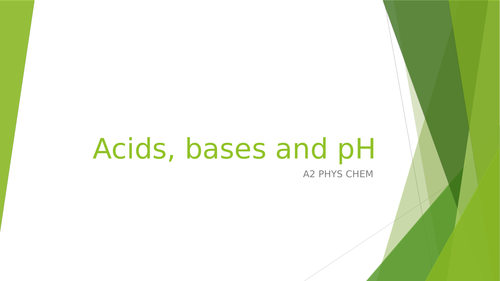 This resource is a lesson created for A2 Chemistry OCR syllabus which covers Bronsted - Lowry acids and bases, conjugate acid-base pairs, mono, di and tribasic acids, neutralisation reactions with acid: carbonates, metal oxides and alkalis. Includes theory, is interactive and has questions and answers. It has step-by-step guides to calculations and refers to OCR Chemistry textbook (states page numbers of summary questions to complete at end of teaching a mini-topic). Watch me teach the basics of part this topic at 'PhysChem with Liz' on YouTube: weak acids (calculations): strong acids (calculations): https://youtu.be/NTEa1sBThRg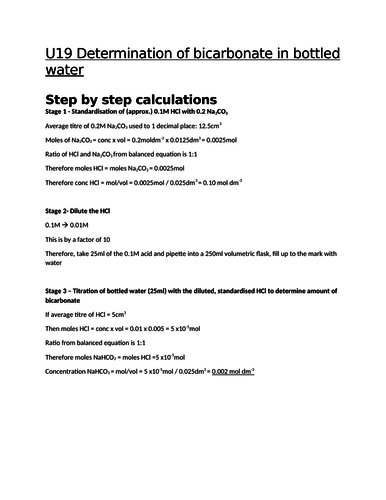 Attached are step-by-step calculations with equations, ratios, units etc which were created for the new unit 19 in the level 3 applied science course (new from 2016). The calculations are for the determination of bicarbonate in bottled water, the amount of copper in brass and the amount of iron in iron tablets. There are 3 stages to the bottled water practical, the end answer states the concentration of bicarbonate in water (tap water was used to save money!) in moles per decimetre cubed. Link to (the familiar!) real world with the question: does adding sugar to tea cause it to cool down? An informative and step-by-step PowerPoint which guides students through the steps and knowledge involved in constructing a Born-Haber Cycle and calculating lattice enthalpy. Explains why a B-H cycle is used and what lattice enthalpy tells us. Refers to worked examples, questions and exam questions from OCR A syllabus so is ideal if you have a class set of the OCR textbooks too. Stretch and challenge is (and can be further) incorporated by examples using compounds made of ions with different charges, e.g. alumina. YouTube videos: Introduction https://www.youtube.com/watch?v=oLGUA_EssMY&list=PLaD6fcqFKTWju1PsWNzEjMXZ3bCJ32ikf&index=13 Worked example for NaCl: https://www.youtube.com/watch?v=kjkdsaP8fPA&t=39s Worked example for MgCl2: https://www.youtube.com/watch?v=OUgKByeZg0c&t=48s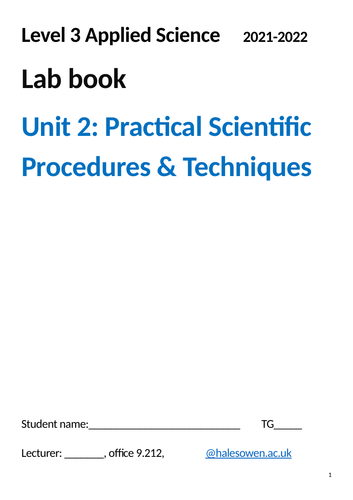 A lab book created for Applied Science students studying Unit 2: Practical Scientific Procedures and Techniques. This can be used as an electronic lab book to store results and calculations or can be printed and issued to students at the start of the unit.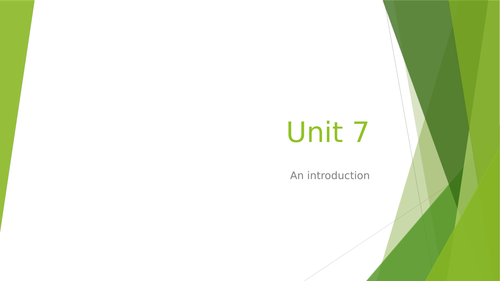 Attached is a full introductory lesson created for the new BTEC Unit 7: Contemporary Scientific Issues. It is activity based, with instructions and answers, a recent case study to get students started, points for discussion, a video on the case study, explanation of terms ethical, environmental, social and economic along with reliability and validity. Gets students thinking about reliability of sources, bias, etc. Homeworks during the first few months of teaching (and tutorial sessions, if you have these) could include watching documentaries on scientific issues to broaden student's knowledge of contemporary issues in general. You may wish to select these yourself (from Netflix, Youtube etc.) or ask the students to find 1 each for homework and bring to next lesson (to minimise your workload!) then you can decide which to watch as a class and use as a point for discussion etc. Link to video introducing Unit 7: https://www.youtube.com/watch?v=AMFkvxYIVfU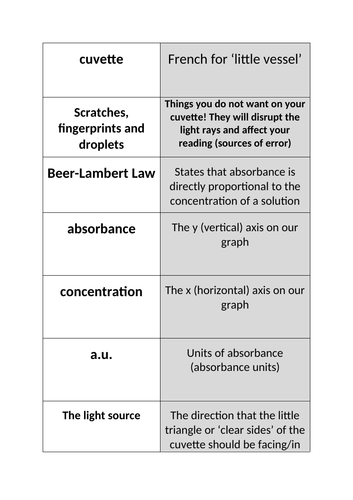 Designed for Unit 2 Practical Scientific Procedures & Techiques L3 Applied Science. Lesson activity for part of Assignment A teaching and completed '5 min lesson plan' Credit to 'teacher toolkit' for the format of the lesson plan. Structured PowerPoints which can be used to structure your lesson and/or guide and help students. Teaching videos (from me) on q=mc∆T and Hess' Law https://youtu.be/BjbXJTB0JdA: https://youtu.be/gf2clDpAMbI A PowerPoint lesson for Unit 4 assignment B preparation of an organic liquid. Includes lesson plan, helpful videos, pre-practical questions and starter activity worksheets (with teacher answers). I was observed in this lesson and obtained good feedback. Includes a worksheet to assist with ideas and a starting point for research tasks/discussion around P4. Other details: While students are refluxing for 30min, you could get them to look up literature values for the boiling point of the ester (so they know the temperature it should come out at during distillation) and research factors that affect purity and the effect that impurities will have on the boiling point. What are possible impurities and where may they come from etc. If you have efficient, confident students, this full lesson with the 3 stage practical including activities will take 3 hours. If your students are less confident, I recommend 4 hours. **note - **recommended videos included are from the RSC written lesson plan is mine, however the template is from 'teacher toolkit' :)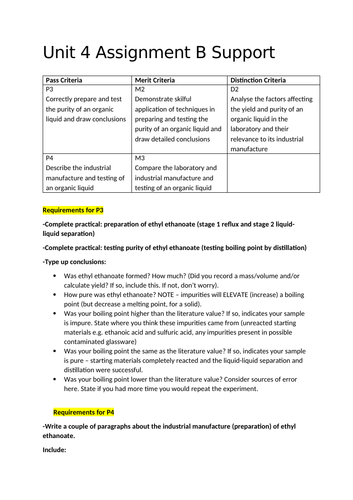 These sheets were created for a class that fell behind and were struggling with unit 4. 2 fool-proof sheets for B and C handy for when students need to finish asap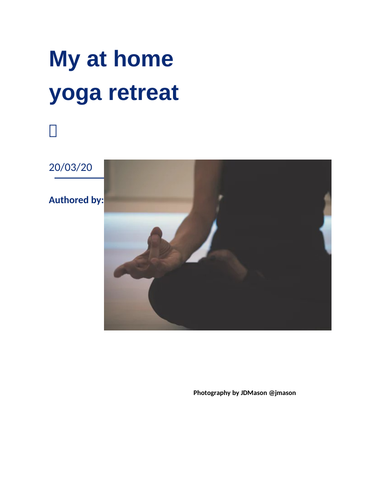 This is a booklet I've put together for anyone interested in doing a little 'at home virtual yoga retreat'! You can do it alone, with your children or partner, it's up to you. if you are new to yoga and/or meditation, you can check out my other resource 'Yoga, meditation and other stress management techniques' which may be good to start with I have included online guided yoga and meditation videos for each day (with a range of instructors, so you may find someone new you wish to subscribe to or in case you prefer some styles of teaching over others!). I have also given each day a theme and included some journalling prompts. Please let me know what you think in a review :) I will be updating the booklet as I continue adding to it, but wanted to get it uploaded asap for anyone looking for ideas of things they can do at home. Let's try and make the most of this time :) PS - I've also included a yoga/meditation calendar for May which is from 'YogaWithAdriene' (not made by me) x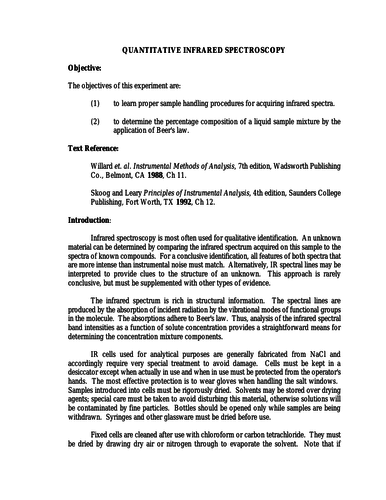 Some pointers and ideas to help you devise a method and practical for the new unit 19 applied science unit. This practical is one of the 4 options for assignment B. I know that the use of IR for quantitative analysis is uncommon, but it can be done. Find attached a journal article of a similar experiment and a short outline of a method (word doc). Journal is obviously not my own work, I have just uploaded these to help centres devise their own methods for this assignment. I hope this is helpful for you. Please take a look at my other resources :-)