HMBenglishresources1984's Shop
Teacher and trainer of other Tes authors. One of the most popular English authors on the site.
886Uploads
811k+Views
204k+Downloads
Teacher and trainer of other Tes authors. One of the most popular English authors on the site.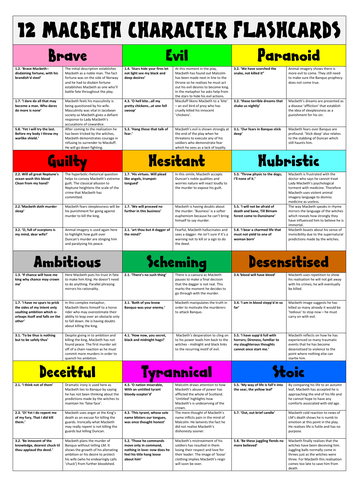 Student-friendly, double-sided revision cards to cover 6 themes in Macbeth: ambition supernatural deceit violence courage *guilt Each revision card has 3 sections: key parts of the play that link to the theme key quotations linked to each theme ideas about context/Shakespeare's purpose for each theme. The back of the card has space for students to make analytical notes on quotations. I have now added revision cards for the 6 main characters and 9 revision cards to cover the character of Macbeth.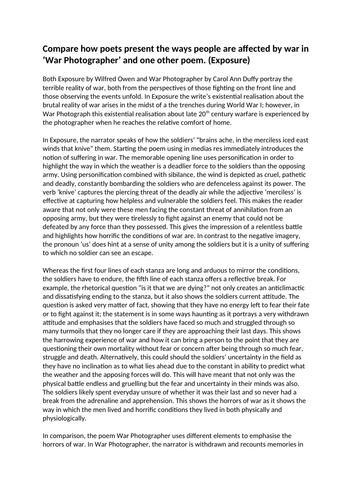 The question in the AQA 2019 exam for Power and Conflict was as follows: Compare how poets present the ways people are affected by war in 'War Photographer' and one other poem. This is a high level model essay for this question that selects 'Exposure' as the comparison poem. Save money by purchasing as part of a bundle of grade 9 responses: https://www.tes.com/teaching-resource/power-and-conflict-grade-9-model-essays-12213236 Or buy my full power and conflict bundle also containing lessons and various revision activities: https://www.tes.com/teaching-resource/power-and-conflict-bundle-2018-11881499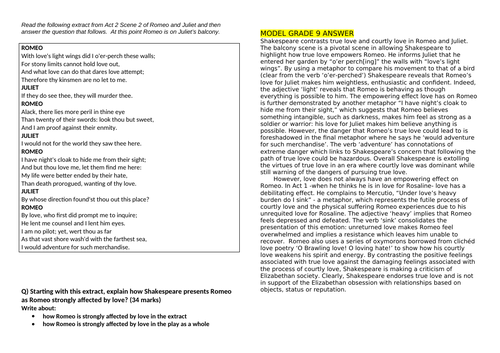 3 grade 9 Romeo and Juliet responses and 1 grade 7 model responses to 4 AQA style GCSE examination questions on Romeo and Juliet. The exam questions and extracts are included beside the model responses. Includes a grade 9 model response to the AQA May 2018 question on adults and children. Includes a grade 9 model response to the AQA May 2019 question on Romeo and Juliet's relationship. Includes the extract and some brief examiner commnt. This resource is ideal to use to show students how to write successful answers that meet the criteria for A01, A02 and A03. I have also included a fifth examination question so that students can have a go at an exam question themselves using my 9 step method.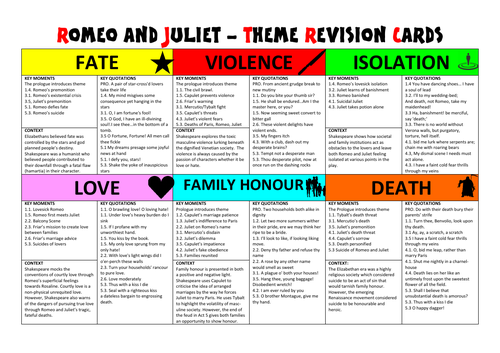 Printer-friendly Revision cards for 6 themes in Romeo and Juliet. Each card has 3 sections: parts of the play where the theme is important key quotations for each theme context notes for each theme Includes a full revision lesson with resources, starter and plenary where students make notes about all the quotations to check understanding using the accompanying worksheet. Answers are provided for all 40+ quotations on the PowerPoint.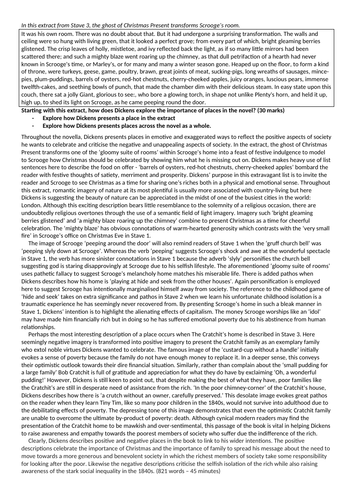 9 GRADE 9 SAMPLE ESSAYS ON A CHRISTMAS CAROL COVERING THE FOLLOWING QUESTIONS: How does Dickens present Scrooge's fears? (2018 AQA question) How is Bob Cratchit presented? How is Scrooge presented as an isolated character? Explore the importance of the ghosts, How does Dickens present Scrooge's attitude to charity? How is Scrooge presented as an outsider to society? (my old version) How are places presented in the novel? How is Scrooge presented an an outsider to society? (my completely new version) Explore the importance of the ghosts in changing Scrooge's beliefs and attitudes (2019 AQA question). All 9 responses also include the extract and the question and have been formatted to snugly fit onto one page each to allow for easy cost-effective printing. Some teachers who try to write grade 9 essays get carried away and produce degree level work that is beyond the expectations of a GCSE student. Therefore I created these to replicate the quality expected of a GCSE student within 45 minutes of an exam. The essays all follow a similar pattern that can be traced as part of your further studies. I have also included a generic writing frame that attempts to sum up my strategy for attempting the question. These essays can be used for both AQA and Eduqas. The only real difference is AQA is marked out of 30 while EDUQAS is marked out of 40.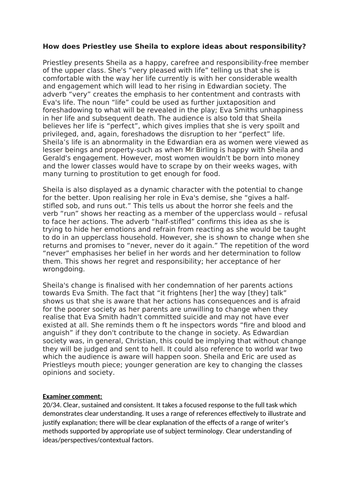 Eight exemplar responses on character and theme questions for An Inspector Calls with marks and examiner comments. The model essays range in quality from grade 4 to a full mark grade 9 response. Include model answers to the following questions: Explore how Priestly uses Mr Birling to explore ideas about class. Explore how Priestly uses Sheila to explore ideas about responsibility. How is Eva Smith significant in the play? Explore how Priestley uses Gerald to explore ideas about responsibility. Explore the importance of Inspector Goole.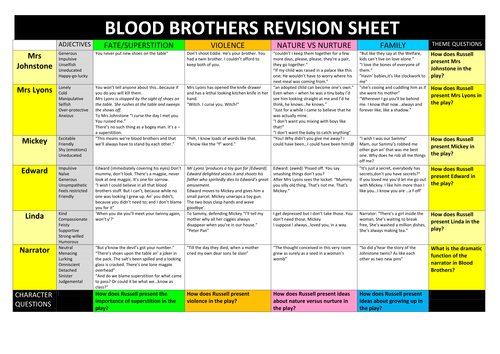 GCSE Revision sheet containing key quotations linked to main characters and themes. Includes an answer sheet for the test on key quotations for each character. Also includes the play divided into scenes using page numbers with an activity asking students to find key quotations from each scene.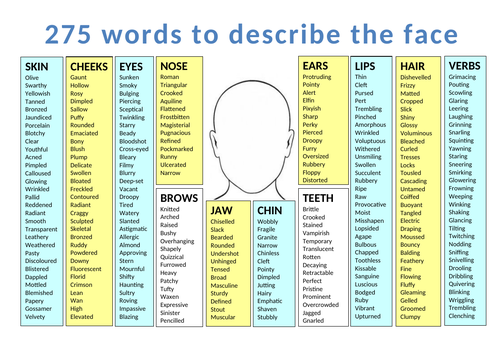 This lesson was inspired by the AQA 2018 English Language Paper 1 Question 5. Students were asked to describe the face of an old man. To help students improve their description, I have created a bank of 275 words that students can use to add precision to their descriptions. The follow up tasks gives students 8 images of Macbeth and Lady Macbeth (Polanski version). Students must select the adjectives carefully to describe one of the 8 images. Peers then have to work out which image they have described from the quality of the description. The plenary asks students to write down their favourite words to describe each aspect of the face. Click to remove the Tes logo before printing.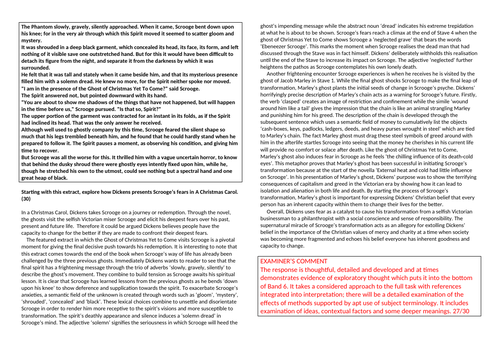 A grade 9 exemplar essay answering the A Christmas Carol AQA 2018 question: Starting with this extract, explore how Dickens presents Scrooge's fears in A Christmas Carol. (30 marks) Students with a high target grade read and annotated this as a follow up task after taking the mock exam. There is a copy of the extract and question. I have also included a writing frame that I used with a much lower ability class (target grades 4 and 5).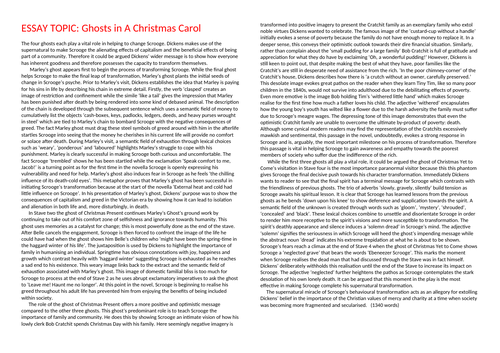 A grade 9 response to a GCSE style question on the theme of the supernatural in A Christmas Carol. Students should read the essay and trace how I have followed my 9 step process. This pack also contains the original exam style question along with a differentiated version to help students with planning an answer using the 9 step method.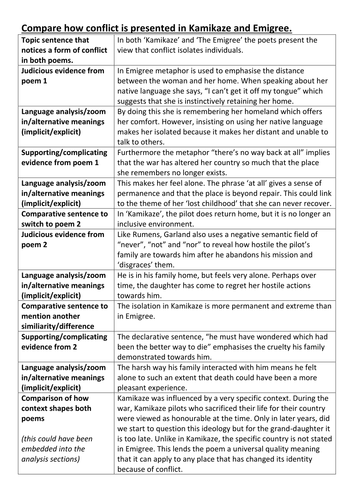 10 Resources to teach students methods for comparing poems from the AQA anthology. Includes ideas for discriminating comparisons by both theme and method. The model examples come from the Power and Conflict AQA anthology. The Emigree and Kamikaze Exposure and War Photographer. Exposure and Storm on the Island Tissue and Ozymandias There is also a blank template for students to practise using the 12 point comparative method on a question comparing Ozymandias and My Last Duchess. There is also a choice over a simple 4 paragraph methods based approach or a more advanced 2 paragraph conceptual approach. There is also a diamond ranking starter activity to get students to engage with the criteria for grade 8 and 9.
This popular revision sheet contains concise notes for all 15 poems under the following headings: Power Conflict 5 Key quotations Structure Context In addition to the main resource, there are various differentiated suggestions and resources to ensure students use the revision grid effectively. I have added an enhanced version for 2020 which includes explanations of the top 5 quotations for each poem and a PowerPoint full of ideas about how to use the knowledge organiser to revise. There are 3 differentiated accompanying worksheets that direct students towards effective use of the revision grid by writing the opening to a range of questions with different levels of prompting. Includes 15 sample AQA style questions (one per poem). You may wish purchase this as part of a power and conflict bundle which also includes lots of other revision resources on the poems along with several writing frames.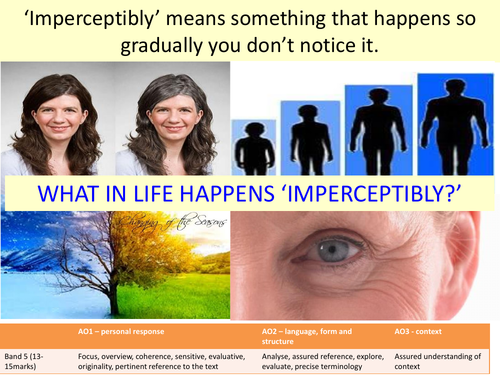 A full lesson exploring the poem with challenging questions for independent analysis followed by answers and annotations. Links to other Eduqas poetry resources: Revision Cards https://www.tes.com/teaching-resource/eduqas-wjec-poetry-revision-cards-gcse-12107545 Lessons on all poems https://www.tes.com/teaching-resource/wjec-anthology-bundle-2-lesson-on-each-poem-11896591 Revision resources: https://www.tes.com/teaching-resource/wjec-eduqas-poetry-anthology-revising-all-poems-11894072 Bundle: https://www.tes.com/teaching-resource/wjec-eduqas-poetry-anthology-bundle-gcse-9-1-11815065
In this full term unit are 14 detailed PowerPoint lessons which cover 16 poems from The Feminine Gospels collection in detail. I recommend teaching the poems in the following sequence. Introduction to Carol Ann Duffy Women and History 2. The Long Queen 3. Beautiful 4. Sub 5. History Women's Bodies 6. The Map - Woman 7. The Woman who Shopped Mistreatment 8. Tall 9. Loud Non-existent voice: 10. The Virgin's Memo Motherhood: 11. Work 12. The Light Gatherer and The Cord Elegies 13. Death and the Moon, Wish and North West Feminism 14. The Laughter of Stafford Girls' High Each PowerPoint contains an introduction to concepts and ideas in the poem, animated annotations to promote whole class annotations and further questions to explore the ideas in the poem further. There is also now a board game to help revise key quotations and a quick revision quiz on key quotations. Also includes an introduction to Carol Ann Duffy with some pre-Feminine Gospels poems for students to study and identify themes and stylistic features in Duffy's poems. For wider reading, I have included some activities on other Duffy poems outside of the FG collection that have featured at GCSE: Valentine and Havisham.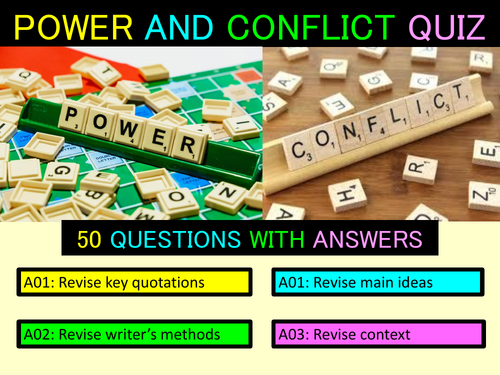 Ideal lesson to check the students' understanding of the 15 poems and work out which poems to go over again. In each round there are 15 questions (one on each poem). Round 1: Opening Lines Round 2: Conflict Round 3: Power Round 4: Key phrase Round 5: Structure Round 6: Context Extra quiz on thesis statements for each poem. Also includes an extra quiz on 5 questions per poem.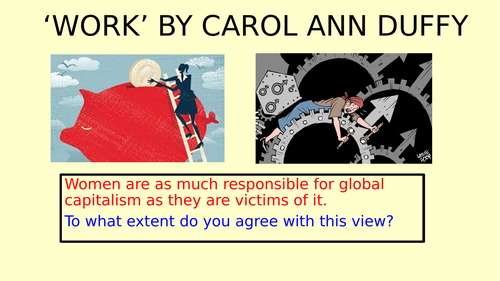 Complete lesson exploring 'Work' by Carol Ann Duffy from the Feminine Gospels collection. Designed to be effective both for classroom teaching and home learning. Includes an engaging starter, discussion of 12 theories about what the poem is about followed by detailed line by line annotations. Then there are extension activities exploring links to other poems in the collection and some extension questions. I recommend using the improved 2021 version of the lesson. I have also included my old version of the lesson from last year which contains some critical theories linked to Marxism. I decided not to include this in my teaching this year but some teachers and students may still want to explore a Marxist angle in the poem for A05.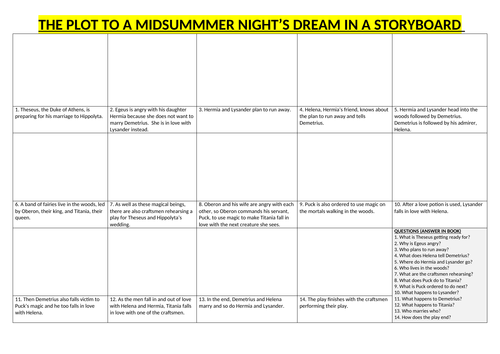 Lesson using a storyboard to introduce the plot to the play. Also includes comprehension questions as an extension activity.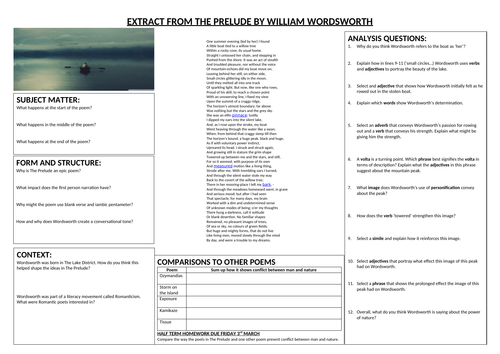 A composite of various resources combined together to form one A3 revision sheet on the poem. This is a free taster from my Power and Conflict bundles which are available here: https://www.tes.com/teaching-resource/power-and-conflict-2019-revision-bundle-12072615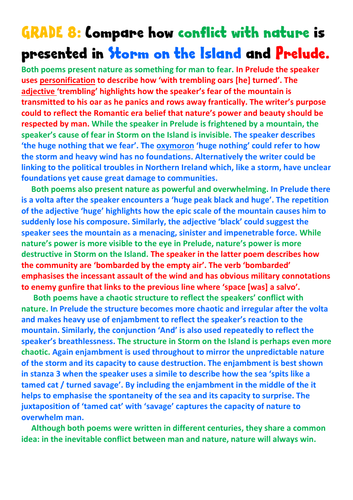 A grade 8 model response comparing how conflict with nature is presented in Prelude and Storm on the Island. I'd give it a mark at the top of Band 5 24/30 which I predict is around grade 8. It is well-structured, thoughtful, detailed and developed with apt evidence. To reach Grade 9 it needs to be more critical and exploratory with more convincing exploration of alternative interpretations and contectual factors. I have many other Power and Conflict resources also on my shop such as the following: https://www.tes.com/teaching-resource/power-and-conflict-poetry-revision-grid-extended-version-11530298 https://www.tes.com/teaching-resource/power-and-conflict-revision-11626301