HMBenglishresources1984's Shop
A group of teachers sharing quality resources.
1k+Uploads
1456k+Views
573k+Downloads
A group of teachers sharing quality resources.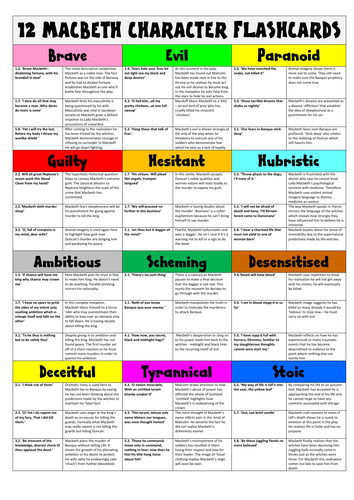 Student-friendly, double-sided revision cards to cover 6 themes in Macbeth: ambition supernatural deceit violence courage *guilt Each revision card has 3 sections: key parts of the play that link to the theme key quotations linked to each theme ideas about context/Shakespeare's purpose for each theme. The back of the card has space for students to make analytical notes on quotations. I have now added revision cards for the 6 main characters and 9 revision cards to cover the character of Macbeth. I have also added a sheet to revise quotations for 6 motifs in the play.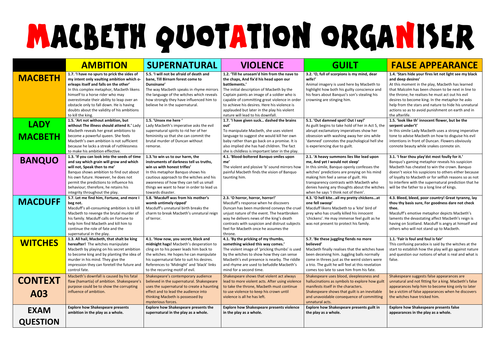 A Macbeth revision sheet that organises 25 quotations and explanations into characters and themes. Also includes some ideas about context for each theme. I give students the blank version first and compare it to the final version after they have attempted to fill each box. This resource now also includes a resource that explores how BIG IDEAs are presented in the text. There are two version. The Grade 5 version provides 6 quotations with clear and relevant inferences for each BIG IDEA. The Grade 9 version provides 6 quotations with perceptive and assured inferences to meet the top band of the mark scheme. For more Macbeth resources try the following links: grade 9 model responses: https://www.tes.com/teaching-resource/macbeth-6-grade-7-9-model-responses-12187985 Revision Cards https://www.tes.com/teaching-resource/macbeth-revision-cards-12173097 Full bundle https://www.tes.com/teaching-resource/macbeth-revision-bundle-2019-12115685 Other popular Macbeth resources include: https://www.tes.com/teaching-resource/macbeth-revise-20-extracts-11868136 Revision cards https://www.tes.com/teaching-resource/macbeth-theme-revision-cards-ambition-supernatural-guilt-violence-deceit-courage-11868831 Grade 9 model ansers https://www.tes.com/teaching-resource/macbeth-6-grade-7-9-model-responses-12187985 Knowledge organisers https://www.tes.com/teaching-resource/macbeth-character-revision-sheet-quotations-themes-context-aqa-9-1-11868119 https://www.tes.com/teaching-resource/how-is-lady-macbeth-presented-in-act-5-scene-1-worksheets-and-a-model-response-11422450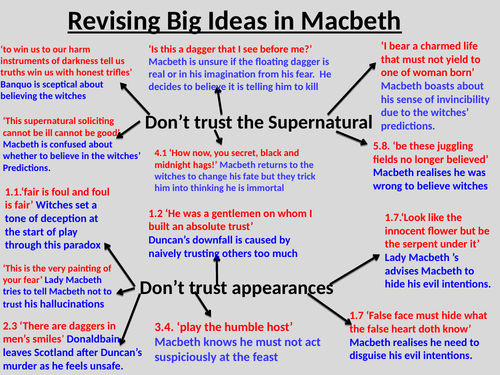 PowerPoint revising theme and character quotations. Each quotation is click activated so you can go through them one by one after first giving students a chance to select and explaining quotations themselves. Covers 4 themes: Don't trust the supernatural Don't trust appearances Ambition is toxic Guilt is inescapable and covers 3 characters Macbeth Lady Macbeth Banquo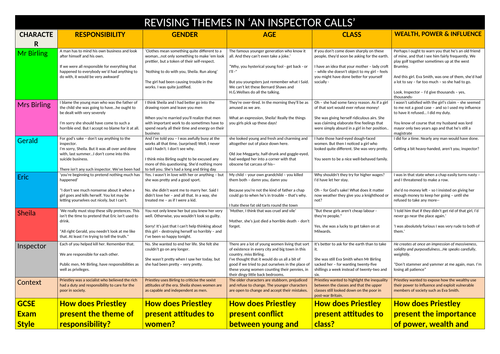 Several helpful and printable revision sheets and activity sheets covering key quotations for characters, themes and stage directions with links to examination questions and context. The themes covered include: Responsibility Class Age Gender Wealth, Power and Influence.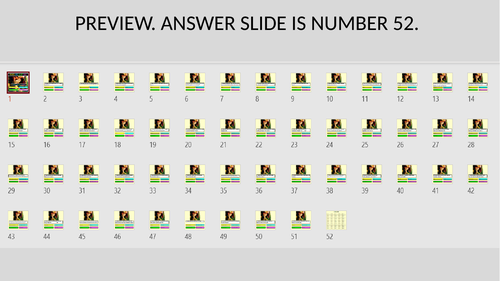 50 Questions over 50 Slides on Romeo and Juliet. The questions go through the key plot points and quotations chronologically. There is the answer slide at the end to allow students to mark the quiz themselves.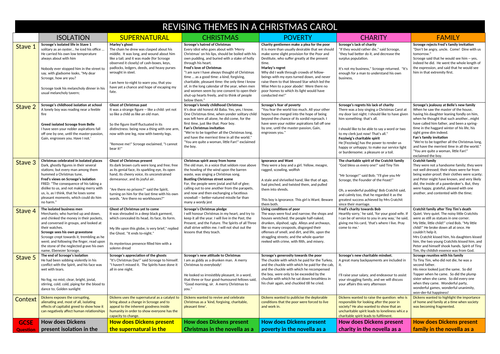 These outstanding 5 star revision sheets are aimed at preparing students for the AQA 2017 examination on 'A Christmas Carol'. With the closed book format in mind, the sheet contains the important quotations from Staves 1 to 5, a range of points to make about context (A03) and a range of AQA style exam questions to work on. Starter: Students read the 42 quotations and work out which Stave they come from. Main Activity: A3 revision sheet Bronze: Identify what we learn about the character in each quotation (A01) Silver: Identify the key words and language features in each quotation (A02) Gold: Identify which theme each quotation links to (A01) Diamond: Relate each quotation to a relevant point about context (A03) There is a second revision sheet which groups quotations by staves and themes and contains examination questions and context linked to each theme. There is also a quotation revision sheet containing detailed notes on 20 key quotations linked to A01, A02 and A03.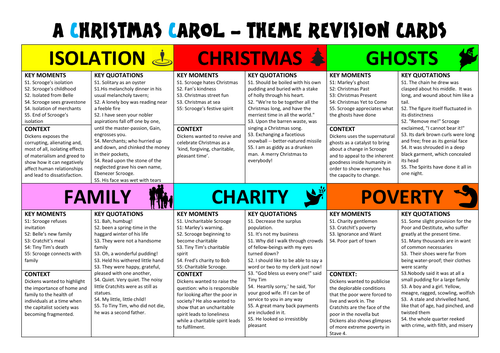 Double sided revision cards on 6 themes in A Christmas Carol. Before giving students the cards, I go through the lesson and make them fill in notes for each quotation on the separate worksheet to ensure they understand the importance of each quotation. Includes PowerPoint lesson with success criteria, starter, differentiated tasks, plenary. Includes a test on the key quotations for each theme with answers on the PowerPoint. Also includes concise notes on 20 key words from the novella.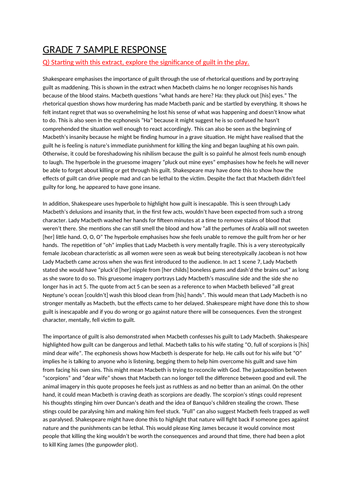 Lesson explaining how to answer a Macbeth question on the theme of guilt for AQA GCSE. Also includes a grade 7 sample response and a grade 9 sample response to allow for a comparison. Includes worksheets for exploring the extract. Also includes a grade 5 model paragraph to assist lower ability students with writing about the extract and then moving to outside the extract.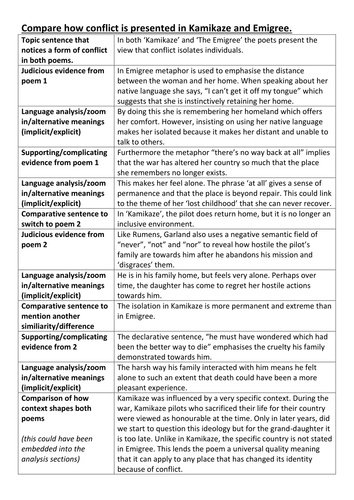 10 Resources to teach students methods for comparing poems from the AQA anthology. Includes ideas for discriminating comparisons by both theme and method. The model examples come from the Power and Conflict AQA anthology. The Emigree and Kamikaze Exposure and War Photographer. Exposure and Storm on the Island Tissue and Ozymandias There is also a blank template for students to practise using the 12 point comparative method on a question comparing Ozymandias and My Last Duchess. There is also a choice over a simple 4 paragraph methods based approach or a more advanced 2 paragraph conceptual approach. There is also a diamond ranking starter activity to get students to engage with the criteria for grade 8 and 9.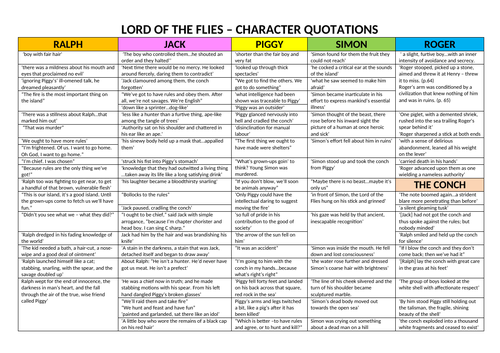 Quotation Grid of almost 100 quotations Lord of the Flies to aid with revision.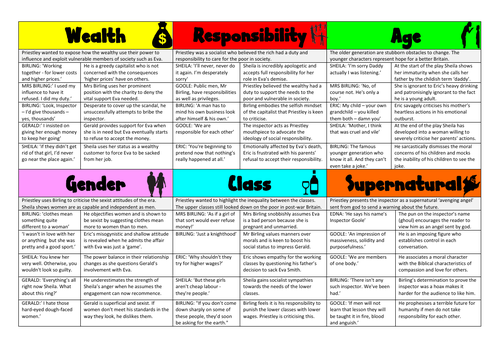 Revision cards that cover 5 key quotations for 6 themes that might come up on the exam. There is also an overview of Priestley's purpose with regard to each theme.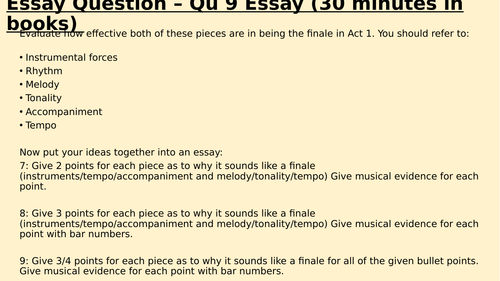 A resource which compares the set work of Wicked to 2 other pieces in preparation for the essay question (question 9). The scores for the unfamiliar pieces are attached. The links to audio are on the pp along with ideas and plans for each of the 2 questions. This could take 2 lessons (along with writing the essays) or be the preparation for an assessment or homework. There is differentiated success criteria which shows students how to access higher bands.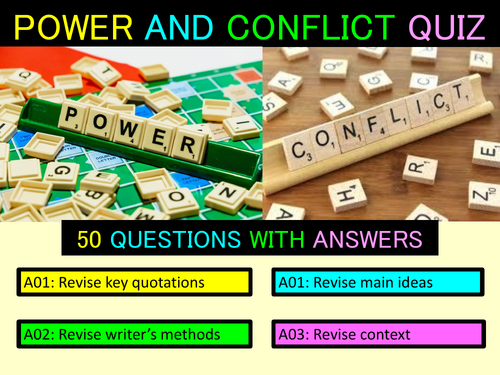 A 50 question revision quiz to complete once you have taught all 15 poems from the Power and Conflict section of the anthology. Includes the answers at the end.Can be repeated to help measure progress and identify which poems you need to go over again. Also contains a second paper-based 6 round revision quiz.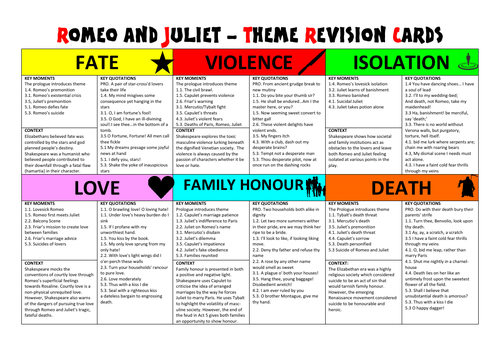 Printer-friendly Revision cards for 6 themes in Romeo and Juliet. Each card has 3 sections: parts of the play where the theme is important key quotations for each theme context notes for each theme Includes a full revision lesson with resources, starter and plenary where students make notes about all the quotations to check understanding using the accompanying worksheet. Answers are provided for all 40+ quotations on the PowerPoint.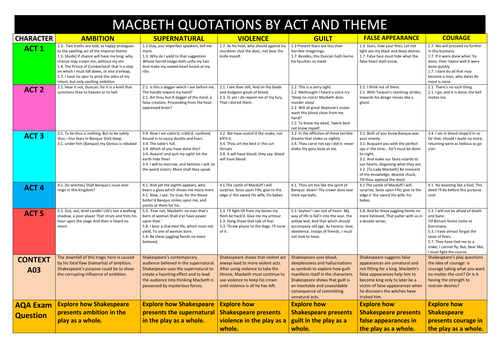 Popular Macbeth revision resource that are repeatable and can be adapted in lots of ways. Includes the following: A Quotation organiser grid containing quotations linked to characters, acts themes, context and exam-style questions. Also includes a second page activity which gets students to use the revision sheet to plan 6 AQA style theme questions. Various Revision flash cards covering characters and themes in Macbeth Revision of 50 quotations in Macbeth.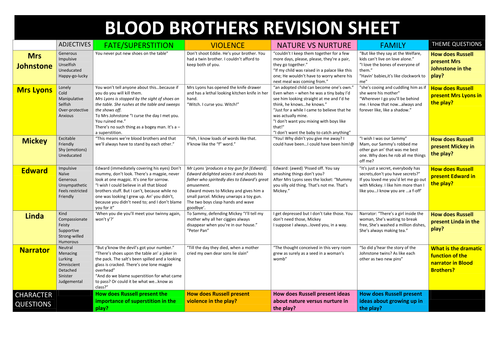 GCSE Revision sheet containing key quotations linked to main characters and themes. Includes an answer sheet for the test on key quotations for each character. Also includes the play divided into scenes using page numbers with an activity asking students to find key quotations from each scene.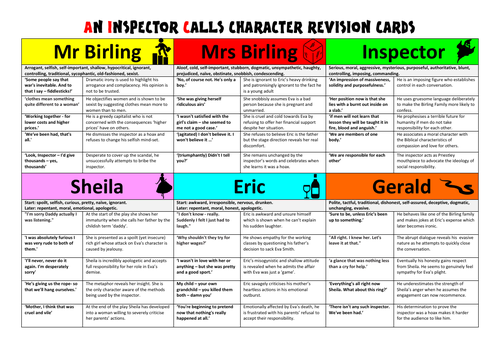 A range of colourful and informative revision sheets for An Inspector Calls covering characters and themes in the play. Provided in both pdf and word. I have other resources available for An Inspector Calls: Bundle https://www.tes.com/teaching-resource/an-inspector-calls-aqa-1-9-differentiated-birling-sheila-11412310 Revision Cards: https://www.tes.com/teaching-resource/theme-revision-cards-for-an-inspector-calls-12124143 Knowledge Organisers https://www.tes.com/teaching-resource/an-inspector-calls-4-ultimate-revision-sheets-themes-character-stage-directions-cards-11574057 Revision quotations: https://www.tes.com/teaching-resource/an-inspector-calls-test-on-10-quotations-per-character-9-1-revision-12138293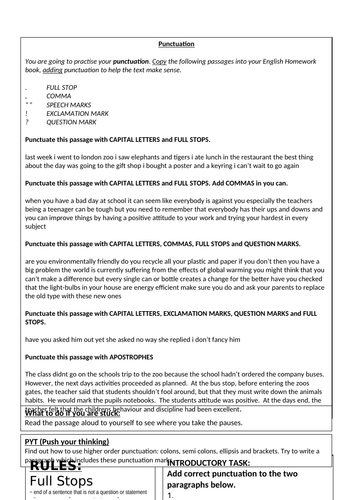 Free 2 page punctuation worksheet to reinforce basic skills in punctuation.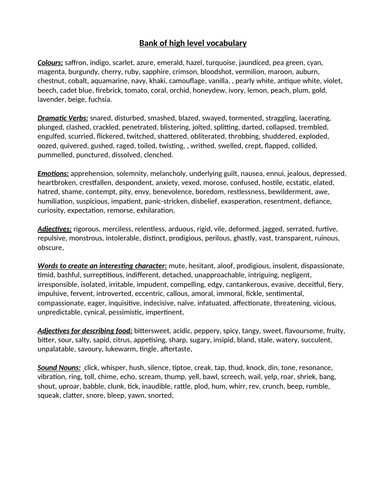 Just a bank of ambitious vocabulary for creative writing.