HMBenglishresources1984's Shop
I am an English/Music teacher and AQA examiner committed to creating interesting resources that students find helpful.
679Uploads
314k+Views
92k+Downloads
I am an English/Music teacher and AQA examiner committed to creating interesting resources that students find helpful.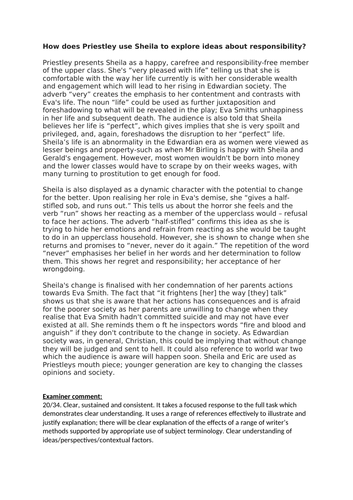 Six exemplar responses on character and theme questions for An Inspector Calls. The model essays range in quality from grade 5 standard to grade 8/9. I have added the mark awarded to each essay after requests in the feedback. Includes: Explore how Priestly uses Mr Birling to explore ideas about class. Explore how Priestly uses Sheila to explore ideas about responsibility. How is Eva Smith significant in the play? Explore how Priestley uses Gerald to explore ideas about responsibility. Explore the importance of Inspector Goole.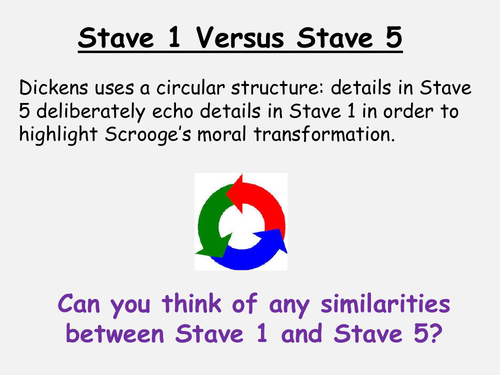 A grade 9 model response written by an AQA examiner to the following question: How does Dickens present Scrooge as charitable towards the poor? (30) Also included: The actual GCSE 1-9 exam question students have to answer on with the included extract An A3 planning sheet Useful zoom in/out quotations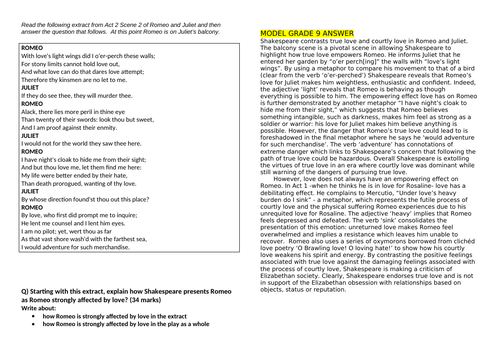 A grade 9 and a grade 7 model response to two AQA style GCSE examination questions on Romeo and Juliet. The exam questions and extracts are included beside the model responses. This resource is ideal to use to show students how to write successful answers that meet the criteria for A01, A02 and A03. I have also included a third examination question so that students can have a go at an exam question themselves using my 9 step method.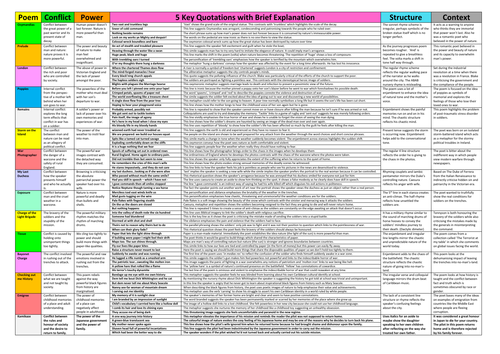 This A3 revision sheet contains concise notes for all 15 poems under the following headings: Power Conflict 5 Key quotations Structure Context There are 3 differentiated accompanying worksheets that direct students towards effective use of the revision grid by writing the opening to a range of questions with different levels of prompting. Includes 15 sample AQA style questions (one per poem). There are some differentiated suggestions on how students can use the grid to revise. You could purchase this as part of my power and conflict bundle which also includes lots of other revision resources on the poems along with several writing frames.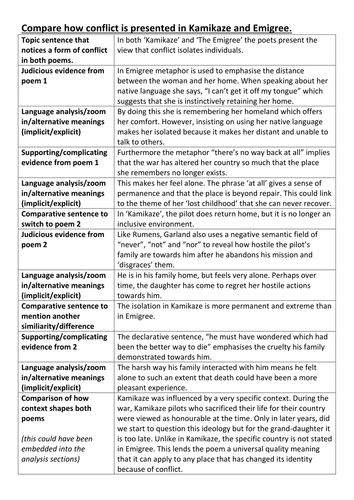 Resources to teach students methods for comparing poems from the AQA anthology. The model examples come from the Power and Conflict AQA anthology. The Emigree and Kamikaze Exposure and War Photographer. Exposure and Storm on the Island Tissue and Ozymandias There is also a blank template for students to practise using the 12 point comparative method on a question comparing Ozymandias and My Last Duchess. There is also a choice over a simple 4 paragraph methods based approach or a more advanced 2 paragraph conceptual approach. There is also a diamond ranking starter activity to get students to engage with the criteria for grade 8 and 9.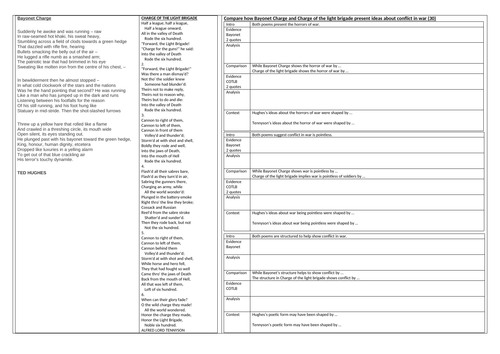 Writing frames to help structure comparisons for... Storm on the Island and Exposure (conflict with nature) Prelude and Ozymandias (power) Tissue and Ozymandias (conflict) Bayonet Charge and Charge of the light brigade (conflict) Storm on the Island and The Prelude (conflict) London and The Emigree (power of a place) Remains and Poppies (conflict) War Photographer and Remains (conflict) My Last Duchess and Ozymandias (power of pride) My Last Duchess and Checking out me History (frustration)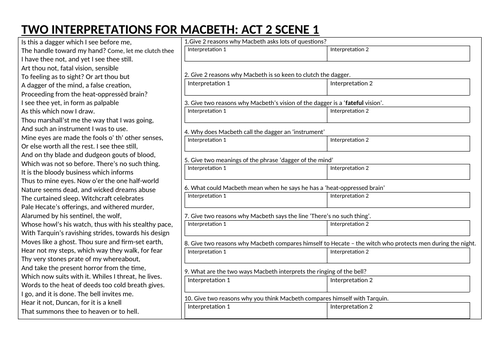 Various resources to help lower ability students understand Macbeth's 'Is this a dagger soliloquy'. Worksheets include: Create a visual storyboard to break down key lines. Use the writing frame to write a summary of the scene. Give two interpretations to key lines Give instructions for how an actor should perform the speech using the writing frame.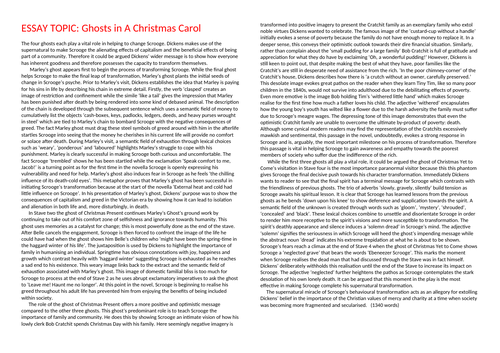 A grade 9 response to a GCSE style question on the theme of the supernatural in A Christmas Carol. Students should read the essay and trace how I have followed my 9 step process. This pack also contains the original exam style question along with a differentiated version to help students with planning an answer using the 9 step method.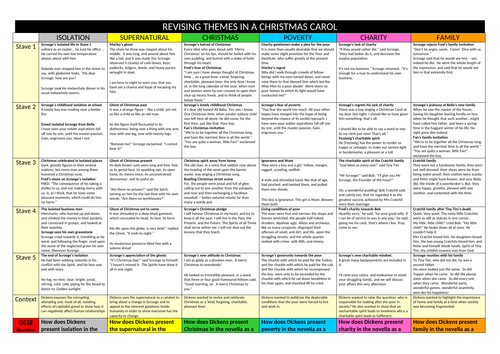 These outstanding 5 star revision sheets are aimed at preparing students for the AQA 2017 examination on 'A Christmas Carol'. With the closed book format in mind, the sheet contains the important quotations from Staves 1 to 5, a range of points to make about context (A03) and a range of AQA style exam questions to work on. Starter: Students read the 42 quotations and work out which Stave they come from. Main Activity: A3 revision sheet Bronze: Identify what we learn about the character in each quotation (A01) Silver: Identify the key words and language features in each quotation (A02) Gold: Identify which theme each quotation links to (A01) Diamond: Relate each quotation to a relevant point about context (A03) There is a second revision sheet which groups quotations by staves and themes and contains examination questions and context linked to each theme. For lots more A Christmas Carol resources visit: https://www.tes.com/teaching-resources/shop/davidmartinreed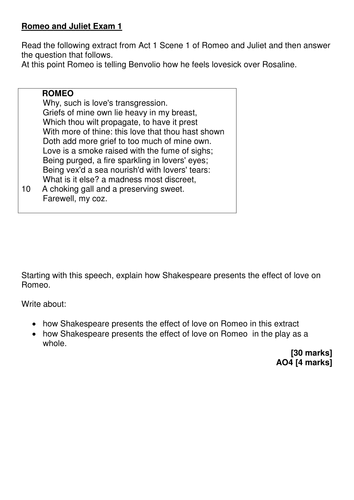 Romeo and Juliet: 11 exams written in the style of the new spec for AQA 2017 Literature Paper 1. The questions have been structured to mirror the layout of the actual exam as far as possible. Ideal to use set as homework or to use as revision.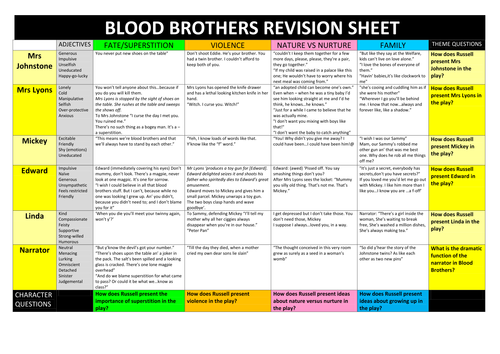 GCSE Revision sheet containing key quotations linked to main characters and themes. Includes an answer sheet for the test on key quotations for each character. Also includes the play divided into scenes using page numbers with an activity asking students to find key quotations from each scene.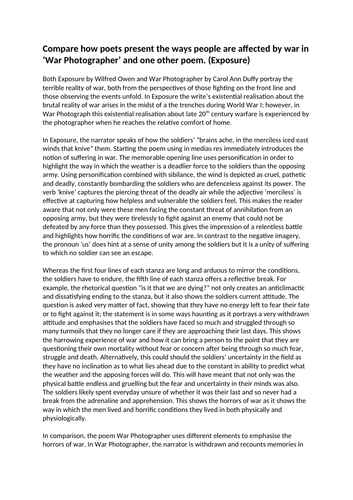 A model essay comparing War Photographer and Exposure that is useful to share with students who are aiming for a grades 7-9.
A collection of PowerPoints, 8 writing frames, model essays, revision grids, planning sheets, guided annotations and comprehension worksheets on the poems from the 'Power and Conflict' section of the AQA anthology. There are also various resources examining how best to structure discriminating comparisons.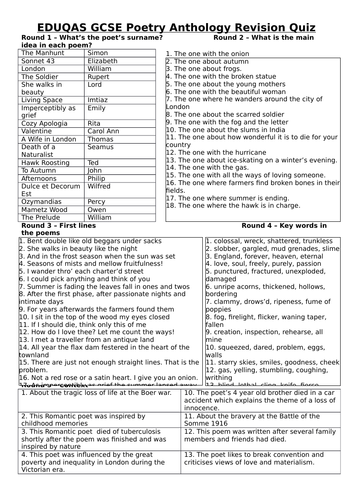 Eduqas GCSE poetry quiz. 5 rounds of questions with 18 questions per round - one per poem. Worksheet and PowerPoint. Useful for finding out which poems to go over again.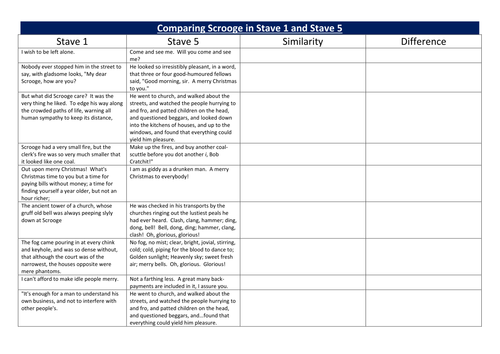 Paired quotations from Stave 1 and Stave 5 to compare the transformation in Scrooge's character while also exploring the circularity of the plot. Includes an answer sheet for teachers. This is a helpsheet to support an exam question which is also attached.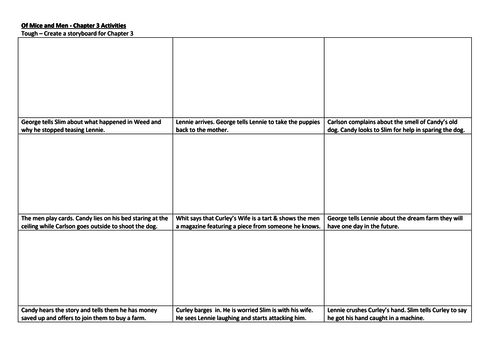 2 lessons exploring Chapter 3. A differentiated worksheet to help students of different abilities engage with Chapter 3 of Steinbeck's novel. Tough: Storyboard Tougher: Comprehension Questions Toughest: Analysis Questions There is also a differentiated writing task included on the PowerPoint: Tough: Lennie wanted poster Tougher: Diary entry for girl from Weed Toughest: Newspaper report of what happened in Weed There is also a lesson analysing why the fight between Lennie and Curley is dramatic.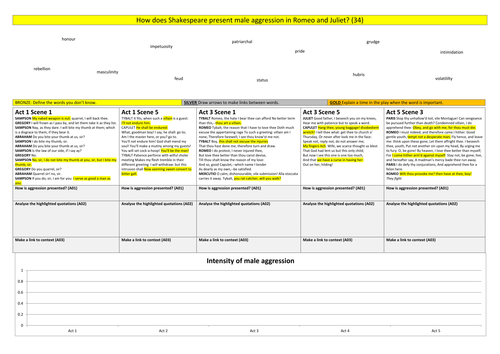 PowerPoint for an exam walk-through looking at the AQA Question from May 2017. Differentiated starter: define the key words linked to male aggression and make links. Main: Analyse 5 key extracts that demonstrate male aggression with a focus on A01 and A02. Suggested answers are on the PowerPoint to guide students through each extract. Plenary: Draw a line graph to chart the intensity of male aggression across the play.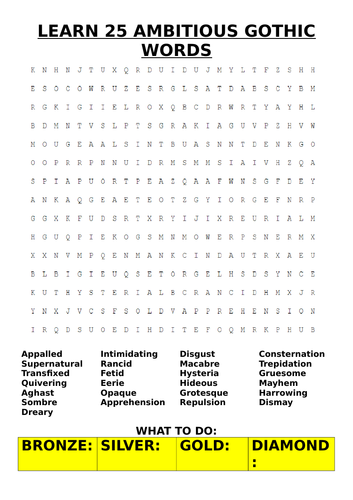 Differentiated worksheet for learning 25 ambitious words relating to gothic horror.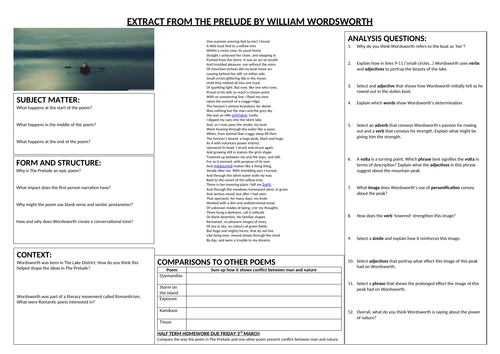 A composite of various resources combined together to form one A3 revision sheet on the poem.