GCSE and A Level Business resources
A shop aimed at providing student focussed revision resources and engaging lesson materials.
256Uploads
338k+Views
156k+Downloads
A shop aimed at providing student focussed revision resources and engaging lesson materials.
An extensive resource pack of GCSE, AS and A Level revision notes and support materials. There is obviously some over lap as these materials also include the older resources for the legacy A Level but many boards still make use of these materials. The GCSE packs provide guidance for pupils who might be struggling with the more numerical aspects of the course and they have often proven useful as LS materials at a higher level. The pack also includes a couple of revision packs focused upon financial ratios and investment appraisal which A Level pupils should find very useful. They also come with answers and revision mind maps. Overall, a very good value pack for teachers and pupils alike.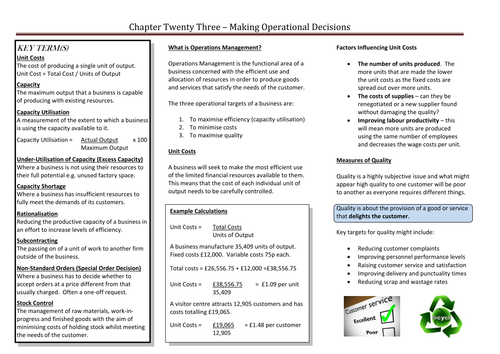 One of my new student revision sheets that outlines the basic topic covered by the AQA Business Studies AS and A Level. I have completed sheets for each topic throughout Units 1-3 and so if you would like to know more please contact me.
An opportunity to purchase the entire 'What is....all about?' series at a significantly reduced price compared to the purchase of individual units. This includes worksheets on profit; profit loss accounts; balance sheets; cash flow; supply and demand; sources of finance; price elasticity; break even analysis; franchises; entrepreneurs; Ltds and Plcs; costs and revenues; ratio analysis and sole traders and partnerships; market research; market analysis and the latest set of notes about e-commerce. Please leave a review as this will help me as I consider launching a new range of resources as the specifications change.
The penultimate worksheet in this series of financial notes targeted at learning support students of GCSE Business Studies. This worksheet looks at that most challenging of subject areas…the Balance Sheet. It trys to break it down into simple stages that will enable a deeper understanding by the pupil.
These are my revision notes for Unit 2 of the AQA legacy paper. Updated versions are available to purchase as well for the new specification but these notes provide a good basic outline of many topic areas.