A Linguist's Delight
Materials for a variety of lessons in English, Spanish, Italian and French.
95Uploads
8k+Views
2k+Downloads
Materials for a variety of lessons in English, Spanish, Italian and French.

Includes 2 PPTS for Italian GCSE to review the environment topic. Both include vocab review with pictures, speaking activities incl. photo cards & questions, translations, verb review, writing exercises and video links for listening practice.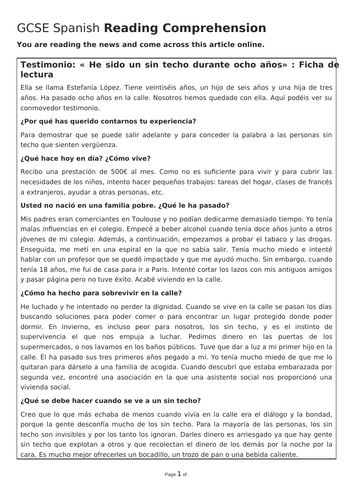 A Spanish GCSE level reading comprehension (more suited for higher level students) includes comprehension questions and vocabulary check. Also includes an answer key.

Resources for higher level Italian GCSE or A level focused on a review of the environment. Includes a PPT and Word document with reading text, comprehension questions, vocab /verb review, translation, writing exercise and speaking activities.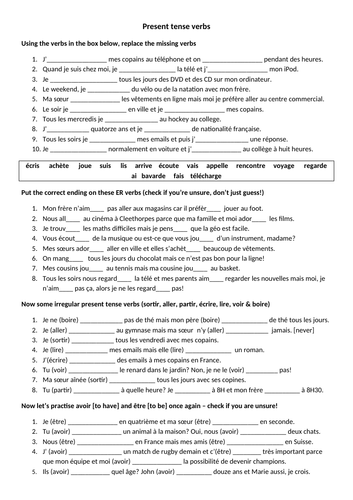 A selection of French grammar practice exercises that focus on the present tense. Suitable for KS3 or GCSE lessons.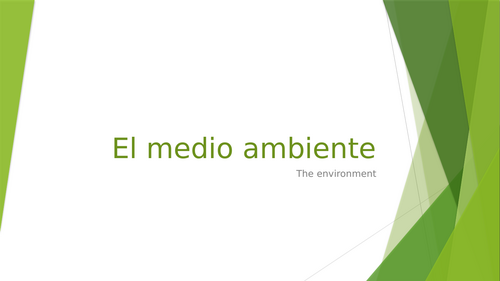 Material for AQA Spanish KS4. Topic: the environment. Grammar: the subjunctive. Includes a PPT to present useful phrases and vocabulary related to the environment and environmental issues. Also includes an environment worksheet with reading texts and vocabulary review. In addition, there is a handout that explains the present subjunctive form/use and allows students to practice forming the subjunctive in Spanish.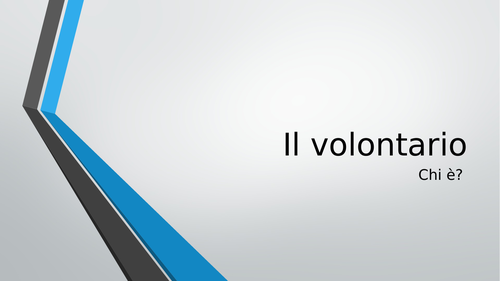 Material for Italian GCSE Theme 2 Voluntary work. Includes a PPT with pictures, speaking and writing activities. Also includes a worksheet with new vocabulary, reading exercises and a translation exercise.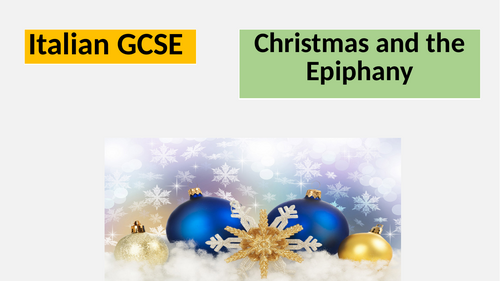 An Italian GCSE lesson about Christmas and the Epiphany. Includes a PPT with speaking activities & picture card, reading & questions about Christmas, vocab matching, Epiphany text, questions and translation exercise. Includes text as word document.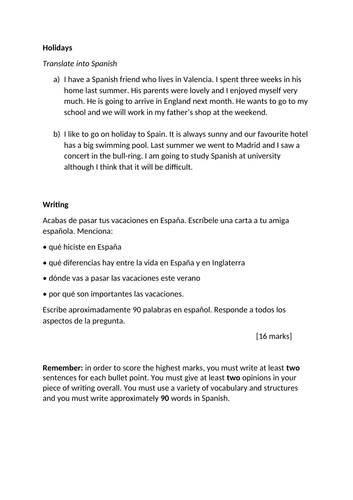 AQA GCSE Spanish exam questions. Topic: holidays. Includes two translation exercises and one writing exam style question.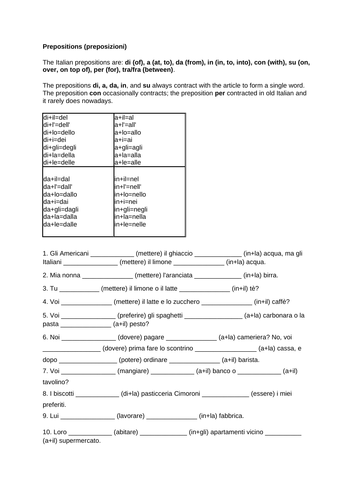 A worksheet that explains how to form Italian prepositions when they are followed by the article. Also includes some practice exercises for students.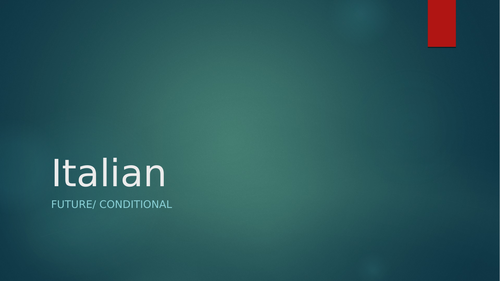 A PPT suitable for GCSE Italian that reviews future/conditional tenses. Includes mini tests on both tenses, a gap-fill exercise, translation and writing exercises as well as photo prompts for free speaking.

A review lesson for GCSE Italian that focuses on jobs and voluntary work. Includes a reading text, translation, opposites/ collocations exercises, gap fill. Also a higher level reading text about voluntary work with questions, translation and a writing exercise.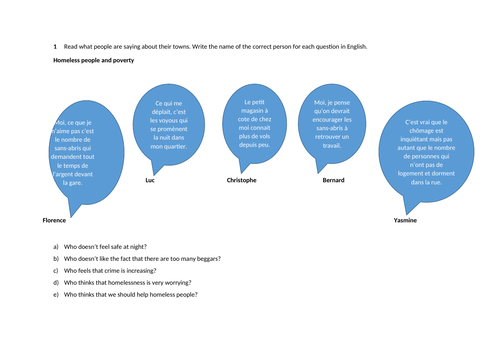 A booklet of GCSE exam-style reading questions suitable for AQA French exam practice.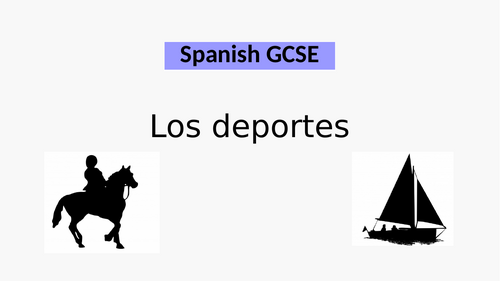 A PPT to present sports vocab in Spanish and how to use the verbs: jugar, practicar and hacer. Also includes a worksheet with gap fill, reading and writing exercises.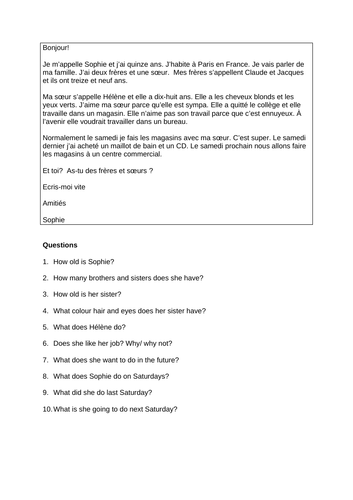 A French GCSE text about the topic family. Includes reading comprehension questions and a phrase search exercise.

An Italian GCSE lesson on the topic hotels. Includes a PPT with vocab, reading text and questions, translation and speaking (conversation & role-play) and writing tasks. Also includes a grammar feature: simple/compound infinitive with exercises. There is an additional Word doc which includes the reading.

Material for Italian GCSE about education/ future studies. Includes 2 PPTs and accompanying worksheet with a reading text. Lesson includes: starter, pre-teach vocab, reading text about Italian online education with T/F questions and gap fill. Also includes translation exercises, a writing assignment and picture card about education. The other PPT focuses on school subjects, opinions, reading texts 'cosa faro da grande', translation text, a picture card and guided writing.

Italian GCSE lesson that focuses on healthy living - keeping fit & healthy eating. Includes 2 PPTs with texts about healthy living, vocab check & questions. Also includes 2 additional worksheets with a reading text and questions. There are also translation sentences, grammar points: (compound) infinitive and comparative form, speaking questions and a GCSE style writing exercise.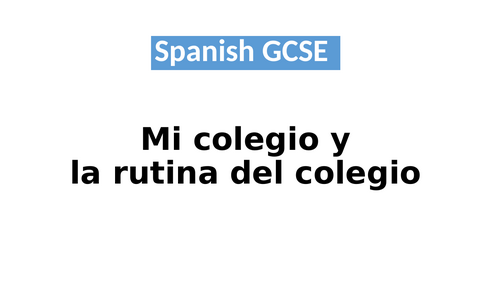 A Spanish GCSE PPT to present useful phrases to describe school and school routine. Also includes writing and speaking exercises. Accompanied by a worksheet with reading material related to school descriptions/routine and comprehension exercises.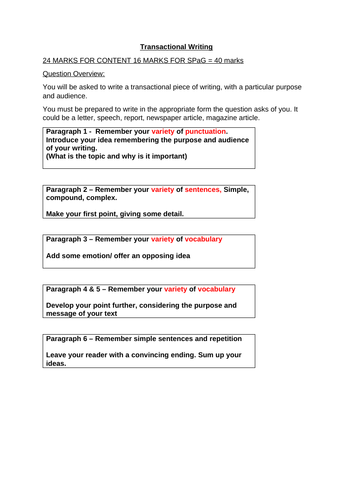 Includes a transactional writing guide that clearly shows students how to lay out their writing. Also reviews language devices/persuasive techniques that could be used and their effects. In addition, there is another activity sheet with practice transactional writing exercises for students. Suitable for AQA and Edexcel specifications.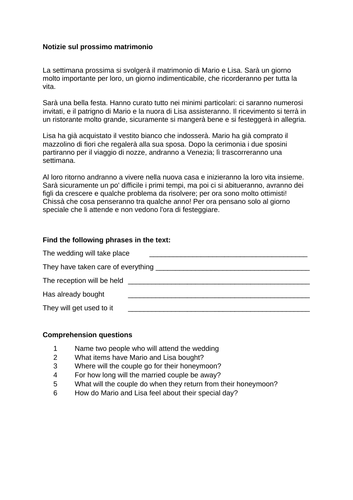 An Italian reading text about an upcoming wedding. Links to Theme one AQA Italian GCSE - Topic 2: Marriage and partnership. After searching for the new phrases in the text and answering the comprehension questions, the text could be used for a noticing activity. E.g. students have to underline the past/present/future tense used in the text. (The future tense features heavily in the text).