Whole-school Swedish resources: culture
Keeping your class engaged with fun and unique teaching resources is vital in helping them reach their potential. With Tes Resources you'll never be short of teaching ideas. We have a range of tried and tested materials created by teachers for teachers, from kindergarten through to high school.

Breathe new life into your lesson plans with our primary and secondary school classroom resources. Whether you're looking for fun maths worksheets or brand new guided reading activities, we have thousands of free and premium resources for you to download. From preschool to primary you'll find phonics worksheets and classroom games. From Year 11 through to senior secondary we have everything from Japanese lessons to algebra activities, as well as revision guides for tests and exams.
Read more
A selection of questions and colouring sheets on the theme of Vikings. This resource will be added to over time.
A Viking themed colouring activity to help students answer questions about the Viking Age. Ideal for primary school students, and students learning English as a foreign language. To follow my world first solo row around the coast of Britain and daily life as an explorer: * Free educational videos: YouTube: https://www.youtube.com/c/sarahrowssolo or Amazon Video: http://amzn.to/2jno3v8 * Free virtual field trips: Skype in the Classroom: https://education.microsoft.com/vikingquest * Paid school speaker bookings: http://www.schoolspeakers.co.uk/speaker-listings/sarah-weldon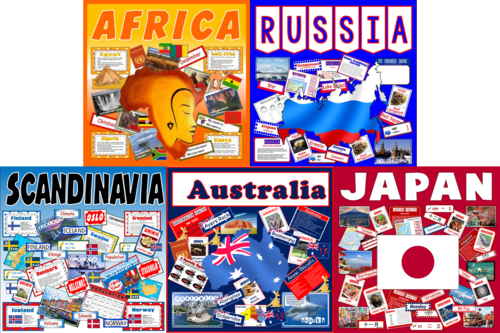 5 GREATS SETS OF RESOURCES BE SURE TO SEE THE DESCRIPTIONS AND PICTURE PREVIEWS FOR ALL PACKS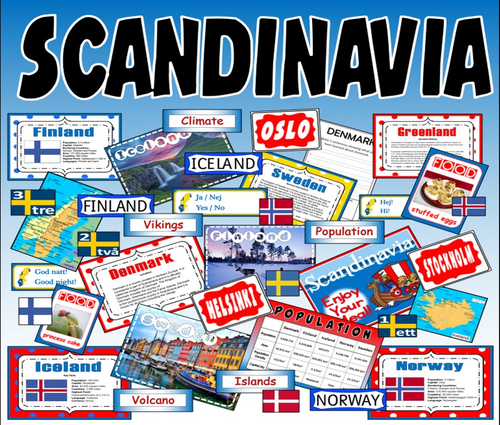 Resources include: Information •Information packs for each country with an additional pack about Greenland. Information packs include facts about the country, its location, geography, modern history, ancient history, climate, general information, famous people and inventions etc Display •Photo packs for each country •Country names flashcards, key word flashcards, food flashcards, population statistics poster, A4 flags Maps and Activities •Maps of each country, Scandinavia, the Arctic circle, Europe, the world, continents, map jigsaw, maps to colour, matching cards, flag activities, Language (As Swedish is the most common language spoken across Scandinavia resources are included in this languages) •Number flashcards from 1-20 in Swedish •Days of the week in English and Swedish flashcards •Months of the year flashcards in English and Swedish •Common phrases cards – in English and Swedish •Colour flashcards in Swedish •A4 speech bubbles showing 'hello' in each Scandinavian language Activities •Themed writing paper with flags to frame pupils work •Writing activities, drawing activities, make a presentation, research note pad, place mat, reward chart, word search, quiz, etc Borders, Banners and Buntings •Extra large lettering spelling 'SCANDINAVIA' •Long banners for each country name , buntings with names •patterned and plain display borders and packing paper if needed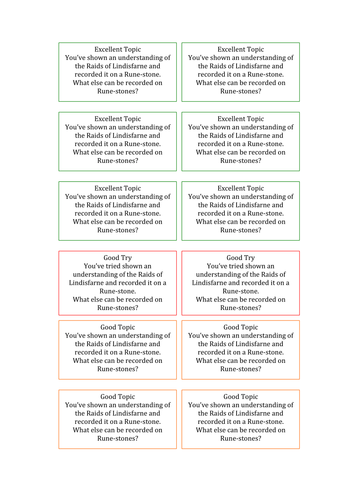 Notebook presentations for 5 Viking Lessons as well as any worksheets or marking sheets that are necessary 1. Raids 2. Lindisfarne and Runes 3. Norse beliefs 4. Raiding and trading 5. Viking Victories Mark sheets have 3 different sections that can be awarded to each child depending on how well they worked in the lesson, each have a question to assess for learning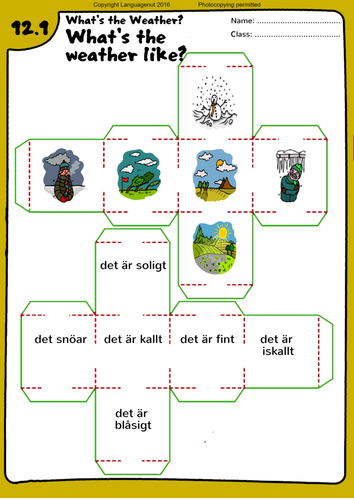 Swedish language printables to consolidate your vocabulary on one topic - Weather. More topics on www.languagenut.com