National Poetry Day planning picks
Units of work and lesson ideas to help you prove to pupils that poetry need not be dull
With National Poetry Day on the horizon, there's no better time to start thinking about engaging students of all ages in the wonderful world of verse.
Whether it's playing with this year's theme of "change" or getting older pupils started on the poetry units for the new exam specifications, we've got you covered. Take a look at this hand-picked collection of lesson plans and units of work and see if you can't help to awaken a love of poetry in your learners.
Themed lessons
There are lots of different ways of introducing students to this year's theme of "change". Spruce up your lessons with these creative tips and activity ideas, or why not refer to these thought-provoking tasks, created specially for the celebrations by PoetryDayUK? Studying poetry has never been so fun!
 
Primary resources
Limericks, haikus, sonnets… poems come in many forms. Discover and analyse the different types of poetry before encouraging your pupils to write some of their own with these stimulating classroom activities.
 
Secondary resources
Spread your love of poetry and confidently tackle GCSE and A-level themes with the help of these lesson packs and imaginative tasks. Jam-packed with explanatory notes, suggested discussion points and ready-to-use exercises, there's plenty to get those creative juices flowing.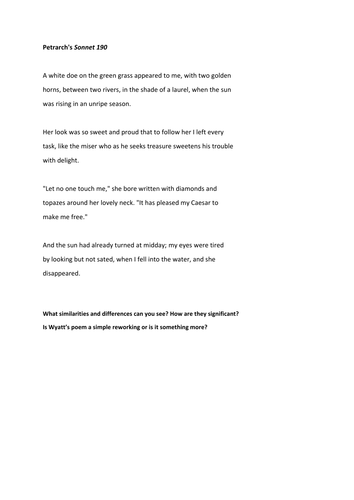 Resources to teach the pre-1900 poetry element of the Love Through the Ages specification - new for 2015.

Part 1:

Whoso List to Hunt
Sonnet 116
The Flea
To His Coy Mistress

Focused by AO throughout, including essay questions.
By
archev
A new type of poetry that involves using newspapers to create poems. The poem is inside the text; pupils must find it. Suitable for KS2, KS3 and KS4 ***You will need newspapers and marker pens***
By
jamestickle86