Ideas for International Women's Day
Celebrate the achievements of women around the world on International Women's Day
Coinciding with Women's History Month, International Women's Day is a global celebration observed on 8 March every year. It is an opportunity to celebrate the social, economic, cultural and political achievements of women, as well as highlight those areas where action is still needed to bring about equality.
Spread the word among your pupils with this selection of hand-picked resources for both primary and secondary students.
Whole-school resources
International Women's Day is for all ages. Explore the real-life stories of individuals working towards gender equality, and reflect upon the successes of women throughout history with these stimulating resource picks.
 
Primary resources
Encourage younger learners to discover more about the achievements of inspiring women throughout history and see how attitudes have changed over time with these engaging lesson ideas. From match-up tasks to well-designed booklets, there's something to engage every pupil.
 
An ideal lesson for International Women's Day (8th March 2018) and for Women's History Month (March). The lesson focuses on discussing famous women from history, identifying their achievements and evaluating why they were so important. The aim is to raise awareness and understanding of the role played by women in helping to shape the world.



There are four optional independent tasks as part of the lesson, which can be used at the teacher's discretion. Full differentiation is built into each of these, with challenge activities and support sheets for those who need them.



The flexibility of the lesson means that I have been able to use it in Years 2 to 6, but it could also be easily adapted for younger children.



Includes:

*Teacher PowerPoint presentation

*4 activity support sheets

*Full planning, linked to history curriculum



Please see the Goldtopfox shop for more great teaching resources:

https://www.tes.com/teaching-resources/shop/goldtopfox
By
goldtopfox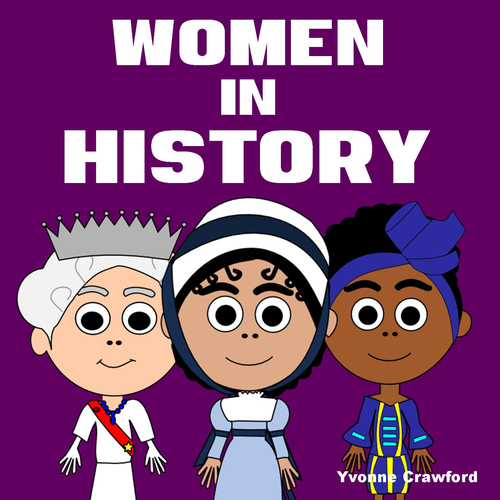 Women's History has 108 pages filled with biographies of 23 famous women in the present and in the past. This packet is a growing packet. MORE women will be added to it. If you have suggestions, email me at ybatot@yahoo.com and I'll add them as soon as possible.

Your students will learn about 23 different women in history. They will learn about their early years, their achievements and other details. As they complete each unit, they can track their progress in the Women in History booklet found in the back of this packet.

Women in this packet:
Queen Elizabeth II
Mother Teresa
Jane Austen
Hillary Clinton
Benazir Bhutto
Florence Nightingale
Amelia Earhart
Joan of Arc
Helen Keller
Rosa Parks
Susan B. Anthony
Princess Diana
Marie Curie
Oprah Winfrey
Malala Yousafzai
Eva Perón
Wangari Maathai
Anne Frank
Tegla Loroupe
Valentina Tereshkova
Pocahontas
Emmeline Pankhurst
Cleopatra

Each women has an information sheet, an information coloring poster to create, a fill-in the blank page where students can show what they've learned about each woman.

If you would like me to add any women, simply email me at ybatot@yahoo.com and I'll add them when possible.

I hope you enjoy my Women's History packet. Let me know if you have any questions.

All artwork is original and created by myself.

Thanks for stopping by my store,
Yvonne Crawford
By
YvonneCrawford
Secondary resources
Even in today's world there are pre-conceived notions of what women should do and be. Challenge typical gender stereotypes and delve further into notable female personalities with these presentations and ready-to-use activities.