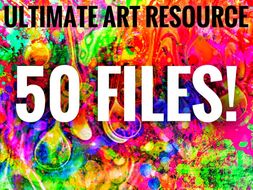 ART. Ultimate Art Department Resource - 50 Resources!
This huge resource for Secondary School Art departments comprises 50 individual files. A full year of schemes of study, a vast range of supporting slide shows, student and staff handbooks, student feedback forms, policies including Health and Safety and a Gifted and Talented policy, cross curricular information such as colours in different languages, a vision for Art Education, Art Technician duty list and much more ..... everything you need to plan for and deliver high quality art education for all.



These resources have been produced by Mael Matthews, experienced Head of Department, professional artist and Senior A level Moderator.
Read more