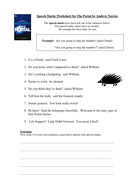 Speechmarks based on The Portal by Andrew Norriss
Sentences from The Portal which need speechmarks inserted.
Read more
About this resource
Info
Created: Aug 22, 2012
Other resources by this author
Planning & drafting, presentation, evaluating é discussion.
thewriterswife
Revision sheet. The text is from chapter 2 of Matt's Million by Andrew Norriss but you do not need the book to do the exercise. An engaging scene i...
thewriterswife
The words are taken from Matt's Million by Andrew Norriss. Adding s or es to make plurals. Choosing singular or plural to fill the blanks.
thewriterswife
Popular paid resources
10 fully resourced lessons to prepare students for the AQA English Language Paper 2, Section A exam: 'Writer's Viewpoints and Perspectives'. This r...
RojoResources
Children loved making pizzas at our Italian pizza class. Resources have been exported from an Activ-primary flip-chart. (Which also includes Italia...
jreadshaw
AQA Literature New Spec Poetry Paper 2 GCSE bundle (4x 1 hour lessons, with differentiated tasks throughout using the new GCSE numbering system). T...
Lead_Practitioner
4 Resources

20% off

$5.99

$

4.79
Updated resources
This resource is designed to be used during Reading Workshop and is to be used with Hatchet by Gary Paulsen. ABOUT THE NOVEL: Thirteen-year-old Bri...
erinbrasington
It is a funny moral story . The lesson in the story is 'We must verify the information and ascertain, to the best of our ability, the truthfulness ...
tacss
Recap features of travel writing Use previous knowledge of travel writing to produce a travel writing piece
spags22