403Uploads
108k+Views
34k+Downloads

A companion to your book study on the book "Silly Billy" by Anthony Browne. Character exploration Billy's worries Advice for Billy Grandma and the worry dolls Book exploration What are worries? Text to self Text to text Text to world Matching texts Who says what Simile fun. PACK 2 More about the worry dolls Billy and his worries Exploring worries Looking at the illustrations Writing instructions about how to make a worry doll Key vocabulary grid Letter writing activities Book review template Cut out flip book template

Greta is an inspirational environmental campaigner. This presentation invites your students to learn more about her and to discuss her message. Who is Greta Thunberg? Straight talking Inspiration No school What do you think? Travelling to the U.S.A. Competition Greta's message What do I know? Our environment How dare you! - Greta's speech to address the U.N. Melting ice Hurricanes Extreme weather change Loss of habitat What would you say to Greta? What would be your message? What actions could you take?. G A great introduction to Greta's achievements so far for your curious class. Pack of worksheets include: Your carbon footprint Resources we waste What can you do? What do I waste? Greta Thunberg - what do you know about her? Greta's message Greta's speech (23rd September 2019) to the U.N. Gretas appearance in Alberta, Canada about Oil and Gas emissions. (18th October 2019) All slides are flattened which means you should be able to cut and paste images as a png into your IWB for annotation and discussion.

Adventures Stories Presentation Product Description A presentation which helps your children write an information story. What makes an good adventure story note taking Features of an adventure story What makes a good adventure story What makes a good story Focus on powerful verbs and the 'hook' Character development Settings A deeper look at settings Planning a setting Planning characters Planning the beginning, middle and end of the story (3 pages) Amazing adjectives Amazing verbs Collective nouns Story map Suggested settings and characters

A complete lesson in teaching speech marks. Presentation of the fable of the lion and the mouse Presentation (interactive which can be copied and pasted to a smartboard programme) explaining how to use speech marks with exercises. If you can write on your presentations this is great. 5 Differentiated worksheets - including an SEN worksheet.

Need to teach an key lesson that shows the main parts of the castle and their function? What to generate discussion and help the children to reflect understand the different parts of the castle? This is a great single lesson that I have used with my class. No prep - ready to go with enough prompts to let you teach in your style. Additional worksheet activities to help children consolidate their learning. If you use an interactive white board you can life the png flattened images and import them into your IWB programme or write straight on the slides if you have this function. Other than that it also stands alone if you simply have a projector it can work with a traditional white board and pen accessory. Presentation Castles All about castles Naming the parts of the castle The moat The drawbridge The portcullis The keep The tower The bailey The barbican The arrow slit What have you learned so far Naming the parts of the castle Power point 5 worksheets to accompany the PPT

This is a growing pack about Rapunzel for KS1 * Original illustrations * Interactive foldable for both British and American English * Simple book analysis * Character exploration: Rapunzel The Prince The Witch * Adjective fun writing frame *Rapunzel story planner *8 Slide backgrounds for IWB *Themed handwriting sheets : Rapunzel, the prince, the witch *Analysing the story higher level (note writing frame)- characters, settings, problem, solution, vocabulary and message of the story *Singular and plural activity *Noun and pronoun activity * What Rapunzel likes activity * Boggle-like word game sheets *Witch, Rapunzel, the Prince writing frames *All about Rapunzel / the witch / the prince *Blank Writing frames * Key word Rapunzel writing frame

Product Description Need to teach an important lesson on the human impact of water pollution? Touching upon what is water pollution, its effects and how to make a positive change. Want to generate discussion and help the children to reflect and make some changes? This is a great lesson that I have used with my class. No prep - ready to go with enough prompts to let you teach in your style. There is an example detailed lesson plan but it's not necessary to follow and the slides are structured that you can put your own spin on the lesson. Additional worksheet activities to help children consolidate their learning. If you use an interactive white board you can life the png flattened images and import them into your IWB program or write straight on the slides if you have this function. Other than that it also stands alone if you simply have a projector it can work with a traditional white board and pen accessory. Presentation: Water Pollution - lesson objective Our Earth - water facts Fresh water sources More fresh water sources Oceans and Seas Water pollution - impact What are the main effects of water pollution? What do you know about water pollution? Water pollution - what it means for us and our environment Discussion time We can work together How can we reduce water pollution? Categories for research What do you know about…? Final thought Worksheets: The effects of water pollution 2 versions Doing better What do I waste? Match Poster frames Full Lesson plan.

Ancient Egypt This pack contains activities and writing frames to help children study ancient Egypt. It also has been made with children who have English as an additional language in mind and has been tried and tested. Pyramids of Giza Activity An account of a real school trip to the Pyramids of Giza and activity. Color (Colour) and black and white versions. British English and American alternative spellings where appropriate Scarab beetle notes blank frame Sphinx notes blank frame Ancient Egyptian Quiz Ancient Egyptian supported writing activity. Mummification activity and notes. Photo pack from the Pyramids of Giza. An ancient Egyptian home - activity Study writing frames for Howard Carter, Julius Caesar, Egyptian Pharaohs, Cleopatra and Mark Anthony. Information about Tutankhamen and Cleopatra. 91 pages National Curriculum Objective: To develop a chronologically secure knowledge and understanding of world history, establishing clear narratives within the periods they study; To understand how our knowledge of past is constructed from a range of sources. * Updated October

Teaching multiples should be fun but sometimes it's hard work for both teacher and student. Here is a comprehensive 20 slide presentation about multiples that can introduce or consolidate the understanding about what exactly is a multiple. Children are bombarded with lots of different vocabulary and this breaks down the concept in a very simple way. Tried and tested in the classroom - with bright and colourful characters to help children move on with their learning. Might help that dreaded lesson observation go a bit smoother! Images are presented on a powerpoint but each slide can be lifted as a whole png. image and can be uploaded onto interactive whiteboard programmes such as ActivBoard or Smart board for easy annotation and children's engagement. All fonts are locked as well as images so nothing will be lost if you transfer it to your preferred method of presentation. Enjoy!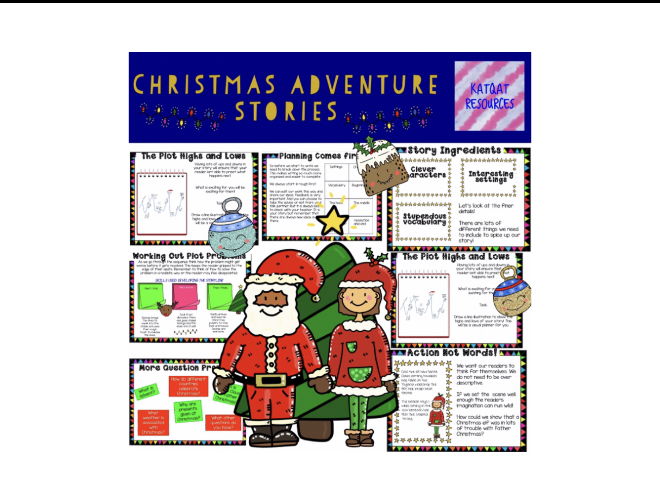 Product Description Writing Adventures stories can be a challenge this tried and tested presentation gives your students a great support to writing different aspects of a Christmas themed Adventure story! It is structured chronologically BUT you can pick and choose the pages that suit you best. Keep an eye on this product as I will add more! Who doesn't love a growing pack. Update! 30 activities related to the PPT added! This pack includes Pdf format (will be adding a PPT) Original art work Engaging and has been used with EAL children Content What can an adventure story be discussion prompt? Let's think together How do we start? How did you do? Starting with questions More question prompts Let's plan our story Story ingredients Action not words Your turn - Let's write Improving our writing Planning comes first Thinking about different points of view The setting Setting out your work Rehearsing Drafting and editing tips Working out plot problems The plot highs and lows If there is anything you would like to add to this pack let me know. Clip art and frames my artwork but fonts by Kimberly Geiswein. Many thanks!

This bright and colorful festive pack of 10 digital designs rewards stickers should brighten up your student's day. BONUS STICKERS INCLUDED!* This digital sticker set is great for adding some familiarity and fun to your teaching. Digital stickers are a lovely way to encourage and motivate your students while they are engaging in distance learning or group digital work. Each image has been made 300 dpi and 300 x 300 pixels which is great for digital work and a crisp clear image. Please note: These stickers or any of my clipart may not be used to create stickers for commercial use without my explicit permission. I do design commercial stickers so please get in touch if you would like to do so. All artwork is original. This Resource Contains the following Well Done! Wonderful Work! Excellent Work! Great Progress! Outstanding Work! Great Effort! Very Good! Fantastic Work! Excellent! Awesome! These digital stickers are great for Google classroom, Seesaw or Edmodo. ***** SEE SAW ***** For use in 'See Saw', after a student sends in their work. you have the option to edit it. Next you will click on the 'camera' icon and add the sticker of your choice from your computer drive or the camera roll on your tablet. Finally you approve it and you're ready to go! The Legal Stuff All rights reserved, purchase or download of this item entitles the downloader / purchaser the right to use these digital stickers within their own class context. It is for one classroom use only. Duplication / copying / reselling / claiming work as ones own is strictly prohibited without written permission from the author. All clipart is the sole property of Katqat Resources and Kat Illustration London. Commercial credit is required if using with the intent to use my clipart as a part of an educational resources or using as a part of an educational lesson. Credit in the form of one clickable link must be given to Katqat Resources / Kat Illustration London or by linking to my logo. All files must be secured. Please ensure to secure my artwork by flattening and password protecting the document. This protects my work and your valued investment. Which is very much appreciated. The artwork should be used to enhance your resource and not used for resell or as a stand alone product or item. Editable resources are permitted to be created with my artwork but it must include your own original education material, text, content, design elements (eg. borders) and my graphics must be flattened. They may not be used as stand alone graphics or moveable clipart unless they have been sold specifically for this purpose. My artwork may not be used on print on demand sales sites such as zazzle or Redbubble or uploaded to free clip art websites. This is strictly prohibited. By protecting our work, we can continue to do what we love and create more resources to help teachers, parents and above all our students in a our educational community.

CONTENT: Activities related to Anthony Browne's book Gorilla Character descriptions. Birthday plan – in both American and English spellings. Grammar investigation – verbs, nouns, adjectives. Character analysis Story response Gorilla by Anthony Browne ISBN-10: 0763673668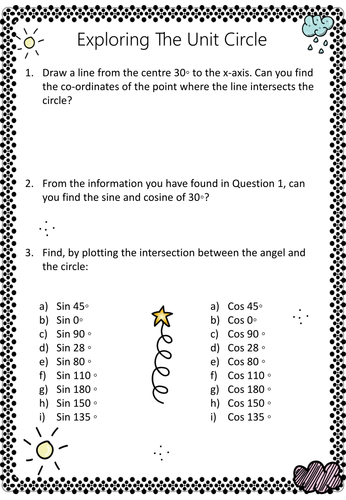 This is a worksheet sample designed for secondary school Maths Exploring the unit circle *Sine * Cosine * Consolidation questions Can be used as a quick assessment *** Update - Powerpoint included Made by JR Maths Resources uploaded to my shop This the practical part of the enrichment project. It is to be used in conjunction with the Exploring the unit circle worksheet. Slide 2 should be printed out on an A3 sheet of paper. Slide 3 can be used on the interactive whiteboard by the teacher to help provide explanations. Slide 4 is an additional project, scaffolded to enable the student to draw a sine and cosine wave.

LINK TO MY Activity Pack : https://www.tes.com/teaching-resource/air-resistance-activity-pack-11637109 A colour presentation about Air Resistance / Drag for KS2 science. Introduces the topic of Air Resistance * png images - fully transferable to an interactive whiteboard * Clear images and great font styles * What is drag? * Streamlined *Streamlined shapes * What about falling? * 9 full colour slides * Allows teachers to have a visual prompt for explanations

* Quick facts about the earth's water * Water pollution facts * Discussion with post-it notes *What do you think you can do to help? * How much water do you use? * What do we use water for every day? * Activ Board flip chart * Png images that can be inserted into a PowerPoint or Smart Notebook or dropped to iPads through an airserver. Worksheet activity about water pollution facts and action that can be taken.

The Bog Baby is a well loved story about childhood. You will need to first purchase the book 'The Bog Baby by Jeanne Willis and illustrated by Gwen Millward'. A suggested site to purchase this is: https://www.amazon.com/Bog-Baby-Jeanne-Willis/dp/0375861769 KS1 - activities to encourage understanding and exploration of themes KS2 - As above but also philosophy for thinking - thinking deeper about the issues explored in the book (Trust / sisterhood / wild animals) * PDF and Editable version * Simple introduction to the Bog Baby - two key questions writing frame * Being safe - informing people when you go out alone or with a friend * Instructions for keeping a Bog Baby * What I know about the Bog Baby * The forest * Text to self * Text to world * Text to Text * Story events and corresponding consequences writing frame * Real love * If I had a Bog Baby * A letter to the Bog Baby - two writing frames * A letter to Mum - two writing frames * Character traits * Adjective hunt * Verb hunt - three writing frames * My Bog Baby * Comprehension writing frame - 4 pages * Vocabulary challenge * Bog Baby similes * Bog Baby flip booklet * Wild animals as pets flip booklet * Text connections * 40 pages This unit will be updated regularly

Product Description This growing unit contains what you will need to teach your students to write a non-chronological report. This pack addresses the National Curriculum standard for writing non-chronological reports. The lessons can be used as quick fillers or to supplement your whole lessons. They are written with EAL children in mind and have been used as such. - Easy to follow activities - A complete sample text which can be used as an example or as part of guided reading - A variety of writing frames and information pages to help you and your children model writing for your students. It will also assist any adult supporting small groups. - You students will be aiming to write an informational text based upon penguins. Included are suitable YouTube links but as always please watch beforehand to check suitability for your class. This pack focusses on delivering information in written form using description, non-chronological organisation and in depth research. After modelling for students, they will prepare for a report and learn the structure so that they can make the most of their information and create a well- rounded report. They will learn to choose suitable headings and arrange their topics into appropriate subheadings. ** New Activ Inspire presentation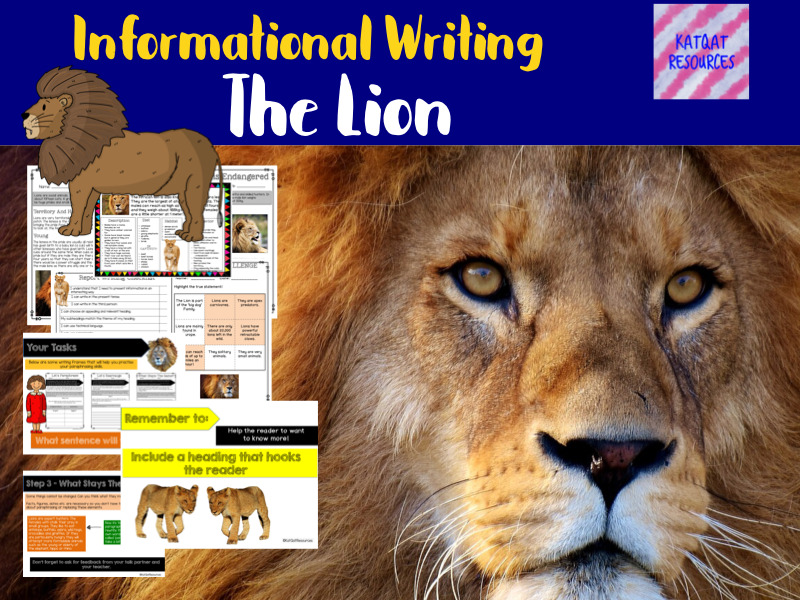 Lions are a popular topic for children when writing a non-chronological report. Here I have provided materials that will help you to capture your children's attention. Here is a resource that both challenges the upper ability and helps children who are emergent writers to achieve in class. An extensive bank of writing frames and activities for writing a non-chronological report on these majestic animals. Useful for class projects or cross-curricular links. It will supplement your unit of work. Extra stand-alone writing frames and activities to fit in with your planning or extension or project work *** Updated November 2018 Ready to go writing frames This Pack includes: * Detailed 5 days worth of planning * Detailed information on the lion * Kid safe videos links provided for lions (for flip the classroom activities) * Pre input activities * Lions in the wild * Lions in captivity * Question cards * 'What if' questions to encourage discussion *Mini Flip books (differentiated) and varied * Detailed word mat - one with vocabulary / one blank * Writing frames for all aspects of writing a non-chronological report *Question generator writing frames *Facts about the lion – different approaches *Heading and subheading and topic planner *Non-chronological report planner - different versions *Step by step sub-heading planner *Themed writing paper for display or creative writing *Distributions of lions past and present * Original clip art for display or role-play *Report writing checklist * Pros and Cons – differentiated versions * Supports EAL * ICT linked activities using a range of programmes such as Skitch, Popplet etc It can also be used as a persuasive writing follow-on. Supports the following curriculum standards for Year 3: En3/3.4 Vocabulary, grammar & punctuation En3/3.3a Plan their writing by: discussing writing similar to that which they are planning to write in order to understand and learn from its structure, vocabulary and grammar discussing and recording ideas En3/3.3b Draft and write by: organising paragraphs around a theme using simple organisational devices En3/3.3c Evaluate and edit by: assessing the effectiveness of their own and others' writing and suggesting improvements proposing changes to grammar and vocabulary to improve consistency, including the accurate use of pronouns in sentences En3/3.3d proofread for spelling and punctuation errors En3/3.3e read their own writing aloud, to a group or the whole class, using appropriate intonation and controlling the tone and volume so that the meaning is clear.

** Write a fable using a familiar Aesop's fable moral *** Analyse the fable *** Explore the moral *** Re-write the fable *** Writing a story around a moral *** The Wind and the Sun illustrated flip books (colour and bw versions) *** Notepaper for display *** Characters for role play / puppet play *** Venn diagram writing activity *** Class display characters *** Black and white versions included *** All original illustrations *** Png background for Smart board / PowerPoint teaching *** Regularly updated

Over 70 pages of Non-chronological report writing support. Supports your unit planning. Great to get children who are fascinated in outer space engaged in writing. I do not include lesson plans as there is a variety of resources that can fit in with your unit plans and as I have used this in British and international school, curriculums vary. ** Extra writing planning sheets included Now include extra flip book and info sheet. Capturing children's attention and getting them to write a good report can be tall order! Here is a resource which both challenges the upper ability and helps children who are emergent writers to achieve in class. An extensive bank of writing frames and activities for writing a non-chronological report on space. Useful for class projects or cross curricular links. It will supplement your unit of work. This pack includes a colourful poster set to put on your working wall or display. It will save you hours hopefully! The main pack includes: *Information on the planets *Mini Flip book (differentiated) and varied * Detailed word mats - one with vocabulary / one blank * Writing frames for all aspects of writing a non-chronological report * Report writing posters *Question generator writing frames *Facts about the all of the planets *Heading and subheading and topic planner *Non-chronological report planner - different versions *Step by step sub-heading planner *Themed notepaper *Report writing checklist It can also be used as a base knowledge booster for the study of space / planets or a cross curricular link. ** 2 packs 61 pages