5Uploads
156k+Views
51k+Downloads

Did you know that rising temperatures has resulted in more extreme weather events? Or, did you know that wildfire events are lasting longer? What about that due to milder winters, mosquitos are expanding their territory and bringing diseases with them? Climate change is the long-term changes in global temperatures and other characteristics of the atmosphere. Climate has changed throughout Earth's long history, but this time it's different. Human activity is causing worldwide temperatures to rise higher and faster than any time we know of in the past. Perfect for dialogic reading. This climate change themed no-prep lesson resource. If you are teaching about global warming there is a lot of information for students to process. Children will be able to learn about what climate change is and the issues surrounding it. The slides are colorful and full of information. It's a useful addition to any unit of work about the environment. There are duplicates of some slides depending on whether you prefer to use U.S. English or British English, simply delete the slide that contains the spelling that is not applicable to you. There are opportunities for children to answer questions, both structured and unstructured, to express their views and to do some research (under the supervision of a responsible adult if they are learning from home). This is a useful resource for distance learning, whole class teaching or for instruction in small groups using a device. Presentation: includes photographs, illustrations, embedded videos and short activities. Climate What is climate change? The consequences of climate change What is fossil fuel? Fossil fuels: gas, coal and oil Natural gas focus Coal focus Crude oil focus What do I know? Burning fossil fuels What is global warming? Fossil fuels Fracking The Industrial Revolution The cost of fracking The benefits of fracking The demand for natural gas Photo focus - Melting ice, extreme weather and loss of habitat Melting glaciers and ice caps Extreme weather changes and global warming Old sayings The ozone layer Coral and algae How does coral affect algae? Coral bleaching How does climate change affect children? Food shortages and climate change Ticks and climate change What do you use electricity for? Reducing climate change - what can you do? Climate Change Summit - 2021 *** Just added*** COP26 Southern Californian water restrictions 2022 Taking action to reduce global warming. Over 70 printable comprehension worksheets including: How do we use electricity? Help the planet. What do I waste? (doing better) Reading Comprehensions

How can we encourage our children to care about the environment around us? This presentation introduces the main environmental issues that children may have heard about in the news or at school. It explores this subject in an engaging way with the help of colorful photos, embedded videos, original artwork, speakers notes and activities. This resource packet helps children to access information about the environment and get them thinking about what impact we have made as humans and what changes they can make as individuals to show that they care about the wellbeing of our planet. 'Looking after the environment' is suitable for distance learning, whole class or in a small group working with tablets or computers. The presentation is divided into different sections so that you can chose which part you want to teach at your own pace. Presentation: Taking care of the environment Natural disasters - questions (knowledge harvest) Earthquakes Hurricanes Hurricane Ida Oil spills Overfishing Wild fires Flooding Wetlands Garbage Water pollution The sewer Wastewater and the environment Natural or man-made disasters? Exploring natural or man made and the human impact Ways in which we do not look after our environment discussion Our human impact We can do better - ways we can help Reflection / plenary Worksheets: Pdf Natural or man-made disasters Natural or man-made disasters - consequences How to help the environment Human impact - what do I waste? Matching labels Oil spills Wildfire writing frame

This bright and colorful pack of 8 digital winter animals themed rewards stickers should brighten up your student's day. These are original artwork. You can use these stickers to bring some familiarity to your students when working with distance learning or apps such as Google classroom or Seesaw. It's also great for Cambly teachers who want to message a reward after a lesson with a student. The pack contains the following images: Awesome! Great Effort! Good effort! Fantastic Work! Fantastic! Excellent! Great Progress! Outstanding Work! Well done! Very Good! Good! Nice! Wow! Great! Super work! Fabulous! Wonderful! Amazing! Good work! Superb work! Why use digital stickers? Digital stickers are a great way to add some familiarity and fun to your teaching. These virtual rewards were created to encourage and motivate students while they are engaging in some form of digital learning. I have used them in distance learning, with Google classroom, Seesaw and have been used to communicate feedback to online students as well as in the classroom. Parents have also given very positive feedback when they see a digital sticker placed on their child's work. I'm a huge fan of physical stickers and have designed for sticker companies professionally and there is nothing like a fresh sheet of stickers! However, the advantages of digital stickers are that you can use them over and over in your own personal classroom with your students and never worry about running out. They are 300 px by 300 px each so do not take up too much memory on your hard drive so convenient to store. These png files have a transparent background so they look great when inserted onto your digital files. They mimic physical stickers as you can move them around the document. Using digital stickers is a lot easier than it looks and here are some instructions and a link to my Youtube channel which shows an example of using digital stickers with Seesaw. CLICK HERE As you collect different digital stickers it is a good idea to organise them into a digital file or on a digital sticker book on your ipad or tablet. I keep mine in digital folders. ***** SEE SAW ***** For use in 'See Saw', after a student sends in their work. you have the option to edit it. Next you will click on the 'camera' icon and add the sticker of your choice from your computer drive or the camera roll on your tablet. Finally you approve it and you're ready to go!

Volcano non-prep lesson about exciting volcanoes! This resource explains what a volcano is, the parts of the volcano, how volcanoes erupt and the effects of an eruption. You can condense this lesson if you are limited for time or teach at pace and deliver it in a regular lesson slot. Teachers will need to read through the material first to see if this time frame suits your teaching style and pace so that you can prepare not to run over or under. There are over 40 slides in total, however, it is fine to remove or keep what suits your cohort of students for your own personal classroom use. This pack contains: Facts about volcanos and volcanic eruptions A Crisis in the Canary Islands Facts about the La Palma volcanic eruption More about the La Palma eruption Label the volcano Igneous rocks Pompeii Krakatoa Activities - vocabulary work Instructions / directions Embedded videos Writing prompts - link to English literacy. HOW DO I USE THIS RESOURCE? To use as a full lesson - review the activities as above - children will be able to complete a more lengthy activity and take time to include individual research. To use as a shorter lesson - review the activities and select the ones that reflect your student's ability. This lesson can be used as a regularly time lesson. Children can type directly onto the document.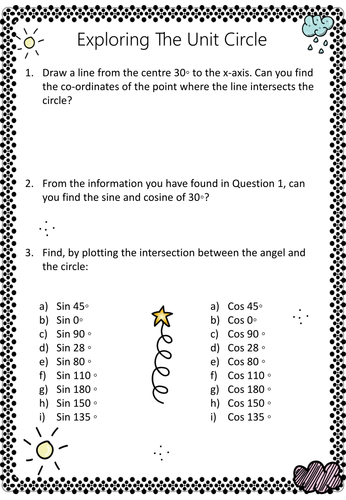 This is a worksheet sample designed for secondary school Maths Exploring the unit circle *Sine * Cosine * Consolidation questions Can be used as a quick assessment *** Update - Powerpoint included Made by JR Maths Resources uploaded to my shop This the practical part of the enrichment project. It is to be used in conjunction with the Exploring the unit circle worksheet. Slide 2 should be printed out on an A3 sheet of paper. Slide 3 can be used on the interactive whiteboard by the teacher to help provide explanations. Slide 4 is an additional project, scaffolded to enable the student to draw a sine and cosine wave.