203Uploads
50k+Views
4k+Downloads Reclaim your Sundays! Literacy planning for year 5 for the Autumn term. Plus 108 great close worksheets on Aesop's fables. Planning covers topics such as Famous Authors' Plans, Myths, Legends and Fables, Recounts. You get over 40 mb of material. This is a zip file containing Literacy planning for a year 5 class (Autumn term) It consists of 14 short term plans I designed. There is one Literacy lesson per day. You will get 14 Microsoft Word documents. They are based on the Greek myths. I've also included for free some extra teaching materials that you can use. I've included too 3 medium term plans , one for each term). These cover plans and ideas not just for Literacy, but other subjects as well. I've also included an extra week from the next term. Feel free to use it to plug any gaps. This will help you do your own planning. Feel free to cut and paste into your own school's plans. Ideal for someone who had to do a term's supply like I had to do. Please bear in mind: every school is different. My plans assume you have the aide of a TA, but this is not essential. There is no differentiation in the planning. Everyone does the same thing to the best of their ability. you may want to add your own detail. These are short term plans remember. I have used walts and wilts. Your school may do something different. A very few number of weeks have a small gaps for things like tests and inset days. Use the extra week one planning for the next term (included for free) if you wish. Save your Sundays!] Short term RE Catholic based lesson plans. Cut and paste and adapt for your school and enjoy a rest on Sunday. Short plans on: Pentecost Advent Christmas Creation Easter Family and celebrations Holy Week Lent Multicultural Pentecost Prayer Sharing in Jesus' Life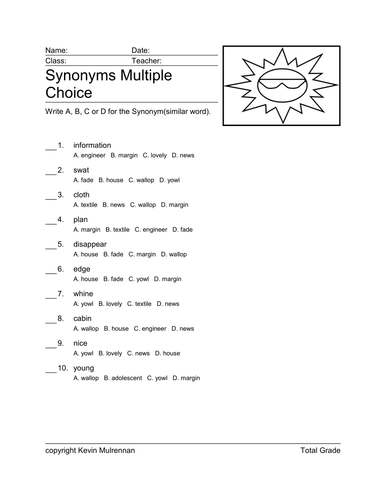 Synonyms are an important part of the 11+ grammar school exams. I have designed 100 worksheets on this area. I have chosen a group of over 600 words. There are 10 questions per sheets and pupils write a, b, c or d. The teacher will be able to have a lively discussion when going over the work with the pupils, discussing the meaning of all the words. Of course they can be used by not only grammar school pupils. They would suit anyone of the top end of primary, adults with learning difficulties or foreign students learning English. A zip file containing 500 French wordsearches I've designed. All answers provided. 10 sets of simple words. 50 different shapes. A big file so please be patient when downloading. Ideal for Friday afternoons, homeworks, fun etc. Each worksheet has 20 French words to find.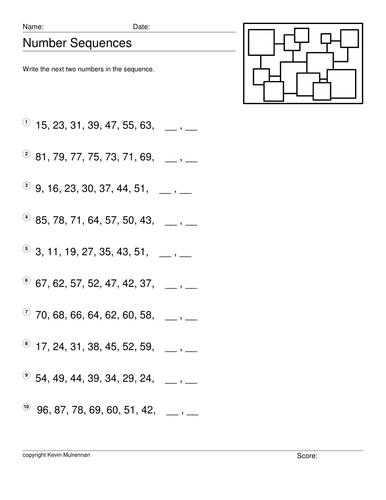 100 worksheets. 100 answer sheets. At least 10 questions per sheet. Pupils have to enter the next two numbers in the sequence. They get harder so that later sheets include decimals and 20 questions per sheet.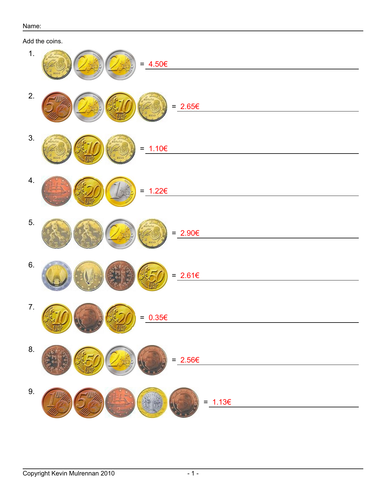 500 questions on counting up Euro coins. 5 worksheets with 100 questions each. There are little pictures of the coins and the pupils have to add them up and write the answers on the sheet. A freebie. If you like these I have 100 for sale in my shop. I have designed 5 worksheets on Money and Shopping for primary school children. I have used a variety of items, a variety of difficulty and a variety of numbers of questions per sheet. Pupils write on the sheets the total cost. e.g. a milkshake costs £2.90 a hot dog £1.65 How much would 2 milkshakes and 3 hotdogs cost? There is plenty there to reinforce the work done in the classroom. Good for extra homework or additional work for the bright ones. Answer sheets are provided for all worksheets. Save your Sundays! Planning for Science year 5. Lots of good stuff. Powerpoint, worksheets, planning Topics covered: Adaption Einstein Life Cycles David Attenborough and Jane Goodall William Harvey Over 37 mb of material From my schools. Anti Bullying week stuff. Lots of powerpoints and word documents. Great springboard for your ideas. Adapt for your school. Great for assemblies.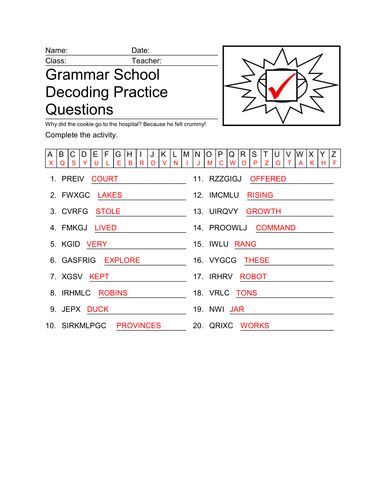 I have designed 100 worksheets on decoding numbers for the 11+ non verbal reasoning questions. There are 100 worksheets provided on a cd. Decoding is an important aspect of the 11+ exams. Ideal for parents, pupils and tutors. Answer sheets provided. The Decoding worksheet helps to reinforce spelling and problem solving skills for students. The letters of each word are replaced with other letters or numbers based on a pattern. Students must translate the words and spell them correctly. You can see an answer sheet in my picture with the answers in red. I'm now retired from teaching after decades in the classroom. I'd like to help the younger generation. One aspect I don't miss in Sundays. Trying to fill in planning grids that were rarely used or looked at. What a nightmare! So I've put together my teaching plans etc from the various schools I was in. It's mainly to do with Kensuke's Kingdom. But there's othet stuff too included for free. There's stuff on Dolphin Boy, Butterfly boy etc. Feel free to adapt for your planning grid. You get 8.7 mb of stuff so that's goof value imo. In it are lesson plans, powerpoints, questions etc. Enjoy your Sundays!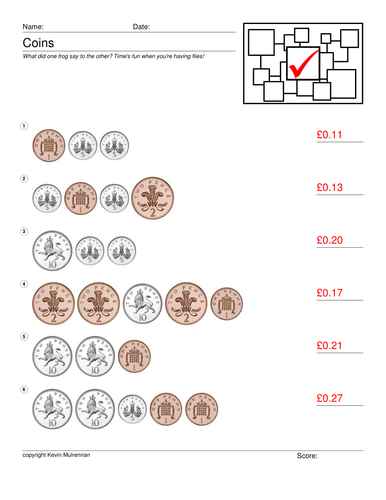 I have designed 100 worksheets on coins for primary school children. I have used a variety of coins, a variety of difficulty and a variety of numbers of questions per sheet. Pupils write on the sheets how much it all adds up to. Answer sheets are provided for all worksheets.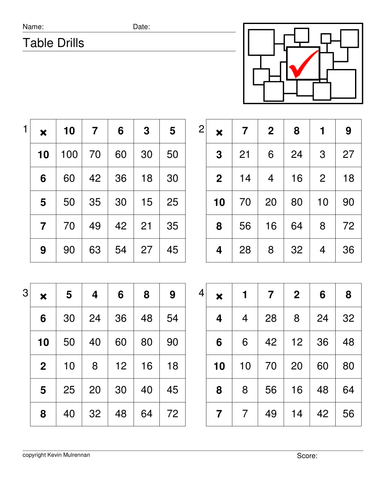 I have designed 100 worksheets on table drills for primary school children. There are four drills per sheet. The pupils have to write the answers in the gaps provided. Some of them go up to 10, some to 12. The variety is huge. Like all good ideas it's simple yet effective. A great way of repeating for reinforcement, but in an attractive way. A great reinforcement exercise or you can give a sheet to a bright pupil to keep them occupied. You can use your professional judgement to choose the appropriate sheet. Answer sheets are provided for all worksheets.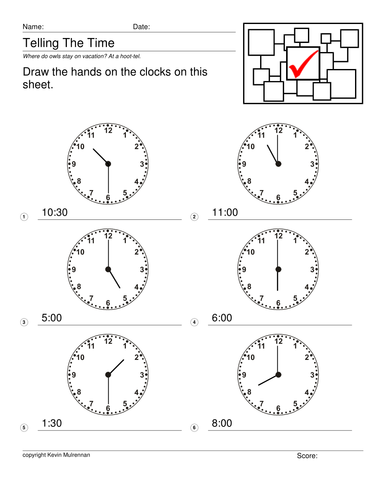 98 worksheets plus answers on telling the time. Pupils have to draw the time on the clock faces. Plenty of variety on the sheets. e.g. time on the hour, half hour, quarter hour, plus some five minute ones.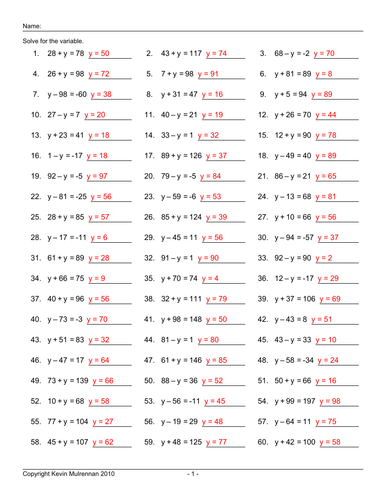 1000 questions with answers on Equations. Single variables. Pupils have to work out what y equals. 108 cloze exercises on Aesop's Fables. Great for Literacy lessons. Gives lower ability pupils confidence. The Cloze worksheet is a standard exercise for improving students' understanding of word context. The student then fills in the words on the worksheet based on an understanding of the sentence and the list of potential words removed from the text. The cloze procedure is a reading comprehension activity in which words are omitted from a passage and students are required to fill in the blanks. This procedure is incredibly useful in reading instruction because it can be easily done by any teacher and provides valuable reading comprehension information. Great value bundle. Great preparation for the grammar school exams. Ideal for parents or tutors. All answers provided. You'll never run out of material with this great bundle! Included: 11+ Grammar School Antonym Questions Literacy Worksheets 11+ Grammar School Synonym Questions Literacy 100 Worksheets with Answers 11+ Verbal Reasoning Decoding Vol 1 Maths KS2 11+ Verbal Reasoning Decoding Vol 2 Maths KS2 11+ Verbal Reasoning Questions Letter Patterns Vol 1 11+ Verbal Reasoning Questions Letter Patterns Vol 2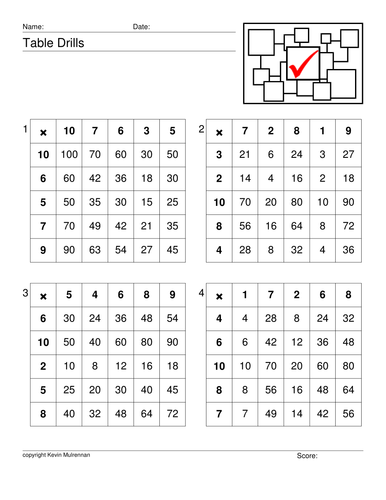 If you like this resource more available in my shop. Fill in the gaps to get the correct multiplication answer.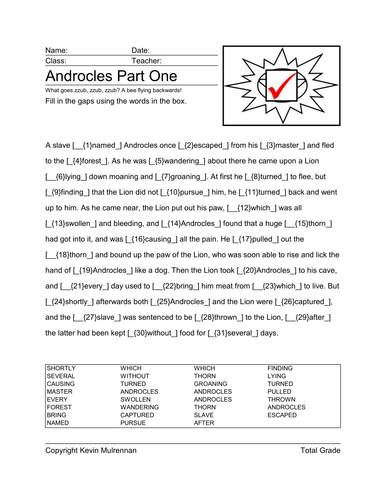 A cloze test on an Aesop fable. If you like this one I have a collection in my shop.