Staff Pulse
Staff wellbeing surveys
Give your school staff a voice and understand how you can retain your talented teachers
Prioritise staff wellbeing
If you've happy teachers who are delivering great lessons to the best of their ability, you're more likely to have happy pupils with better outcomes.
With Ofsted's increased emphasis on teacher wellbeing and its impact on pupil wellbeing, Staff Pulse helps you understand how your staff are feeling and develop action plans around any issues and pressures they're facing within your school.
Once an action plan has been put into place, staff can see that they're been listened to and that they, and their opinions, matter.
Education specific questions
With questions developed by a psychologist, the short surveys capture employee feedback across 21 different categories, including: workload, support, communication and enjoyment. In anonymous scoring and commenting on given statements, staff can be totally honest about how they feel and how you can support their wellbeing, without fear of judgement or repercussions.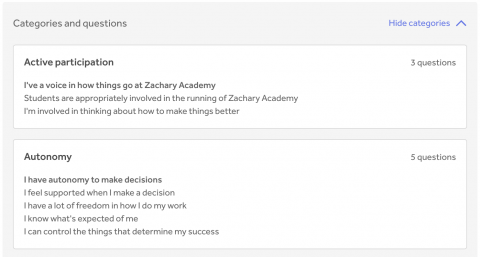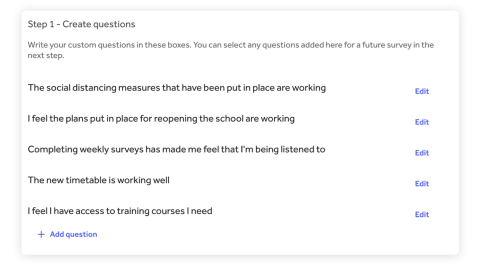 Custom questions
Our survey questions are comprehensive and cover the main areas of staff wellbeing, but if you've a particular set of concerns, you can add custom questions. You can select up to three custom questions to ask for each survey.
Coronavirus related questions
With Staff Pulse, you can ask specific coronavirus related questions. Through the custom questions feature, you can choose from a selection of nine optional questions. You can edit these questions to suit your own individual situation or simply use them as a guide to writing your own.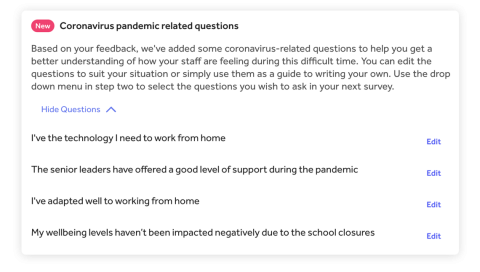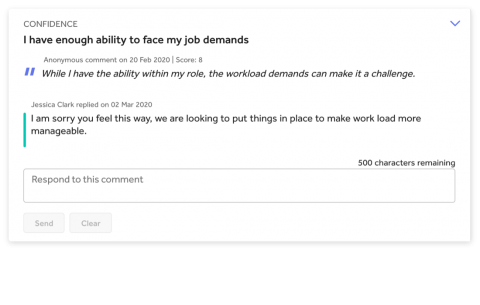 Two-way anonymous conversations
Conversations gives you the ability to respond to comments, opening up lines of communication with your staff and allowing an anonymous conversation to begin. You can offer help and advice for staff who've indicated they're struggling or stressed, showing your staff you're listening and trying to make improvements.
Build a great school environment
Staff want to feel valued and appreciated. Acting on the feedback you receive from Staff Pulse is an essential part of the engagement process. The results from the surveys will help you to identify actionable insights in both strength and problem areas from which you can create an action plan for improvement.
You can share the steps you're taking with your staff to help them to understand why you've taken a particular action and encourage their participation in future surveys.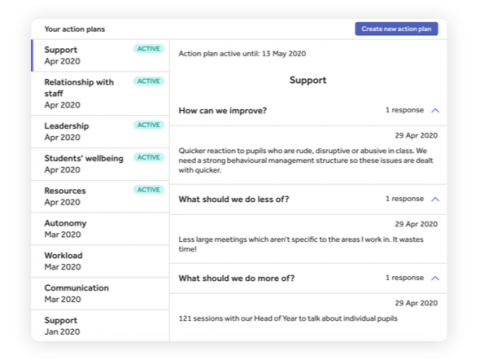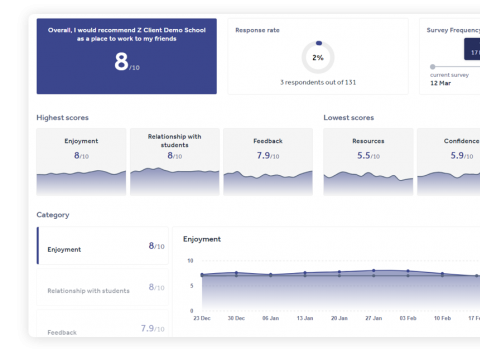 Access real-time data
How many staff completed the survey

If staff are generally satisfied at your school

Scores across each of the categories so you know which areas you need to prioritise in your action plan

Specific comments on survey questions to help form the basis of your action plan

Benchmark scores across each of the categories against a national average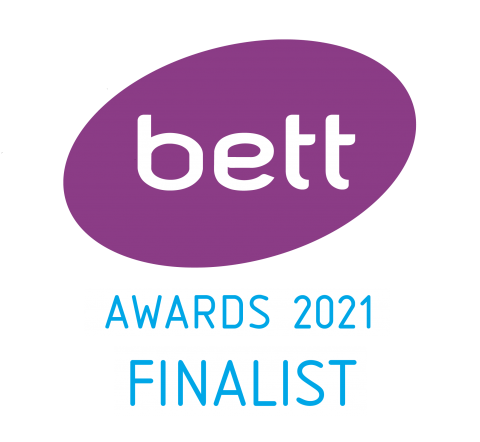 Schools recommend us
I am extremely pleased with the insight to my staff that Staff Pulse has given me. By gathering weekly snapshots, I am able to build a picture of how my staff are feeling, where the strengths are and, more importantly, where people feel enhancements could be made. 

Source: email feedback May 2020
Get in touch
Want to find out more about Staff Pulse? Fill in our short enquiry form and we'll be in touch. Alternatively, you can email us at recruitment@tesglobal.com or call us on +44 203 194 3050