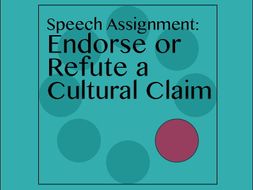 12th Grade English Speech Assignment: Endorse or Refute a Cultural Claim
Students' task in this assignment is to explore how people think about some issue, teach their audience to be consciously aware of why we think this way, and then persuade the audience how to construct meaning on this issue. If students endorse a claim, they suggest that people will benefit from continuing to operate according to this worldview. If they refute the claim, they suggest that we should abandon it and replace it with something new.

This speech assignment is complex and thought-provoking. It walks students through brainstorming techniques for recognizing the cultural claims that influence their thinking without their even realizing it. The assignment provides a wealth of strategies for exploring a cultural claim and gives examples for how those strategies could be used to persuade an audience regarding their chosen topic.
Read more