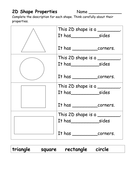 2D shape properties
differentiated shape and their properties worksheet
Other resources by this author
Popular paid resources
Included in this bundle is: A long Observation Proforma with key prompts to make observing simple. A Reading Observation Proforma with key prompts ...
MrEarlyYears
This new teaching resource contains 15 worksheets with shape graphs and cute animals as well as 30 flashcards with shapes (15 in color and 15 in bl...
MrMattie
Just under 2000 KS2 maths curriciulum worksheets.
Ally75
Updated resources
This resource has been designed to support the delivery of the White Rose Maths Scheme Year 1 Geometry: Position and Direction - Year 1 GEOMETRY: P...
Krazikas
This resource relates to counting 2D shapes of different colours. It is a 3-in-1 product that covers the early learning of colours, shapes and basi...
Ro_Milli0110
These are all co-ordinate pictures that I have created or pupils I have taught have made! I have been using these as a way of developing co-ordinat...
ajf43