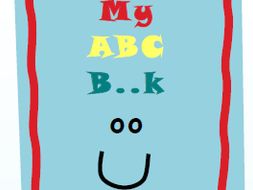 ABC book & ABC rap
An ABC book for learning/practising the English alphabet.

The words taught include: apple, bear, cat, dog, egg, fish, garden, hat, Indian, jungle, kite, lion, monkey, name, o'clock, pen, queen, rat, socks, tiger, umbrella, van, water, x-ray, yo-yo, zebra.

If these are the words you want to teach your class, then... Bingo! Each letter is taught and practised in two pages: the first one presents the letter as well as one word that starts with the letter. The second page offers space for handwriting practice as well as two frames for the learners to draw their own pictures of words that start with the letter taught.

The book is accompanied by a video where students can rap their ABCs in a fun way that makes them learn and remember the letters, their sounds and the words better. I showed this video to my class on the interactive whiteboard, and when each letter appeared on the screen, we used to rap like this (first the name of the letter, then the word, then the sound twice, then the word again):

[eɪ]
APPLE
/a/
/a/
APPLE

[biː]
BEAR
/b/
/b/
BEAR

and so on …

I' m sure you can rap, too!
Read more