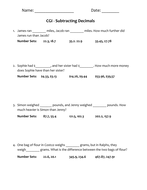 Adding & Subtracting Decimals - CGI Word Problems
Adding & Subtracting Decimals - CGI Word Problems

Designed for 4th Grade
Read more
About this resource
Info
Created: May 31, 2017
Updated: Feb 22, 2018
Other resources by this author
I found these on firstschoolyears.com, just converted them to a word document so was easier to use for reports. Hope they are useful!
hroberts999
14 pages of report card narrative comments - Social & Emotional Leanring - Science - Writing - Reading - Speaking & Listening - Math Target...
hroberts999
Popular paid resources
This pack of resources covers Year 2 place value for the first week of the autumn term. The resources support a mastery approach to teaching mathem...
RustyMaths
Flip- chart moves through stages of multiplication as repeated addition and then an array. Can be made more practical (fun) by having a collection ...
jreadshaw
Hello again. Here is my first week of planning and resources to go with the White Rose Maths scheme of learning for Year 1, Summer Block 1,Multipli...
tg11
New resources
Pupils solve the equations to find the values for different letters and use them to decode a message.
amwgauss
Three short homeworks on probability, sequences and factors & multiples.
amwgauss
This resource aims to engage students with identifying prime, square and cube numbers and also to find factors, multiples, LCM and HCF through foot...
amwgauss
Updated resources
These topic-focused SATs questions at the end of a unit will help to test and extend students' understanding as well as helping them to prepare for...
Maths4Everyone
This activity gives students extra practice on determining the nth-term formula for an Arithmetic Sequence. Click --> https://tes.com/.../Treasu...
Maths4Everyone
This is a fun interactive whiteboard game, created in PowerPoint, with triggered animations. All my students have loved this activity ('Sir, can we...
Maths4Everyone