102Uploads
503k+Views
401k+Downloads
I found these on firstschoolyears.com, just converted them to a word document so was easier to use for reports. Hope they are useful!
Year 3 - 6 Scheme of Work for Music, can be linked with Music Express or used for specialist teachers This has been previously downloaded over 40,000 times! Each year group is individually planned and can be downloaded in word so can be ammended or added to your own planing documents.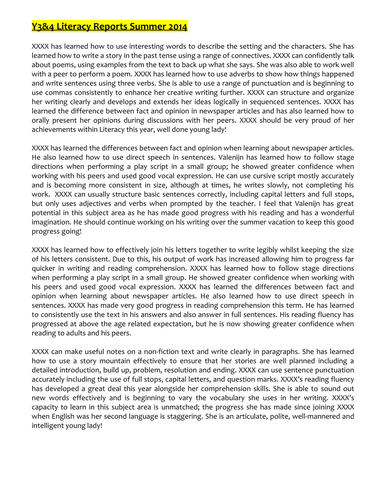 Report Card Comments for 2nd or 3rd Grade Language Arts Math Science Music General SEL Comment
Introduction to the different types of angles. Full mini lesson with examples and interactive parts. 20 slides Acute angle Obtuse angle Straight angle Right angle 3rd and 4th grade specific
3 levels of number sequence work sheets - 9 different versions Homework sheets at lots of different levels - 6 different versions
Teaching Film Music: Teaching resources - websites, video clips and other useful links when teaching this unit of work. Graphic Score example to use A complete project for students who can and can't read traditional notation.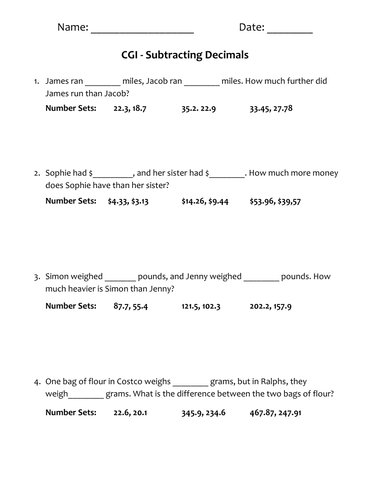 Adding & Subtracting Decimals - CGI Word Problems Designed for 4th Grade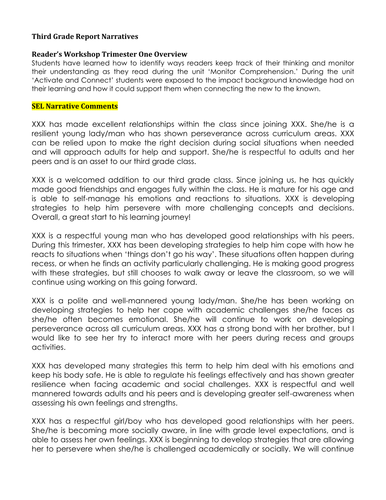 3rd Grade Report Card Narratives (year 4) SEL Narratives Writer's Workshop Reader's Workshop Math TFU/Social Studies
Multiplication Packet - 6 days of lesson plans and worksheets and end of unit assessment - 15 pages Can be edited also 4.NBT.B.5 Multiply a whole number of up to four digits by a one-digit whole number, and multiply two two-digit numbers, using strategies based on place value and the properties of operations. Illustrate and explain the calculation by using equations, rectangular arrays, and/or area models.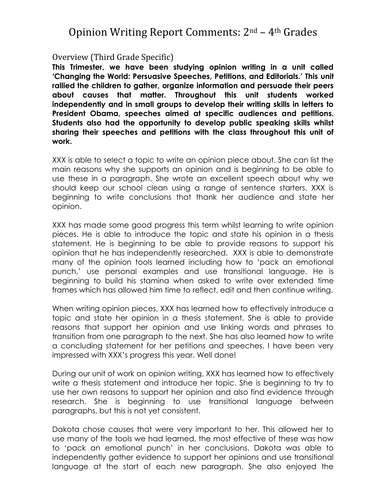 Math and Opinion Writing Report Comments 3rd and 4th Grade 34 different comments for each subject area
Mini-Math Unit Patricio's Perfect Pies and Pastries - Ratio Tables & Place Value A unit designed to engage students in use of Ratio Tables and then building place value skills through money and rounding. This has worked great in my 4th grade classroom. Differentiated worksheets (10 in total) Mini lesson
Open arrays - 3 levels of problems (Pdf and editable version in word) Different number sets in on each sheet. Fully editable in terms of shoe of rectangles and numbers.
14 pages of report card narrative comments - Social & Emotional Leanring - Science - Writing - Reading - Speaking & Listening - Math Targets for Math, SEL & ELA
Measurement Division CGI Problems - 3 differentiated sheets Includes PDF version to print Includes word version for you to change the number sets, names etc…
Interpret the unknown - 4th Grade Learning objective: We are going to learn to interpret the unknown using multiplication and division to solve problems. Links to possible follow up worksheets (not made by me) are also included on last slide Full editable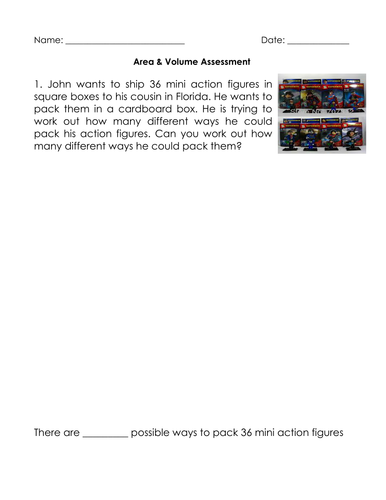 Area & Volume Assessment - Editable (4th & 5th Grade) Aligned to 5th Grade Volume standards
Compare fractions using benchmarks - 4th Grade Lesson Ppt can be used to introduce this skill and practice as a class.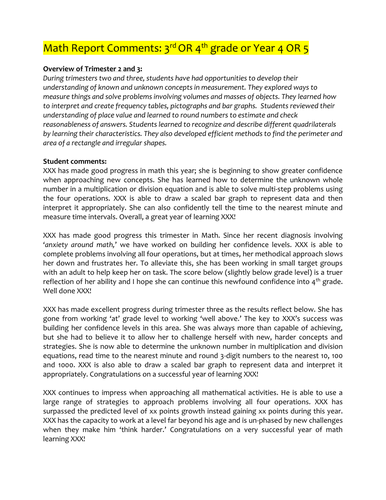 Math Report Comments: 3rd OR 4th grade or Year 4 OR 5 24 different math narratives with a trimester overview Common Core Aligned