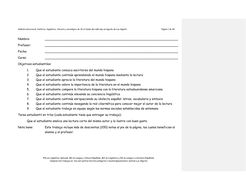 Análisis estructural, lingüístico, literario y sociológico de En el fondo del caño hay un negrito
This is a structural, historic, linguistic, literary, and sociological analysis of one of the best writers of all times from the Spanish world, José Luis González. "En el fondo del caño hay un negrito" ("At the bottom of the water there is a little black boy"), although written with everyday vocabulary, it is precious literary stone of all times, for the language embraces many elements of literature. However, dear colleague, do not be misled, this reading can turn out to be a double edge swore; therefore, I recommend you to have the principal and parental approval before analyzing it in class. Everyone will enjoy it!

Prior to the analysis, I recommend the approveval of the principal and the parents of the students.
Read more
About this resource
Info
Created: Feb 21, 2017
Updated: Feb 22, 2018