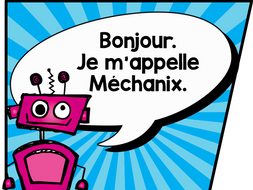 Back to School French
A large bundle of resources for your first French lesson of the new school year.
Other resources by this author
A 30 page resource including: An original French story (written by me)- simple language, beautiful images, repetition of simple structures; Wall wo...
betsybelleteach
PowerPoint to introduce and practise vocabulary for the hotel role plays. Includes nouns with vocab games to consolidate; advanced vocabulary such ...
betsybelleteach
3 resources to practise the role play scenarion 'At the hotel'. Includes a PowerPoint with games, a booklet, a board game and practice role plays w...
betsybelleteach
Popular paid resources
Pupils work in pairs or small groups and bid on whether they think the sentence is correct or not. I have included timers for each slide.
guccibabe
For beginners, presenting yourself.
nesd
BONJOUR - ÇA VA? Allez 1 or Tricolore 1 The first two lessons on how to greet someone in French. These two lessons come with fully editable power-p...
MllePierre
Updated resources
Beautiful A3 posters to display in your classroom or simply to print for your IB students, explaining what the five themes are for the 2020 French ...
Cynthia-G
This set of cards consists of 130 card pairs with hundreds of English - German sentence pairs in a 26-page pdf file . It is meant to be used by lea...
OnlyTheBestOnes
Free Flashcards to practise Basic French Sentences. There are 20 pairs of cards that are to be printed, cut out and glued together.
OnlyTheBestOnes