Betsy Belle's Shop
GCSE, KS3 and Primary French resources. Choose from 100s of resources, including many with 5* reviews.
196Uploads
227k+Views
27k+Downloads
GCSE, KS3 and Primary French resources. Choose from 100s of resources, including many with 5* reviews.

Great end of year activity especially for pupils who enjoy doodling and making things look pretty- this is surely a winner for a gel pen fan! It would also make a great first lesson 3 slides included Pre-populated poster with answers filled in. A version with questions written at the top of each box for pupils to respond to An empty version without the question so pupils have autonomy over content. This is also editable so you can amend the language according to your year group and topic. Simply add text boxes over the box and put your own question in. Two word mats are also included to support pupils with vocabulary they probably should know but maybe haven't used since September/October and they want some kind of reference! These make great start of topic glossaries or learning homework sheets as well so print and use next year.

A great sheet to use in the last week of term to give the pupils something focused to do when you pop on a French film. For those who aren't entirely engrossed they can answer the questions, add some doodles and decorate or colour the sheet. It gives a really educational focus to the film lesson (regardless of whether or not it is a TL film). Also included is a film genres PPT. If you are using it as part of your media module there are general questions about film and cinema and specific film review questions. They are all accessible and if you would like to add more complex/advanced questions there is a blank template for you to simply add a text boxes with more age/stage appropriate questions. The feedback I have had on these sheets has been great- I am producing a series of them so please get in touch if there is a topic you would like to see in September. Don't forget you have an easy way of receiving any free resource of your choice- simply leave feedback on any resource you have purchased and then contact me to let me know at betsybelleteachesfrench@hotmail.com

Reading Comprehension for the topic of Daily Routine. This resource comes with three levels of diffculty, each level comes with a French version and an English version. PDF version and PowerPoint included, The PowerPoint has editable text so you can tailor it to your student's needs if needed.

Introduce and practise French Easter vocabulary with this PowerPoint. Includes; Vocabulary slides Qu'est-ce que c'est game Flying words game Qu'est-ce qui manque game Listening grid with audio Reading activity - unscramble the sentence Writing activity - describe the pictures Noughts and Crosses Please see co-ordinating activities or consider saving money by purchasing my Easter Bundle

French reading comprehension on the topic of Easter. Two texts with different levels of challenge provided. English and French questions provided and answer key included.

4 sheets of translations with answers provided. Fully editable, mixture of French into English and English into French.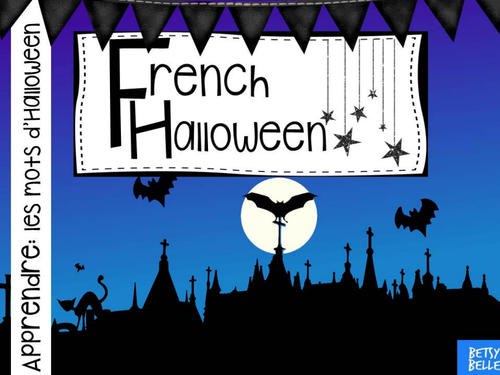 Free video set in a haunted house practises Halloween nouns with prepositions. PowerPoint includes: 1.Presentation of vocabulary with gorgeous images 2. What is it? Game (OR play beat the teacher- explained in notes at bottom of slides) 3. Flying words game 4. Missing word game 5. Under the spotlight game 6. Listening Grid 7. Vocab match up 8. Magic potion activity 9. Link to French Halloween song 10. Noughts and Crosses game

An emoji themed bundle to reinforce the vocabulary for 'saying how you feel'. Included is a video, a worksheet/craft and a quiz. I have also added in a couple of other resources that DO APPEAR in other bundles so if you are a regular purchaser you may already have them. I haven't factored them into the price but included for those who might find them useful.

Are you ready to explore Paris in this Virtual Field Trip? This resource includes videos, 3D visits, challenges and puzzles so your students can feel like they have been to Paris without actually having to leave the classroom. Students will visit Paris via PowerPoint. Their journey begins at the airport where they have to search clues to make it to the correct gate and board the plane. A video shows the plane take off and land before they find themselves in their hotel room with a view of the Eiffel Tower. From here they click on the four landmarks which takes them to a new slide with a choice of four varied and interactive activities. From videos, puzzles to fact sheets there is so much for them to do. The PowerPoint is easy to navigate with clear instructions and buttons directing them from one activity to the next and then back to the hotel room. At the end of the visit there is a certificate which they can add a text box with their own name before saving the slide or printing it off as a certificate. Six more virtual field trips are almost finalised and will be uploaded soon. Please follow my store to stay informed of new field trips. https://www.teacherspayteachers.com/Store/Eliza-Hindley If you get a chance to leave feedback please do so, it really does mean a lot both to me and future buyers. Thank you and bon voyage!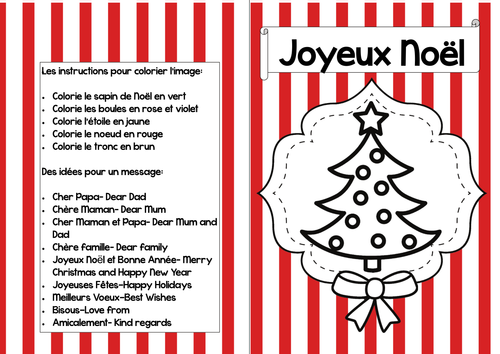 3 Christmas Card Designs (Christmas tree, Father Christmas and Mrs Christmas, Rudolph) Pupils colour the picture according to the instructions. I have included colour background and black and white version to save on printing. Simply print, pupils fold in half, write a message inside (suggestions provided).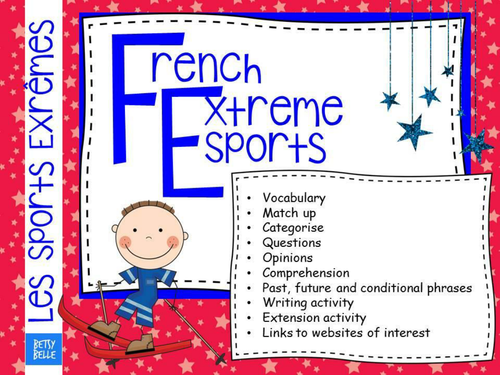 This PowerPoint introduces extreme sports, consolidates learning, develops pupil dialogue, tests comprehension and culminates in a written paragraph full of opinions about extreme sports with justification and a range of tenses. Slide 1. Extreme Sports Vocabulary Slide 2. Match up French to English. Slide 3. Categorising activity Slide 4. Simple Q&A with model answers Slide 5. Simple Opinions Slide 6. Advanced Opinions Slide 7. Categorise 'for' and 'against' opinions. Slide 8. Short comprehension. Slide 9. Sentence starters in a range of tenses. Slide 10. Teacher v. Class Battle Slide 11. SuperSentence writing frame Slide 12. Pupil dialogues with checklist Slide 13. Extension Activity/Homework Slide 14. Hyperlinks to websites of interest with notes for teachers.

An easy activity to set up which will keep pupils engaged and enthused. Print off the 2 board games plus answer sheets. Give dice and counters (could be scrap of paper with pupils initials). Pupils play with answer sheet freeing you up to lead another activity or intervene to support. 2 versions: easy questions and harder questions.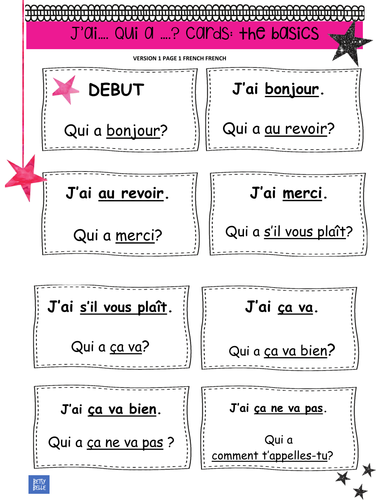 35 unique cards covering the basics including greetings, first questions and responses, days of the week and months of the year. Distribute the cards. The person with 'DEBUT' begins and asks the first question 'Qui a bonjour?' this prompts the next person who has the phrase 'J'ai bonjour' written on their card. They shout this out followed by their own question, 'Qui a au revoir?' The game continues like this until the last person ends with 'La Fin!' Excellent for vocabulary consolidation and to inject energy into the lesson. Gets pupils interacting and speaking and listening. Brilliant for revision lessons for all year groups.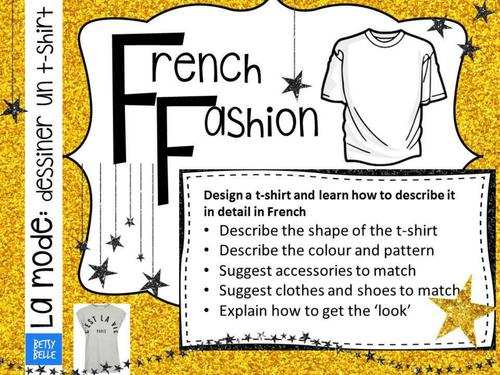 Anybody with a class with difficult girls needs to buy this resource. I created this especially for my bottom set year 9 girls and it worked. Silence. Engagement. Enthusiasm! You will not regret this purchase. It is full of up to date language describing clothes that our pupils actually wear; the pupils were amazed at the 'cool' vocab lists with words like 'high tops' and 'playsuit'. The final outcome is a written paragraph about the t-shirt they have designed. At your discretion how they balance their time between sketching and producing written language! Vocabulary taught: T-shirt style (sleeve length, neckline, fit) T-shirt look (colour, pattern, slogan) Clothes to go with the t-shirt Accessories to go with it Advice on how to achieve 'the look' (using imperatives) Includes consolidation activities and comprehension. Printable worksheet slide included

5 excellent resources - PowerPoint to introduce and practise Easter vocabulary with beautiful graphics - Colour by instruction Easter card to entertain pupils on last lesson (easy for you yet educational for them) - Board Game to reinforce learning and inject some competition onto the lesson - Paper puppet show activity and story Interactive quiz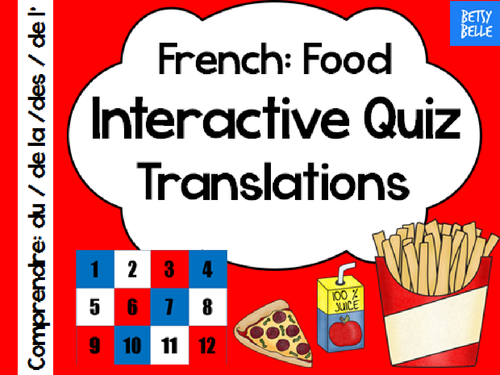 An interactive quiz to use as snappy starter, fun plenary or engaging revision tool. 12 French sentences about food, each has a multiple choice answer. If the pupils selects the correct answer hey are sent o a celebration page. If the wrong answer is selected they are sent to an 'oh no' page with a funny voice. The pupils love this quiz. There are other versions available in my TES shop. You could turn it into a game of noughts and crosses of connect 4 by drawing a quick 3x4 grid on the whiteboard and pupils compete to see which team can complete a row first by answering their chosen question correctly first time. Please consider leaving feedback- it helps other users make an informed decision and really means a huge amount to me!

6 colouring sheets, items in the pictures are labelled in French for pupils to colour accordingly. 3 Halloween scenes, 3 autumn scenes. £2 is the cheapest can sell a product- however I will add some more sheets to this product for Bonfire night so please return and download the updated version at no extra cost in the coming weeks.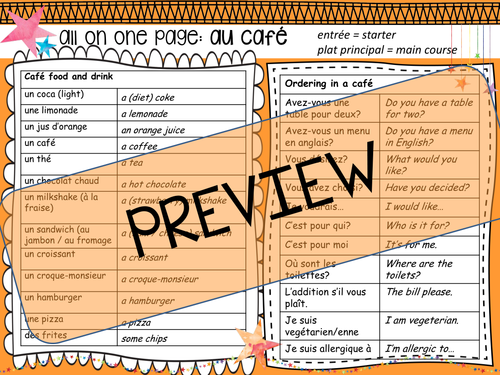 All you need for teaching café vocabulary and restaurant vocabulary on one A4 page: use it as a learning mat; a homework sheet; a support sheet; an extension sheet; a revision sheet or a classroom poster...endless possibilities. Also included: Mini word clouds- excellent starter activity. Great for revision as well. Could give out as an extension tool for early finishers. Give them out upon arrival and give them a time frame. At the end of the timeframe pupils go head to head in a 'bidding war'. Each pupil says how many they can translate and have to prove it. The highest bidder goes first- if he can get to his bid he wins, if he can't the next bidder goes and has to get to his highest bid to win.

A whitebaord animation video to challenge pupils to translate the role play related sentences that appear on screen before the 'floating hand' translates for them. This is to practise rather than introduce the vocabulary. I recommend purchasing this powerpoint https://www.tes.com/teaching-resource/gcse-french-role-play-at-the-tourist-office-presentation-and-games-11875982 to accomplany the video if you want to introduce or revise the vocab needed for the tourist office.

Part 1 is a freebie. You don't need the other parts to play but if you would like to purchase them they are available here https://www.tes.com/teaching-resource/french-valentine-s-game-11829704?theme=1 A great 'speed dating' speaking activity. Distribute hearts to all pupils and put on some French music. They circulate the room asking 'comment t'appelles-tu?' until they find their matching pair eg. Tu es Barack Obama, trouve Michelle. Parts 2, 3 and 4 use the question 'ou habites-tu?' 'qu'est-ce que tu aimes manger? and 'qu'est-ce que tu aimes faire?' Great for getting the pupils speaking. A godd one off valentines lesson without having to teach them new vocab. Could even be good for KS4 to warm them up and develop confidence with familiar questions.