Betsy Belle's Shop
GCSE, KS3 and Primary French resources. Choose from 100s of resources, including many with 5* reviews.
201Uploads
156k+Views
19k+Downloads
GCSE, KS3 and Primary French resources. Choose from 100s of resources, including many with 5* reviews.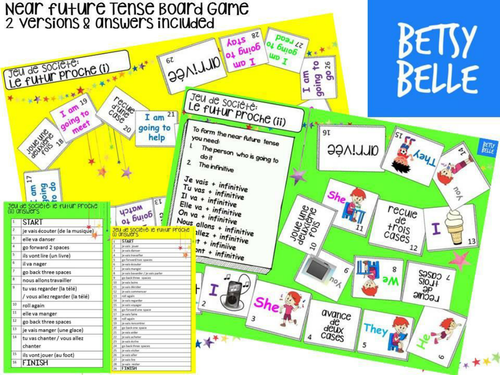 2 versions of this Near Future Tense board game: Game 1 is all in the first person Je vais écouter, je vais danser etc. Game 2 is a range of pronouns Elle va manger, ils vont jouer etc. Answers for each version are included so pupils can assess each other and work completely independently of the teacher. Bright and attractive. Educational. Great for collaboration. A fun twist in revision. Good extension task- why not print them off and stick them in a plastic wallet on the wall for pupils to come and play when finished main activity. Minimal prep: If you forget to bring dice pupils can play with a coin: move forward 2 spaces for heads, 1 space for tails. They can use a tiny scrap of paper for a counter.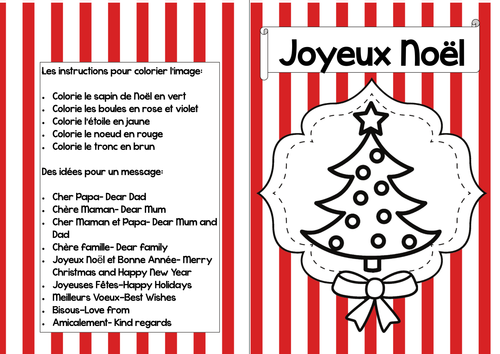 3 Christmas Card Designs (Christmas tree, Father Christmas and Mrs Christmas, Rudolph) Pupils colour the picture according to the instructions. I have included colour background and black and white version to save on printing. Simply print, pupils fold in half, write a message inside (suggestions provided).

Great end of year activity especially for pupils who enjoy doodling and making things look pretty- this is surely a winner for a gel pen fan! It would also make a great first lesson 3 slides included Pre-populated poster with answers filled in. A version with questions written at the top of each box for pupils to respond to An empty version without the question so pupils have autonomy over content. This is also editable so you can amend the language according to your year group and topic. Simply add text boxes over the box and put your own question in. Two word mats are also included to support pupils with vocabulary they probably should know but maybe haven't used since September/October and they want some kind of reference! These make great start of topic glossaries or learning homework sheets as well so print and use next year.

A great sheet to use in the last week of term to give the pupils something focused to do when you pop on a French film. For those who aren't entirely engrossed they can answer the questions, add some doodles and decorate or colour the sheet. It gives a really educational focus to the film lesson (regardless of whether or not it is a TL film). Also included is a film genres PPT. If you are using it as part of your media module there are general questions about film and cinema and specific film review questions. They are all accessible and if you would like to add more complex/advanced questions there is a blank template for you to simply add a text boxes with more age/stage appropriate questions. The feedback I have had on these sheets has been great- I am producing a series of them so please get in touch if there is a topic you would like to see in September. Don't forget you have an easy way of receiving any free resource of your choice- simply leave feedback on any resource you have purchased and then contact me to let me know at betsybelleteachesfrench@hotmail.com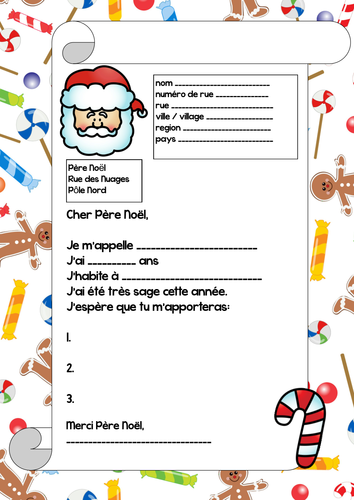 A cute French letter to Father Christmas: pupils simply write their name and age and address and ask Father Christmas for 3 things. You could provide a list, get them to look up in dictionaries or draw/stick images depending on age group and ability. To save printing costs (and extend the length of the activity), opt to display the letters on the IWB and pupils copy the model letter, filling in the gaps.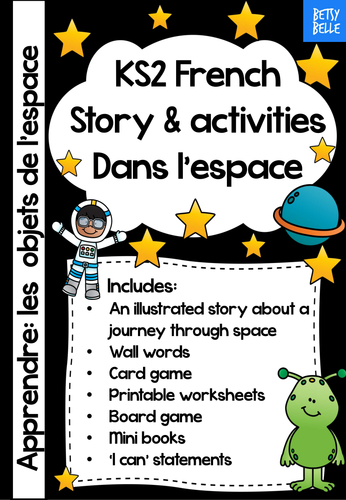 A 30 page resource including: An original French story (written by me)- simple language, beautiful images, repetition of simple structures; Wall words/mini flashcards of key vocabulary; Card game vocab match up (self correcting puzzle); Board game; Worksheets; Mini books; 'I can' statements. All of the activities include co-ordinating images and vocabulary for an outstanding 30 minute lesson you will want to return to again and again. Once you have purchased this resource, should you need any support with pronunciation of the story (I know many primary teachers are non language specialists); you may email me at betsybelleteachesfrench@hotmail.com

French lesson on a zombie attack. Pupils imagibe they are under imminent threat of a zombie attack. They translate a list of 25 objects that they can choose from to take with them to imporve their chances of survival. Some of sensible surival choices such a torch or a map. Others are sentimental such as a teddy bear or Xbox. There are also choices to make them think such as a diary (not helpful to fight the zombies but good for mental wellbeing). They make their selections and write them up in French. You could follow this up with a short survival skills debate (in English). Also included are two descriptions of a male and female zombie they could use as a comprehension then a model to create their own zombie. Also a 'mini me' zombie description writing activity.

An easy activity to set up which will keep pupils engaged and enthused. Print off the 2 board games plus answer sheets. Give dice and counters (could be scrap of paper with pupils initials). Pupils play with answer sheet freeing you up to lead another activity or intervene to support. 2 versions: easy questions and harder questions.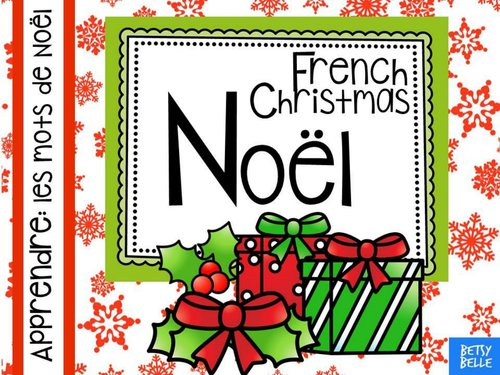 Presentation of Christmas Vocabulary: 20 items of Christmas vocabulary, clean modern style with cute clip art 'Qu'est-ce que c'est?' game (beat the teacher) 'Les mots volants' game 'Qu'est-ce qui manque?' game 'Under the spotlight' game Listening Activity Vocab match up Sentence maker game Words to chorus of 3 hymns Links to French Christnas websites Noughts and Crosses game

6 colouring sheets, items in the pictures are labelled in French for pupils to colour accordingly. 3 Halloween scenes, 3 autumn scenes. £2 is the cheapest can sell a product- however I will add some more sheets to this product for Bonfire night so please return and download the updated version at no extra cost in the coming weeks.

Includes a completed version for comprehension and a blank version with question prompts for pupils to fill in. There is a free video to accompany this here https://www.tes.com/teaching-resource/back-to-school-spanish-video-all-about-me-todo-sobre-mi-11969689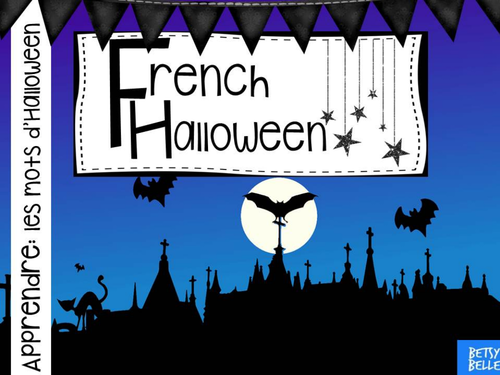 Free video set in a haunted house practises Halloween nouns with prepositions. PowerPoint includes: 1.Presentation of vocabulary with gorgeous images 2. What is it? Game (OR play beat the teacher- explained in notes at bottom of slides) 3. Flying words game 4. Missing word game 5. Under the spotlight game 6. Listening Grid 7. Vocab match up 8. Magic potion activity 9. Link to French Halloween song 10. Noughts and Crosses game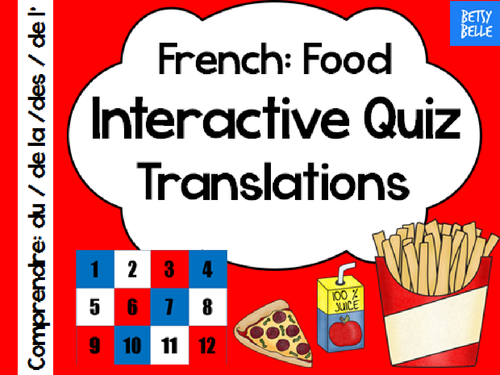 An interactive quiz to use as snappy starter, fun plenary or engaging revision tool. 12 French sentences about food, each has a multiple choice answer. If the pupils selects the correct answer hey are sent o a celebration page. If the wrong answer is selected they are sent to an 'oh no' page with a funny voice. The pupils love this quiz. There are other versions available in my TES shop. You could turn it into a game of noughts and crosses of connect 4 by drawing a quick 3x4 grid on the whiteboard and pupils compete to see which team can complete a row first by answering their chosen question correctly first time. Please consider leaving feedback- it helps other users make an informed decision and really means a huge amount to me!

Haunted House video PowerPoint Presentation Zombie Attack Activity Wall words Follow me Cards Bingo cards Colouring sheets (colour by French colour) Magic Potion Writing activity

As comprehensive Power Point presentation for the topic of 'At the tourist office'. Over 50 phrases pupils will need to understand or say in the role play task and sample role plays to go through with support and suggested answers. Also includes some language games for a dozen nouns you might need in the tourist info office such as 'a map of the town' and 'train timetables' etc. If you are preparing your pupils for role play tasks or need some revision material, my 'At the hotel' bundle is great value and covers all the vocabulary for the role play task. https://www.tes.com/teaching-resource/gcse-french-role-play-task-at-the-hotel-11874119

A mini book about a monster. All body parts are labelled in French. Pupils can colour and fold the mini book to create a mini book about a monster and all of the parts of its face. Pupils could then use it as a mini dictionary as they discover the topic and and possibly create their own monster.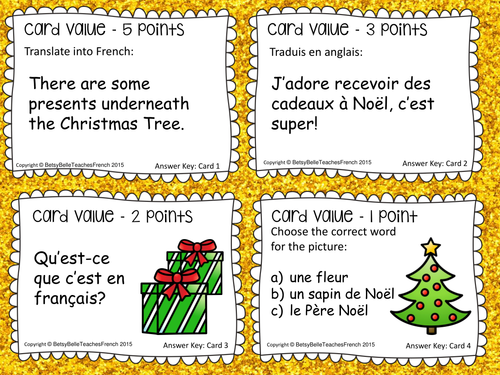 40 Task Cards and game board. The task cards vary in difficulty from multiple choice to translations. This set is a Christmas theme and is an excellent follow up to my Christmas PowerPoint presentation. All you need is willing pupils with some spare coins for counters. You don't even need dice. I have used this myself and it is a great way to let the pupils loose and engage in something challenging and exciting. Add an element of competition and you are on to a winner! Teacher notes and answer key included.

A simple comic strip reading and writing activity. Includes blank version for pupils to complete.

Free video to explain the Tour de France. Great follow up activity available for £2: Tour de France board game https://www.tes.com/teaching-resource/french-board-game-tour-de-france-11631095 Tour de France bublde available here https://www.tes.com/teaching-resource/tour-de-france-bundle-11633223

A really simple but engaging video animation featuring basic Spanish to recap previous learning. A worksheet to accompany this video is available here https://www.tes.com/teaching-resource/spanish-first-lesson-back-todo-sobre-mi-sheet-11969691