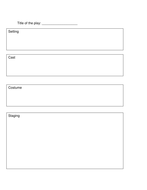 Blank play script planning sheet
Planning sheet for a play.
This resource is designed for US teachers. View UK version .
Other resources by this author
The children had to sort these. Copy onto card. 3 piles of there, their or they're
chocolover
Design the front, interior and stock of a souvenir shop. Perfect for themed work on the seaside!
chocolover
Popular paid resources
This is a hugely popular revision tool for the Y6 Reading SATS test! Get ready for the 2018 KS2 reading assessments with this SATS Question Generat...
KS2History
This 16-page resource booklet contains a wide range of challenging and engaging comprehension activities for use throughout the reading of Thomas H...
TandLGuru
These two poetry frame sheets have lively, idea-triggering illustrations, and are designed to be fun and accessible to use. Both invite creative in...
katewilliams_poetry
New resources
A simple work sheet getting students to engage with the poem in an analytical manner. Ideal as cover work or revision
lizziedc92
Editable and changeable P.E.E. table format, with space for students to plan different points they want to make in their analytical writing.
aliceboyd1995
Created by a team of excellent teachers and designers, these are specially designed resources related to three of Lovecraft's timeless works: The W...
natasha717
Updated resources
This bundle contains 6 writing activities, 6 SPAG activities and 6 Spelling activities. The writing activities cover a range of genre. Developing k...
jorgill
This dramatically illustrated writing sheet invites onomatopoeias (or 'sound words') and nose-linked verbs. Suggestions for these are listed on the...
katewilliams_poetry
English comprehension Questions Analysis of the poem Literature study Vocabulary words and meanings verses analysis 7 stages of life grades 6 , 7 a...
tacss