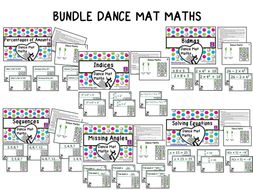 BUNDLE Dance Mat Maths
**UPDATED** Four new basic number dance mat activities added.
This is a set of Dance Mat Mathematics activities to use along with your ready made dance mats. Check out our blog post (link in download) for tips how to make your class set of dance mats. Once you have a set of dance mats for your classroom you are ready!
Students calculate the displayed question nd then display their answer by placing their feet in the correct position; left foot for tens and right foot for the units.

Terms of Use
The purchase of this resource is for the use of one teacher only.

Thank you for looking, I hope the NumberLoving resources meet the needs of colleagues. Please get in touch via @numberloving or numberloving@outlook.com
About this resource
Info
Created: Mar 19, 2017
Updated: Feb 22, 2018
By adding a School licence it allows you to share this resource with colleagues at your school. Without it, this resource is licensed for use only by you. Read licence details
Other resources by this author
This resource includes three differentiated worksheets; Green-Harder Amber-Middle ground Yellow-easier Pupils complete the worksheet at their level...
NumberLoving
UPDATED!! New extra content This resource has been updated March 18 and now includes six worksheets covering a range of questions on topics which c...
NumberLoving
UPDATED MARCH 18 Previous buyers please get in touch (contact below) if you have an trouble re-downloading! This resource has been updated and now ...
NumberLoving
Popular paid resources
A self-contained game to be played in pairs. Use to revise reading coordinates on a grid. Best played once coordinates have already been introduced...
Miss-Becky
Recommended by TES Panel. An investigation which allows the learners to find the rules for transformations plus some example questions. PLEASE REVI...
kmbheck
2018 VERSION NOW AVAILABLE HERE! (copy and paste link) https://www.tes.com/teaching-resource/new-2018-ks2-sats-revision-ultimate-3-in-1-maths-organ...
ambowers2
New resources
Inspired by aap03102 and his excellent relays https://www.tes.com/teaching-resource/maths-relay-races-problem-solving-puzzles-6064073 I created thi...
whistleandsums
I give this to the students (printed in A4 or A5 depending on how much room they need) at the end of the lesson to assess an overview of the lesson...
brodieburton
A helpsheet showing worked examples of how to solve equations with unknowns on both sides using two approaches; balancing or change sides change si...
JamesCMartin
Updated resources
This resource has been made using the algebra objectives for Year 6 from the 2014 National Curriculum of England: - Use simple formulae - Generate ...
erinbrasington
I created this resource to use with a higher year 8 class and a middle year 9 maths class.
Jules-Maths
GCSE 9-1 Exam Practice. This pack includes two 20 question diagnostic tests covering 20 different topics at GCSE 9-1 Foundation Levels 3 to 4. The ...
Elsie99