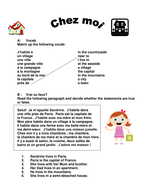 Chez moi handout
handout to review where you live, rooms in the house and items in the bedroom vocab.
Read more
About this resource
Info
Created: Jan 31, 2012
Updated: Aug 19, 2015
This resource is designed for US teachers. View UK version .
Other resources by this author
Map of Germany with weather symbols. For pupils to make a weather presentation using the map of Germany.
hbond212
Used pictures from another powerpoint on here. This powerpoint has review of time and introduces reflexive verbs and how to talk about what you do ...
hbond212
Popular paid resources
PowerPoint and accompanying workpack designed to encourage pupils to use a variety of complex structures in their spoken and written French. An ext...
maryjane1969
This is a lesson I produced for my Lower Sixth to introduce the subjunctive. There is a worksheet to accompany the presentation with a fairly compr...
maryjane1969
Print out the cards and laminate them. Pupils work in pairs or small groups and race against each other to form the perfect tense with the cards af...
maryjane1969
New resources
Article and exercises on family topic - the nature of mother-daughter arguments. Practises conjugation/grammar section of AS exam. Pupils must fill...
leptir109
Full explanation of why accents are used in French including activities and a section for pupils to search in a dictionary and find accents they ca...
leptir109
Updated resources
Worksheet to be folded as A5 for students to refer to, using the acrostic CROISSANT (not my original idea!) to help them remember key phrases and s...
Sandra1972
Video Clip detailing the history and evolution of the Front National up to and including 2017 Presidential elections Accompanying question sheet
nadinepgs
A fun way to practice the verb 'avoir.' Particularly as the French use the verb 'to have' differently to the way we use it. The first worksheet int...
labellaroma