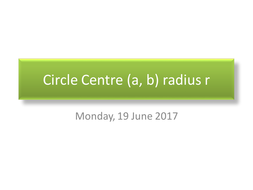 Circle Centre (a, b) radius r
This lesson is the second of three lessons on circles. Extending from the circle with centre (0,0) this lesson looks at obtaining the equation of the circle when the centre is elsewhere and a variety of other examples.
About this resource
Info
Created: Jun 19, 2017
Updated: Jul 1, 2017
Other resources by this author
Here is a small group of revision lessons I have recently used for my year 11 students. These have been written with them in mind and cover the typ...
sjcooper
With factorising and removing brackets of cubics being new to the GCSE specifications last year I have introduced these two lesson to my class teac...
sjcooper
This revision lesson I put together based on material I found most year 11 foundation students were struggling with. The revision mainly focuses on...
sjcooper
Popular paid resources
Trigonometric Ratios on the Unit Circle – Fluency Check / Quiz There are 20 worksheets included in this product. Worksheets 1 – 5 contain questions...
NewMathWorld
Seven worksheets on simplifying expressions with indices. A practice on laws of indices, negative and fractional indices. Good for GCSE/IGCSE stude...
math_w
7 Resources

10% off

$6.20

$

5.58
Updated resources
Series of 4 lessons on solving trigonometric equations for Y12, A Level Pure Year 1 (old spec AS). Student work used to accompany this was from stu...
missjhross
This activity contains carefully selected questions that give students practice at Completing the Square. Click 👉https://tes.com/.../more… for sim...
Maths4Everyone
Exam-type questions that gradually increase in difficulty. This sheet covers Composite Functions. Click 👉 www.tes.com/.../revision… for similar-st...
Maths4Everyone