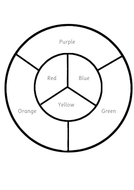 Colour Wheels
Blank colour wheels for children to paint. I have also included a labelled colour wheel as well which can be helpful for SEN or EAL children.
About this resource
Info
Created: Feb 3, 2013
Updated: May 4, 2017
Other resources by this author
Differentiated worksheets for children to complete. Each worksheet contains photographs of shapes that the children must construct then answer ques...
juliannebritton
A set of 12 cards for children to choose from, each with a different word problem containing doubling and halving problems.
juliannebritton
Differentiated word problem booklets involving doubling and halving.
juliannebritton
Popular paid resources
Entire unit of work for the theme "Natural Forms". Suitable for KS4, particularly year 10. This unit will run over 6 school terms. The unit include...
Piper-maru
A 21 page, fully editable Art Department staff handbook. Be OFSTED ready with this thorough resource. Provided as a Word document so that it can be...
StartEducation
Abstract colouring worksheets. Sketchbook ideas. Lichtenstein, Warhol and Kandinsky Inspired art activities.
artact4kids
Updated resources
Ellsworth Kelly quotes, on his flat painting art 'Hard Edge' and artist life in Paris and mainly in the U.S. for pupils, students and teachers in a...
Matrozenhof
Willem de Kooning quotes, on his expressive painting art and artist-life in American Abstract Expressionism for pupils, students and teachers in ar...
Matrozenhof
Lee Krasner quotes, on her goals of abstract painting and her life with Jackson Pollock for pupils, students and teachers in art In her artist-quot...
Matrozenhof