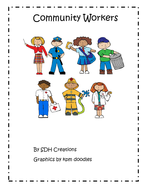 Community Workers: Book, Webs & Activity
This set contains a 10 page book, written by me, about Community Workers. It includes teachers, policemen, postal workers, garbage men, paramedics, firefighters and doctors. The book has a Table of Contents and a Glossary. I include words in bold type that are in the glossary.
There is a web for each type of worker and there are 2 pages in which the students cut out the tools and glue it next to the correct worker. (24 pages total)
Thanks!
Read more
About this resource
Info
Created: May 2, 2017
Updated: Feb 22, 2018