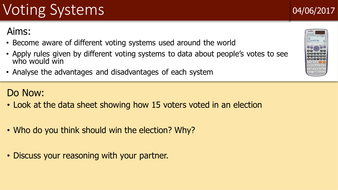 Cross-Curricular Election Maths: Voting Systems
Ideal for use in election years, particularly when things happen like Trump becoming president, despite not winning the popular vote. This is a differentiated lesson looking at the use of different voting systems, their advantages and disadvantages.

In this lesson, students will:
- Look at the mechanics of different voting systems including: First past the post, alternative voting, BORDA count, weighted BORDA count and a two-round system.
- Try out the voting systems to see who would win in a hypothetical situation
- Think about how they would vote tactically in each voting system to block someone from getting in
- Consider the advantages/disadvantages of each.
- Reflect on their learning

To really 'show' that there is no perfect system, the votes have been designed so that using each voting system produces a different winner!
Read more