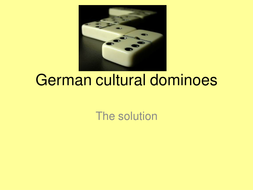 Cultural dominoes
A domino activity in English about Germany, Switzerland, and Austria. Students cut out a set of domino cards and have to arrange them in a circle so that matching ends are next to each other. The PowerPoint with solutions is attached too.
About this resource
Info
Created: Jan 13, 2010
Updated: Aug 19, 2015
This resource is designed for US teachers. View UK version .
Other resources by this author
1. NC levels described from a student perspective - thanks to http://www.rossmore.poole.sch.uk/PDFs/MFL%20Level%20Descriptors.pdf 2. Key grammar te...
Beansmeansbooks
Students use clues on a sheet to work out which jobs 10 people do. Twins jobs with reasons for / against doing them, workplace, some opinions, some...
Beansmeansbooks
This is an activity I thought of to teach German word order without (initially) using any German words. Subject, verb, object, time phrases are rep...
Beansmeansbooks
Popular paid resources
KS4 - Translation worksheet on Environment topic.
liambretag
KS4/KS5 - to be used with a strong GCSE class or a weaker A-Level group. Statements to be cut out and pupils to decide on the order they most agree...
liambretag
Year 9 - Health topic translation assessment. Includes into English, into German and a whole text into English.
liambretag
New resources
Quiz quiz trade cards for internet activities with gern and nicht gern and frequency phrases
nilex
Reading and writing resources to support "in meinem Leben" and "Mein Vorbild". Easy to print and edit. Can be used as classwork...
rooney33
6 questions on the theme of me, my family and friends, including 2 translations from English into German. The full workbook is available at https:/...
katelanguages
Updated resources
A lesson that your students will not forget quickly! A timetable themed escape room activity in which students need to do German language related p...
jusch12
This is a selection of board games to support the topic of telling the time in German. There is a choice of five different games which are differen...
CrookedSteeple
This is a complete one-hour lesson designed to accompany page 10 (Mit Freude in die Schule) of the AQA Stimmt! GCSE German (Higher) textbook. Inclu...
ftbnemesis