School Superstore
Specialising in design technology resources which are differentiated, engaging and student friendly.
42Uploads
16k+Views
4k+Downloads
Specialising in design technology resources which are differentiated, engaging and student friendly. Ideal KS3 lesson to explore what makes a good leader vs what makes a bad leader. The lesson looks at famous leaders and examines their qualities. Students then debate who they think is the best leader and why. Worksheets to go alongside lesson. Also ideal for a one off cover lesson.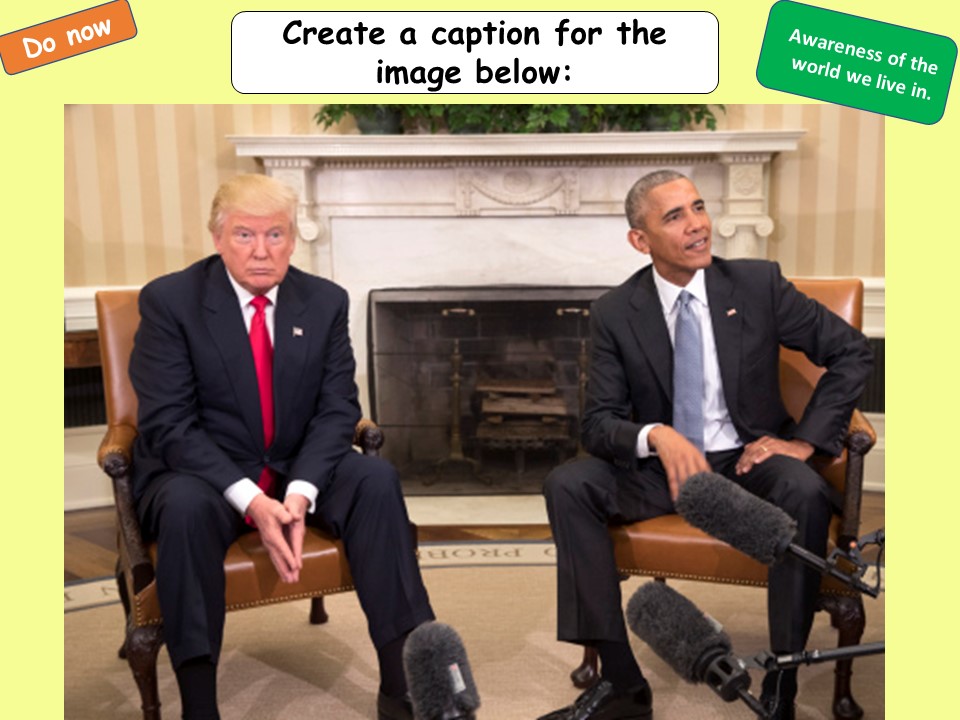 Ideal for KS3 students to understand non verbal communication and what it may indicate. Discusses positive and negative body language and how to read this. It provides an opportunity for students to consider different scenarios and suggest what types of body language may be appropriate and inappropriate. Worksheets to go alongside it. This is a two lesson bundle which includes the following lessons: Classification of fish types and fishing methods. (Students have to name the fish they recognise and then learn about how they are categorised. They will then discuss various methods of catching fish.) Sustainable fishing. (Students watch a video on the MSC sustainable fisheries and are then tested. They then rate how sustainable certain methods are before finally learning about fish farming ane the advantages and disadvantages). There is plenty of work here and depending on how quick/in depth you go this could last 3 singles or 2 double lessons. All worksheets are informative and designed to cover OCR content but as content overlaps can be used for various exam boards. My class are very visual and interactive so the use of imagery can help engage a group! A detailed and visual lesson aimed at KS4 GCSE Food Preparation and Nutrition. Covers diet related conditions; obesity, diabetes, anaemia, high blood pressure, coronary heart disease, diverticulitis and osteoporosis. Variety of tasks with answers to support. Includes memory quizzes and worksheet to record to information on. A pack of lessons which fully cover the nutrition topic in GCSE Food Preparation and Nutrition. Designed following the OCR spec but most specifications are very similar so can be used for others. Bundle includes: Detailed Knowledge Organiser Lessons: Eatwell plate and healthy eating guidelines. Fats (including cholesterol) Protein Carbohydrates Diet related diseases Energy balance Vitamins Minerals Dietary needs and modifying recipes *All videos and worksheets included.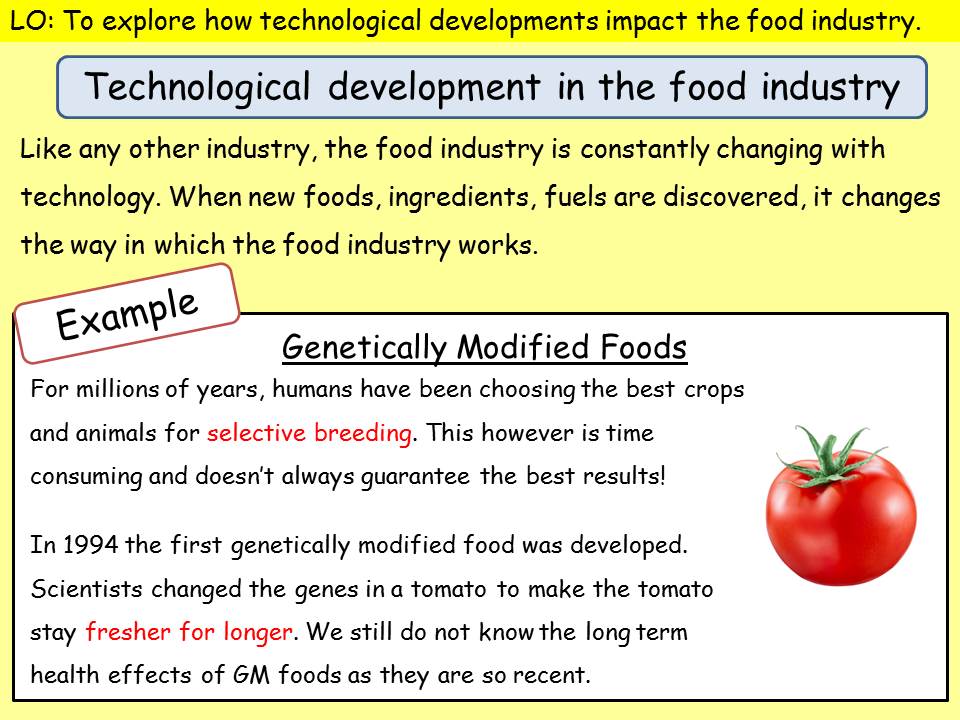 A detailed lesson designed for Food Preparation and Nutrition GCSE. It looks at the following technological developments: Fortification Additives (colourings etc) Sweeteners Thickening agents Functional foods (prebiotics, probitoics, sterols and stanols) Includes a missing word worksheet and lots of recap tasks. Information is very visual to help with information retention. Would suit a double lesson, or across 2 singles. A series of slides which focus on the importance of good attendance at school. Features facts, expectations, why is it important to attend and what students can be doing to achieve good attendance. An ideal 15 min assembly or tutor activity. Can be easily adapted! A detailed powerpoint with clear points about the three non enzymic browning reactions; caramelisation, dextrinisation and maillard reaction. Tasks include a quick quiz to begin with, comparing the three reactions, a guess which reaction is taking place, exam questions and filling in the missing words plenary. There are video links to useful youtube videos to also help supliment the information. My class like visual and interactive lessons so there are plenty of images to help reinforce information. A set of detailed and informative knowledge organisers which cover all the topics in Food Preparation and Nutriton. All knowledge organsiers cover the specification in detail and feature keywords. My class have them alongside the topics when I'm teaching them and use them for homework and intervention. I also use them for cover lessons. They are tailored towards OCR spec but relevant to all exam boards as content overlaps. All KO's are editable if needed. An entire KS3 curriculum for Food Technology. The tasks in booklets are differentiated and student friendly and are easily copied onto PowerPoints. The assessments and tasks are relevant and easy to mark. Year 7 focuses on building up basic skills such as weighing and measuring and knowledge of new terminology. Year 8 looks at sustainability, functions of ingredients and more complex skills. Year 9 looks at dietary needs and foods from around the world whilst developing skills in preparation for GCSE.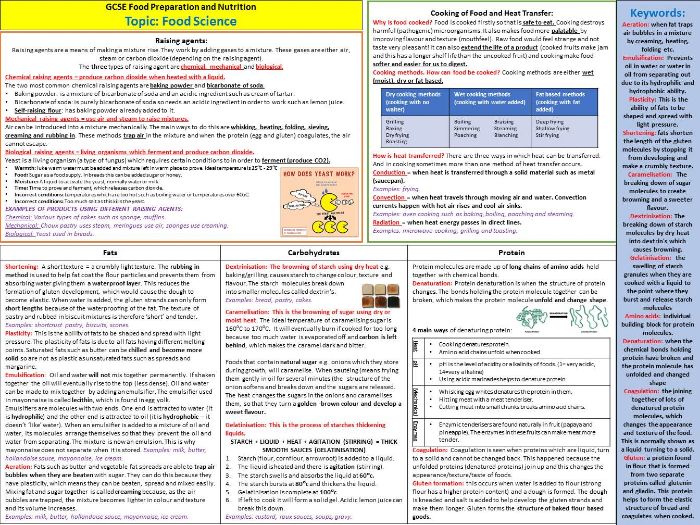 A detailed KO which covers the whole of the Food Science topic for GCSE Food Preparation and Nutrition. Designed for OCR spec but suitable for others as most content overlaps. KO is in A3 and includes a clearly laid out keyword section. Can be edited if needed. Gave this my class along side teaching the unit and used it for homework, revision and intervention! A detailed lesson for design for Food Preparation and Nutrition but can be adapted for form times/whole school use. It focuses on food miles, food waste and carbon footprint generated by the food industry. My class are very visual so features lots of images and various tasks such quiz questions, exam questions and discussion points. There is enough content to last a double lesson, could be cut down into a single if needed! A detailed lesson which explores the function of fats in baking (aeration, shortening and plasticity). The lesson is very visual and includes a variety of tasks such as quizzes, exam questions and keyword recaps. A lesson supported by revision sheet to help students understand how dietary needs change during life. The lesson focuses on adults and pregnant women and links this to exam questions. Answers to exam questions are included. The revision sheet includes detailed information on all life stages and give students clear bullet pointed information to revise from. Food storage lesson suitable for a double or can be reduced easily for a single. Covers fridge placement, temperature control and the danger zone. Suitable for KS3. An ideal resource to explain to students the importance of good attendance, why it is important and how they can achieve it. The powerpoint was made for secondary school aged pupils but can be adapted for primary if needed. It includes: Why good attendance is needed. Facts about what may happen if attendance is poor. Expectations of the school Ways in which students can improve attendance. A detailed lesson aimed at recapping the eatwell guide and healthy eating guidelines for KS3/4. Activities include adapting recipes to include more dietary fibre and less saturated fat. Worksheets include recipe modification and a blank eatwell guide.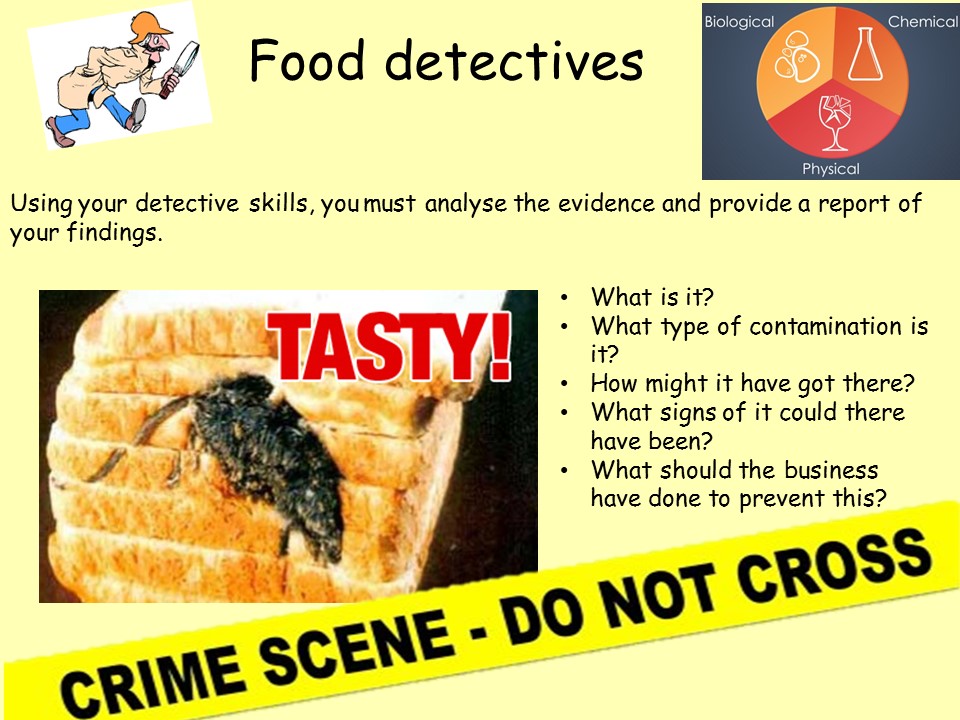 A detailed PowerPoint introducing the key concepts in surrounding food poisoning. Introduces types (biological, chemical and physical) as well as the symptoms, at risk groups, conditions bacteria need, high risk and low risk foods. The PowerPoint has some tasks included and can be easily adapted. Would suit a double lesson or could be used as a cover resource. A lesson looking at two keys functions of fats, emulsification and aeration. A food science lesson on emulsification. Includes a number of tasks such as video and questions, exam question and class discussion points.