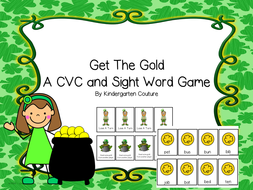 CVC Word Card Game =Get The Gold
Players take turns reading CVC or sight words. If they can read the word they keep the card. Watch out for the leprechaun (lose a turn) or the frog (steal a card from another player). The player with the most cards at the end of the game is the winner. An option to differentiate for higher level kids would be for their partner to choose a card and read it and ask them to spell it in order to keep the card. Other options for the word cards would be to print 2 sets and make a memory game, or to play go fish with them.
There are 56 CVC words and 16 simple sight words.
Read more
About this resource
Info
Created: Aug 30, 2016
Updated: Feb 22, 2018