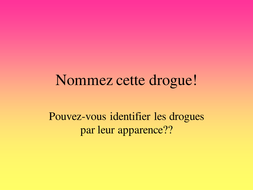 drugs awareness
A power point to illustrate the different types of drugs in French
Read more
About this resource
Info
Created: Jan 21, 2012
Updated: Aug 19, 2015
This resource is designed for US teachers. View UK version .
Other resources by this author
You will need real player to play this vocabulary game.
oxfharss1
These cloze activities will be very useful to revise for the A2 level AQA translation exercises.
oxfharss1
A recording from radio France with a fill in blanks exercise to practise what should be done to stop tobacco companies from exploiting 3rd world co...
oxfharss1
Popular paid resources
PowerPoint and accompanying workpack designed to encourage pupils to use a variety of complex structures in their spoken and written French. An ext...
maryjane1969
This is a lesson I produced for my Lower Sixth to introduce the subjunctive. There is a worksheet to accompany the presentation with a fairly compr...
maryjane1969
Print out the cards and laminate them. Pupils work in pairs or small groups and race against each other to form the perfect tense with the cards af...
maryjane1969
New resources
Article and exercises on family topic - the nature of mother-daughter arguments. Practises conjugation/grammar section of AS exam. Pupils must fill...
leptir109
Full explanation of why accents are used in French including activities and a section for pupils to search in a dictionary and find accents they ca...
leptir109
Updated resources
This Power point has 4 activities on it: a) Match the starts and ends of words to practise vocabulary related to holidays. (answers included) b) Wo...
louisawalsh
This is a useful sheet talking Year 7s through reguar -er verbs and helping them to spot the patterns with verb endings. It also helps them to lear...
louisawalsh
This is a reading activity about Les repas aimed at Year 7 French. There are two texts and a list of 10 questions. Students have to colour each que...
louisawalsh