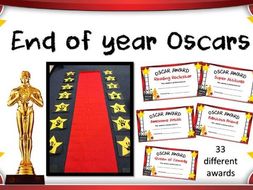 End of year Oscars Classroom Awards
Instead of buying class presents at the end of the year I set up an 'Oscars' awards ceremony with a little red carpet complete with childrens Hollywood handprints and give these awards out, the children love them and treasure them far more than anything else i could buy. We get dressed up in our best clothes and have a little party as well!
Includes 33 different awards so something for everyone! Also a ticklist for you to keep track of what you have awarded and a template for creating the handprints. All fully editable.
Read more