LittleMissTechnical's Shop
58Uploads
119k+Views
14k+Downloads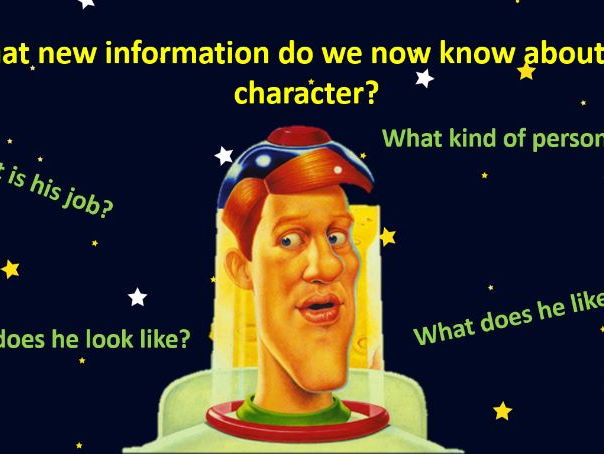 PLEASE LEAVE A REVIEW :) Aimed at Year 1 or 2 Includes 10 lessons worth of planning with over 50 PowerPoint slides to compliment teaching and activities. Also includes differentiated writing templates where needed. Starts off with the children using inference skills to find out information about the mysterious Bob, this then progresses to the children writing questions, creating a character profile and retelling the story. In the second week the children take an imaginary trip to the moon where they role play being on a moon tour, which leads to them creating and describing their own characters and settings. The unit ends with the children planning and writing their own Space stories.

30 pages of phonics activities perfect for practising alien words from phase 2-5 for the Phonics screening check.

30 pages of reading activities to cover the comprehension section of the Year 2 reading curriculum.

10 lessons of planning with slides to match each lesson. Includes differentiated templates needed for each lesson too. All you need is a camera, and an old action man doll you can pass off as Traction Man

Instead of buying class presents at the end of the year I set up an 'Oscars' awards ceremony with a little red carpet complete with childrens Hollywood handprints and give these awards out, the children love them and treasure them far more than anything else i could buy. We get dressed up in our best clothes and have a little party as well! Includes 33 different awards so something for everyone! Also a ticklist for you to keep track of what you have awarded and a template for creating the handprints. All fully editable.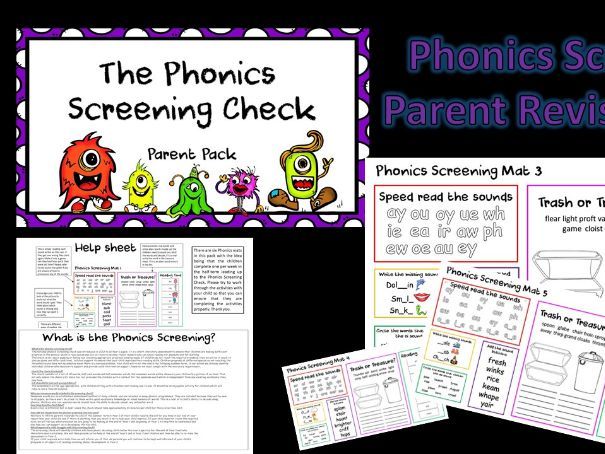 This pack contains all of the information parents need to know about the Phonics Screening Check, along with a set of Phonics Mats -6 in total- so enough to cover the half-term before the test. These contain 6 short activities that are completed over a week and help the children practice the key skills needed to pass the screening check. I have also included a parent help sheet that explains how to do each task. Having parents involved really boosted my results last year and this pack was simple enough for them to follow. I printed it out and handed to all of my parents during parents evening.

This is such a fun resource for getting to know your new class, and much more interesting than getting them to complete a transition booklet! Just open the game in Powerpoint and choose your class size. You can either play it as musical chairs or musical states its up to you- press start music will play and then stop after 30 seconds- last child standing/moving gets to choose Truth or Dare! The Truth questions are aimed at finding more out about the children, The Dares involve lots of fun tasks that your class will find hilarious!

Use code MEGAMARCH FOR 60% for new accounts. All my best resources rolled into one Mega bundle. Includes: The Tes Recommended Monster Book of Phonics 30 page Revision booklet. A set of fun Phonics Screening Games to print and play in class. A parent pack with 6 weeks of activities for parents to do with their child at home. The book of Phonics screening poetry that revises Phase 5 and provides activities to practice alien words as well as ticking of some of those poetry objectives.

Included in this booklet are printable activities detailed below,a template to make monster corner bookmarks, and World book day hats which the children can draw their favourite book onto and certificates, activities include: What I came dressed as My friends on world book day Character Selfies Character Thoughts and feelings Story time book review Book Bunting Book Balloons My Favourite book Predictions

30 pages of fun guided reading activities to cover the comprehension section of the Year 1 Reading curriculum.

This includes 2 weeks (10 lessons) worth of English planning for KS1 based on the book Pumpkin Soup! Includes planning and all teaching slides plus writing templates all you have to do is download saving you hours of time! Everything is editable so that you can tweak things if you wish to do so! I also have units for Bob the Man on the Moon and Traction Man both of which are very popular!

This is a lovely way to revise Phase 5 and have a go at reading alien words ready for the Phonics Screening Check. The booklet includes a little poem to revise each Phase 5 sound, the children then need to look closely at the poem to find the words that have that sound in, as well as read the words in the grid and sort out the real words from the alien words. There is also a handy visualise page which I sometimes use to check if the children understand what the poem is about, it is another way of ticking off the comprehension and poetry objectives whilst still working on sounds!

Set of 6 games for children to practise blending and reading alien words.

This is a resource pack to create a rainbow challenge area in your classroom. The idea is that in each area of your continuous provision you have a challenge for the children to complete which are linked to the curriculum objectives. Each time they complete a task they collect the corresponding coloured lolly stick and place it in their pocket on your display until they manage to do all tasks and complete their rainbow! Included is the title, pockets for each child either with a unicorn or dragon with photo or with just their name, signs for each area in your provision which detail the task, and a certificate for those who complete or do good work etc. Everything is editable so that you easily chnage the tasks week by week.

Get to know your new class and create a stunning display of 3D Balloons in the style of the 'Up' house. Includes both colour and Black and white versions plus instructions.

1 weeks worth of English planning aimed at Year 1 in the Autumn Term, we went outside and collected leaves to make our own leaf men, the children then used these to prompt their own writing. This story is perfect to get the children writing a basic retell with repeat pattern.

USE CODE SUPERSEPTEMBER FOR 60% OFF WITH A NEW ACCOUNT :) Celebrate Roahl Dahl's BFG with this fab writing craft, just print out and allow your class to assemble their own BFG. They can then complete the writing tasks to go inside.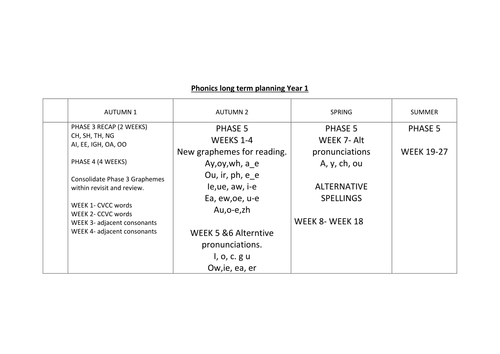 An overview detailing which phases etc to teach and when throughout Year 1- based on Letters and Sounds

Practise both recognising sounds and reading alien words with this fabulous minion themed game. The idea is each child has a pupil sheet and something to splat with, this could be their hand, a fly splatter or we used a ruler each. Start the game then when the sound flashes on the screen the children must find the word on their sheet that contains that sound and splat it!!! This game is lots of fun! There are 3 different versions for each game, with 6 rounds to play so thats 18 different games in total.