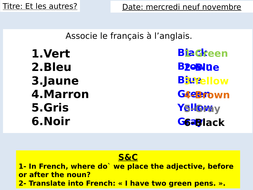 Et les autres? Studio 1
This lesson covers the whole unit 4 module 1 of studio 1 textbook. It covers the following objectives:
1- To know vocabulary related to physical description and adjectives related to it.
2- To understand how to agree adjectives with the nouns.
3- To be able to produce a piece of writing that describes yourself and someone else.
Clear starters and activities with stretch and challenge tasks available.
Read more