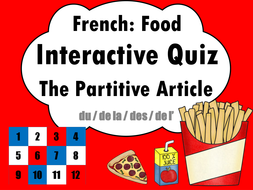 French Interactive Quiz: Food du/de la/des/de l'
An interactive quiz- excellent starter, plenary or revision tool.
The master slide has 12 question numbers to choose from; each question takes them to a multiple choice slide with a choice of 3 answers.
If they select the incorrect answer they will be sent to a 'oh non!' slide and can click on a funny 'oh no' sound. They keep going until they get the answer correct.
If they select the correct answer they are sent to a 'très bien' slide and the powerpoint returns to the master slide.

About this resource
Info
Created: Apr 23, 2016
Updated: Feb 22, 2018
Other resources by this author
A 30 page resource including: An original French story (written by me)- simple language, beautiful images, repetition of simple structures; Wall wo...
betsybelleteach
PowerPoint to introduce and practise vocabulary for the hotel role plays. Includes nouns with vocab games to consolidate; advanced vocabulary such ...
betsybelleteach
3 resources to practise the role play scenarion 'At the hotel'. Includes a PowerPoint with games, a booklet, a board game and practice role plays w...
betsybelleteach
Popular paid resources
Series of lessons guiding pupils through Expo 3 Rouge Module 3, covering: 1. parts of the body and 'avoir mal a' construction 2. other symptoms usi...
hasslethehog
A reading task for Higher students in KS4 that also looks at adverbs and higher structures to use in controlled assessment on health
kessia
full lesson about using the weather with a free-time activity and the conditional
ccreed
Updated resources
KS2 Level 2 Learn as you teach Primary French series empowering class teachers and teaching assistants to learn and teach French with their childre...
scwebster
Gap-fill exercises to revise using the past, present and future tenses in French. Recaps regular -er, -re and -re verbs and the irregular verbs: av...
labellaroma
full lesson about using the weather with a free-time activity and the conditional
ccreed