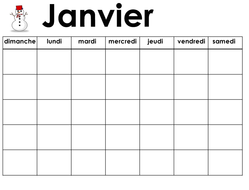 French Language Calendar - Days and Months
This is a French Language calendar that can be used with the Months & Seasons Memory Match Game & Worksheet to reinforce the days of the week & months of the year. The images are carried throughout all three resources to provide a visual reminder of each month.

Laminated, it can be used from year to year in class, but I also provide a digital copy for parents to print and use at home.
Read more