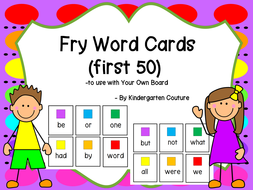 Fry Word Cards (First 50) For Your Colorful Game Board
Students love playing games! Students draw a card from the pile and have to correctly read the sight word on the card in order to move to the designated color. If they do not read the word correctly they stay where they are. There are some special cards included with no words. You could eliminate those cards if you wish. Not all game boards have the same special pictures. Just print, laminate and use these cards with your own game board.
A very easy center to set up.
Read more
About this resource
Info
Created: Aug 29, 2016
Updated: Feb 22, 2018