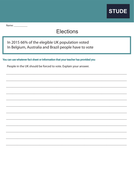 General Election 2017 Worksheets Pack - KS3
Fact sheet plus two worksheets based around the 2017 general election.

Designed for KS3 classes to encourage discussion and teamwork.

British Prime Minister Theresa May called a General Election for 8th June 2017.
These worksheets help students understand the importance of elections, and independent learning skills.
Read more