551Uploads
171k+Views
64k+Downloads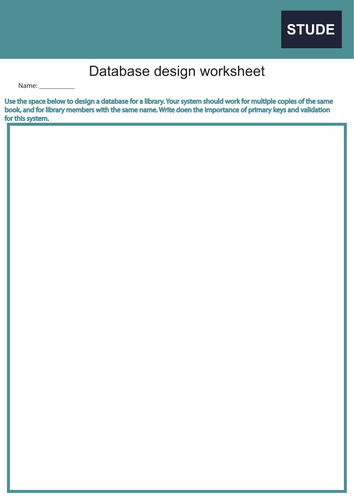 For the AQA GCSE 9-1 Specification, and also suitable for OCR J276. Contains a series of tasks for revision around database design and keywords revision for students to use in preparation for their exams

A series of 12 challenges for your classes, can be used for GCSE students or KS3 classes. All are chosen as being applicable to beginner Python classes.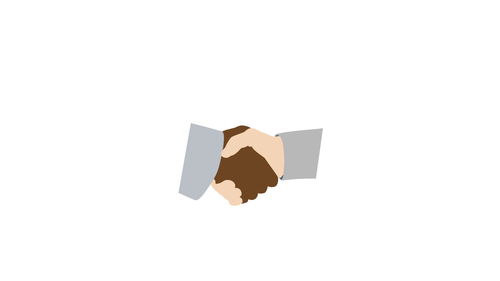 Designed for KS3 but easily modified to deliver to KS2 or KS4. After recent events, it is more important than ever for our students to respect both themselves and each other. This is more than just discipline and liking other people. This is about respecting difference and diversity in every context that we encounter. This assembly helps you to deliver just that.

Great resource to introduce comparative adjectives. Includes presentation and two student worksheets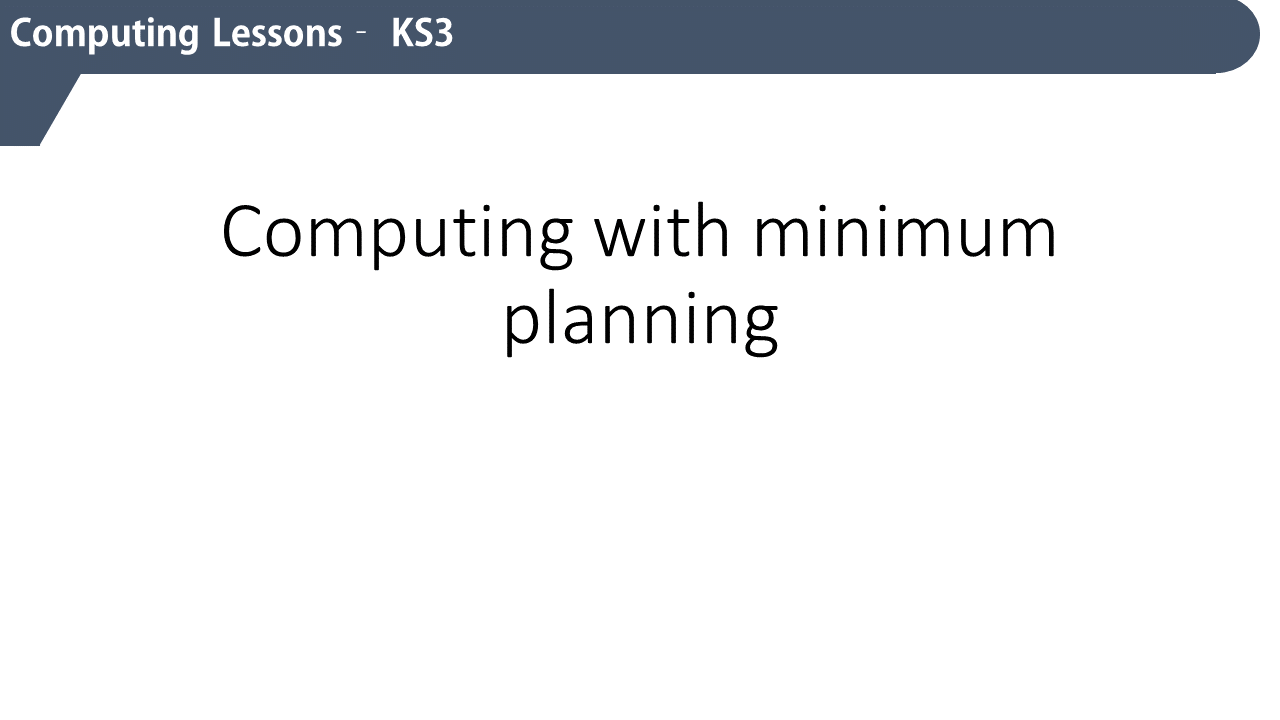 Some of our best-selling resources on tes, brought together in a fantastic value bundle: 15 complete KS3 computing lessons 35 lesson ideas for computing and ICT KS3 80 computing starters for KS3 20 computing plenaries for KS3 These resources will save you hours of planning. Better still - they are aligned to the KS3 Computing curriculum. Fantastic value bundle price.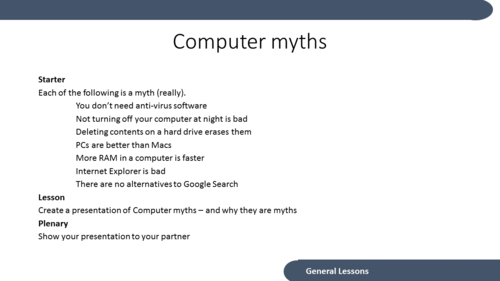 35 ideas (starter and plenary included) fully aligned to the KS3 curriculum. Sometimes we all need a little help with a lesson, or want something "out of the box" that can get going in seconds. These are outstanding ideas, and a full lesson can be built from them in minutes. Some are suitable for a few minutes, or can be used as mini-sessions within your lesson. The idea is to save you time with the least preparation time possible. Topics covered include: Computational abstractions Key algorithms Programming Boolean logic Hardware and software Instructions within a computer system Data storage Creative projects Digital artefacts E-Safety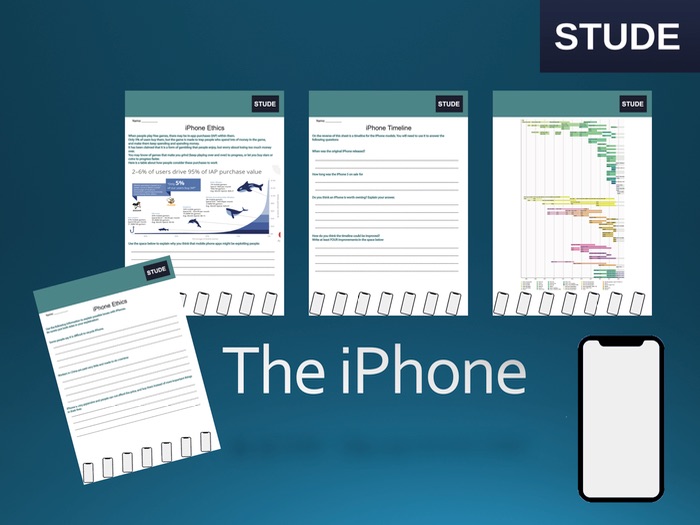 Today the iPhone 11 has been launched by Apple at an event in California. But what do our students think of the pressure that comes with needing to have a new phone each and every year? What are the ethics around purchasing a new phone? What about the way that you are tempted to make inapp purchases on your phone? This resource is designed to help you! A series of great resources around the iPhone. Presentations: iPhoneHistory Worksheets: Timeline Timeline2 Ethics Microtransactions Activities: iPhonehigherlower Can be used in Computing / ICT Citizenship Tutor time Assemblies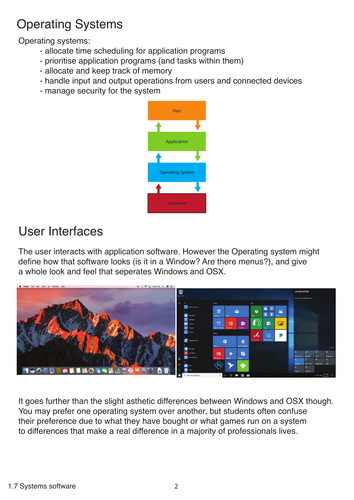 Complete revision pack for Systems Software. Designed for OCR Computer Science (9-1) J276 but is more than useful for Computer Science students studying AQA and other exam boards. Contains a revision booklet for the students, and a data units worksheet. Contains everything the students need to know: the purpose and functionality of systems software - operating systems: - user interface - memory management / multitasking - peripheral management and drivers - user management - file management - utility system software: - encryption software - defragmentation - data compression - the role and methods of backup (full and incremental)

More than 100 GCSE Chemistry multiple choice questions. One copy has no answers, one copy has the correct answer highlighted in bold. Possible uses include games, revision sessions and so on.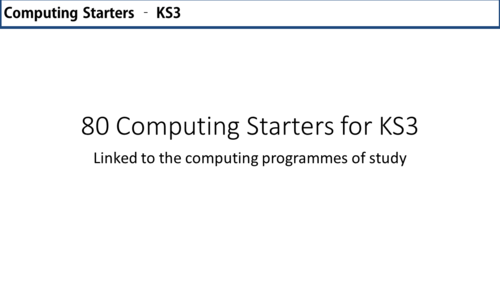 An incredible amount of generic starter ideas for KS3 computing lessons. They are aligned to the Computing programme of study for Key stage 3: offering you some ready-planned (no teacher time required) starters for your lessons. Generic starters are offered, as well as specialist starters covering the following topics: Computational abstractions Key algorithms Programming Boolean logic Hardware and software Instructions within a computer system Data storage Creative projects Digital artefacts E-Safety All designed to help you improve your practice, and are formatted for you and ready to go! This is also offered as part of the great value bundle KS3 Computing without the planning

A beautiful mindfulness presentation with 18 slides that is designed to be used for either an assembly or a session. Mindfulness is incredibly important in a busy school; but how can we educate our young people in such a skill? Perhaps stress levels have risen during tests and exams, and you have seen behaviour go downhill. Use this fantastic resource to raise awareness of mindfulness, and encourage your students to use the enclosed techniques to manage their stress levels and improve both their behaviour and wellbeing. New for 2019 - included a fun weekly log for students to practice mindfulness with.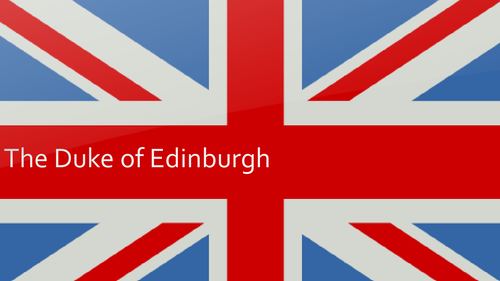 A presentation about the Duke of Edinburgh, with 30 slides that could be used for an assembly or a tutor time / information session.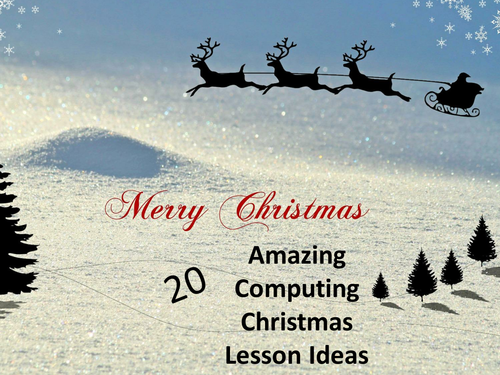 20 ideas that encompass the Computing Programmes of study for KS3. Some of these ideas are really great, and a full lesson can be built from them, some are suitable as starters or fun mini-sessions within your lesson. Headings: Decorate a Christmas Tree Christmas Myths Create a spreadsheet model A Christmas story in 2016 PowerPoint 12 days of Christmas Cost Create a poster Programming – 12 days of Christmas song 12 days of Christmas – presents programming Celebrations around the world Sorting Bitmaps Photoshop Programming Create Solving problems Naughty or nice Abstraction Reindeer Puzzle Just for fun…

A stand alone lesson designed for GCSE business studies covering the different intellectual property available to business, but would also be suitable for As and A2. Full worksheet and presentation is in this lesson.

VE Day presentation with a wealth of information about the day celebrated on the 8th May. Linked to British values and involves both a historical look at this important event, and how students should think of this in the context of British values. There are some links to YouTube videos within the 18 slide presentation. I would recommend that you check these first as sometimes videos can change or become unavailable over time (the videos are not linked straight within the presentation, so if you choose not to use the videos that will work fine).

Designed for KS3 but easily modified to deliver to KS2 or KS4. Positive thinking is important for our students. This assembly does not come with a script, but is 15 slides that are fairly self-explanatory and you can change or add to as you see fit according to your own style. This assembly helps you to help the students think about their attitudes and thinking.

A collection of HTML and CSS posters. Suitable for both KS3 and GCSE levels of ICT / Computing / Computer Science. Useful not only to have on classroom walls but also can be reproduced and handed to your students. Recommended to laminate and to reuse (to help save the environment). Includes poster covering the following topics: Basic html tags HTML colours (infographic) HTML and CSS Anatomy of an HTML page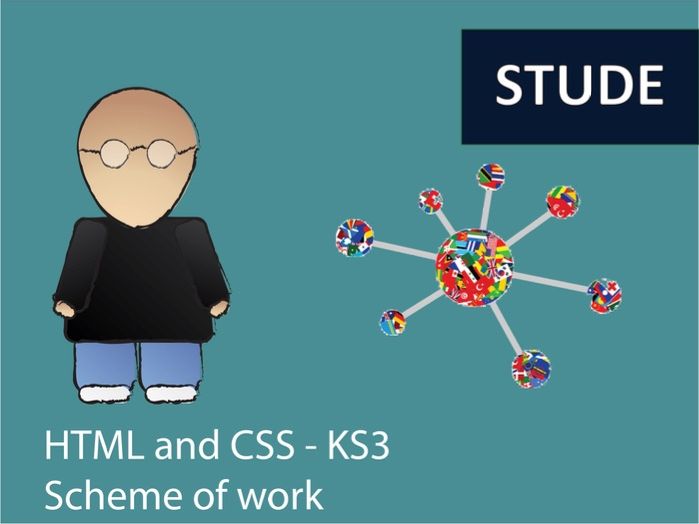 Suitable for KS3 and KS4 introduction to HTML and CSS. The guide behind what you need to do is in the LessonPlanners (for the lesson content) and you need to follow How to use.docx for instructions for the project. What you get: - A 6 lesson scheme of work - Complete lesson plans - Teacher presentations in both PowerPoint and Notebook format - Peer assessment sheets - A web site example for the project - Example web site to be shown on the board This can all be completed with software on your student machines (A browser, say Internet Explorer, and a text editor which could be notepad). Then you are ready to go… If you get stuck with this resource (or any other) just get in touch. I'm @studeapps on Twitter, and am ready to help you with over 10 years teaching experience! To see a sample video for this resource you can checkout the link: https://youtu.be/cwkpjwaIYV0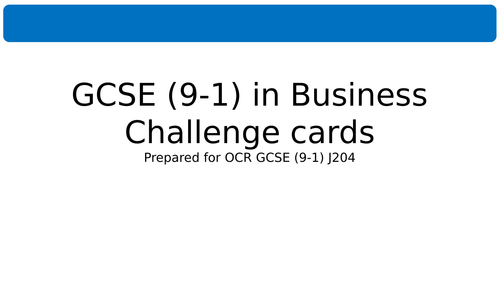 More than 150 business challenge cards that can be used to extend students, used as revision activities or given to students to answer at home. Mini tasks, questions, and statements to think about that can be used as starters, plenaries, flipped learning tasks or homework. Multiple questions one each of the following topics and sub-topics: Business activity 1.1 The role of business enterprise and entrepreneurship 1.2 Business planning 1.3 Business ownership 1.4 Business aims and objectives 1.5 Stakeholders in business 1.6 business growth Marketing 2.1 The role of marketing 2.2 Market research 2.3 Market segmentation 2.4 The marketing mix People 3.1 The role of human resources 3.2 Organisational structures and different ways of working 3.3 Communication in business 3.4 Recruitment and selection 3.5 Motivation and retention 3.6 Training and development 3.7 Employment law Operations 4.1 Production processes 4.2 Quality of goods and services 4.3 The sales process and customer service 4.4 Consumer law 4.5 Business location 4.6 Working with suppliers Finance 5.1 The role of the finance function 5.2 Sources of finance 5.3 Revenue, costs, profit and loss 5.4 Break-even 5.5 Cash and cash flow Influences on business 6.1 Ethical and environmental considerations 6.2 The economic climate 6.3 Globalisation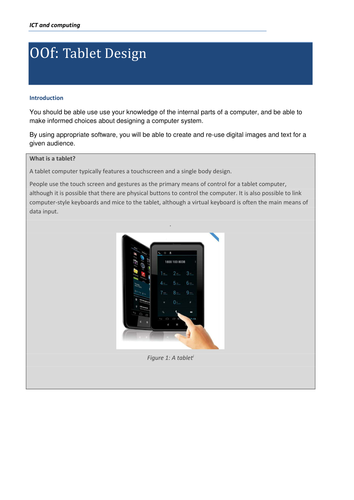 Tablet Design cover lesson - suitable for computing courses from KS3 to KS4