530Uploads
99k+Views
36k+Downloads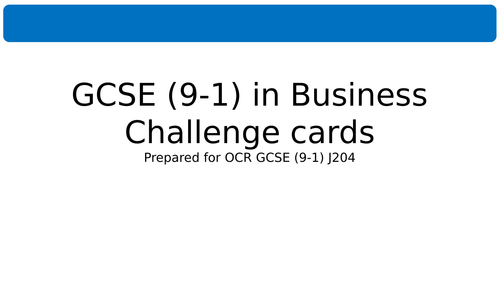 More than 150 business challenge cards that can be used to extend students, used as revision activities or given to students to answer at home. Mini tasks, questions, and statements to think about that can be used as starters, plenaries, flipped learning tasks or homework. Multiple questions one each of the following topics and sub-topics: Business activity 1.1 The role of business enterprise and entrepreneurship 1.2 Business planning 1.3 Business ownership 1.4 Business aims and objectives 1.5 Stakeholders in business 1.6 business growth Marketing 2.1 The role of marketing 2.2 Market research 2.3 Market segmentation 2.4 The marketing mix People 3.1 The role of human resources 3.2 Organisational structures and different ways of working 3.3 Communication in business 3.4 Recruitment and selection 3.5 Motivation and retention 3.6 Training and development 3.7 Employment law Operations 4.1 Production processes 4.2 Quality of goods and services 4.3 The sales process and customer service 4.4 Consumer law 4.5 Business location 4.6 Working with suppliers Finance 5.1 The role of the finance function 5.2 Sources of finance 5.3 Revenue, costs, profit and loss 5.4 Break-even 5.5 Cash and cash flow Influences on business 6.1 Ethical and environmental considerations 6.2 The economic climate 6.3 Globalisation

A beautiful mindfulness presentation with 18 slides that is designed to be used for either an assembly or a session. Mindfulness is incredibly important in a busy school; but how can we educate our young people in such a skill? Perhaps stress levels have risen during tests and exams, and you have seen behaviour go downhill. Use this fantastic resource to raise awareness of mindfulness, and encourage your students to use the enclosed techniques to manage their stress levels and improve both their behaviour and wellbeing.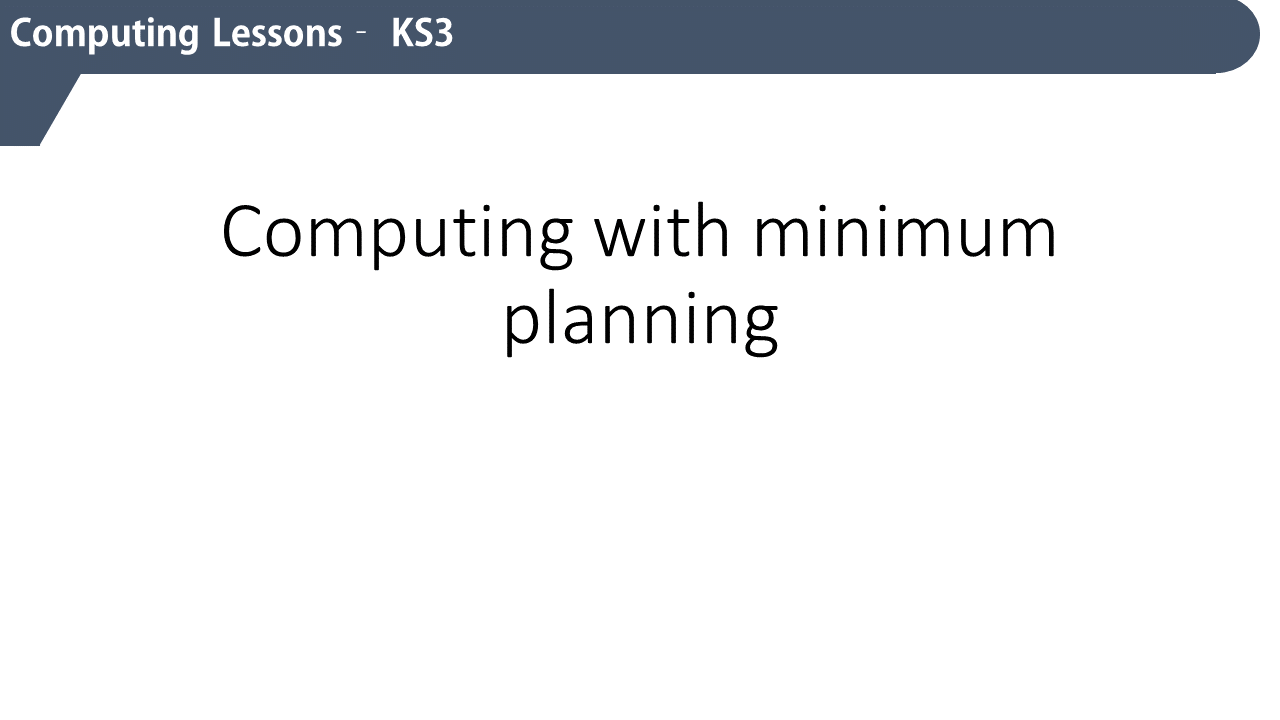 15 complete KS3 computing lessons 35 lesson ideas for computing and ICT KS3 80 computing starters for KS3 20 computing plenaries for KS3 These resources will save you hours of planning. Better still - they are aligned to the KS3 Computing curriculum. Fantastic value bundle price.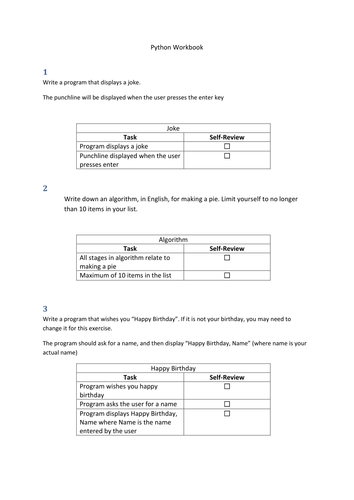 A series of 12 challenges for your classes. All are chosen as being applicable to beginner Python classes.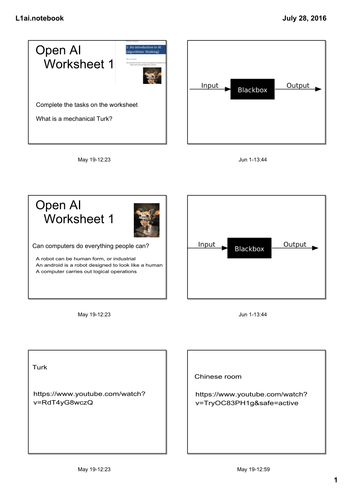 Covers Ai for key stage three. Lesson 1 - What are the limits of computing? Lesson 2 - Why do we need humans to do work (how Captcha works) Lesson 3 - Plagiarism and your own work Complete with worksheets, presentations and answer sheets.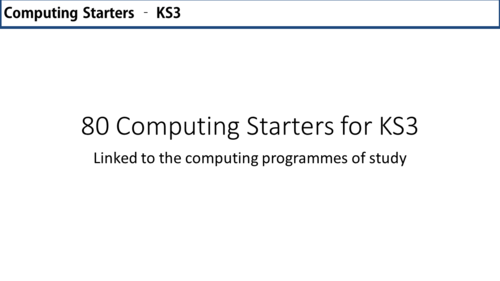 An incredible amount of generic starter ideas for KS3 computing lessons. They are aligned to the Computing programme of study for Key stage 3: offering you some ready-planned (no teacher time required) starters for your lessons. Generic starters are offered, as well as specialist starters covering the following topics: Computational abstractions Key algorithms Programming Boolean logic Hardware and software Instructions within a computer system Data storage Creative projects Digital artefacts E-Safety All designed to help you improve your practice, and are formatted for you and ready to go! This is also offered in the great value bundle KS3 Computing without the planning

More than 100 GCSE Chemistry multiple choice questions. One copy has no answers, one copy has the correct answer highlighted in bold. Possible uses include games, revision sessions and so on.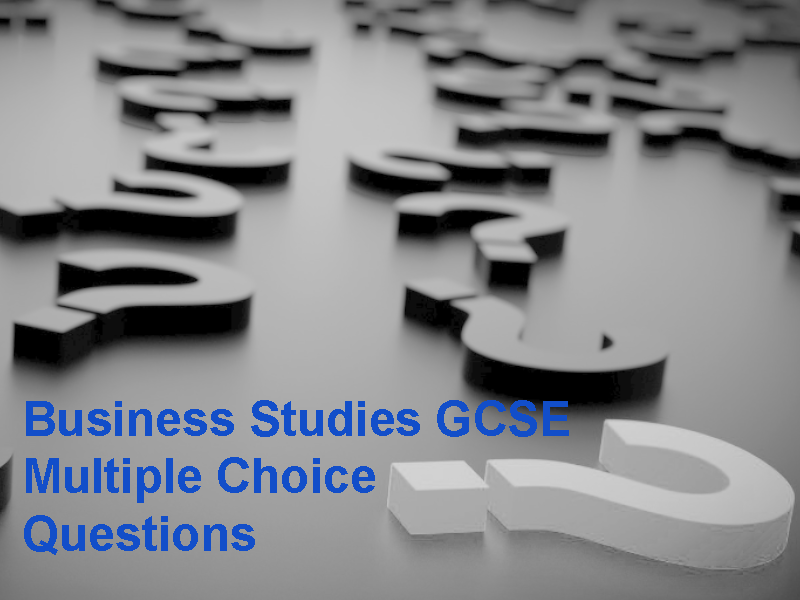 Over 100 multiple choice questions for EDEXCEL GCSE Business Studies (unit 1) Suitable for tests, games and lessons, Also definitions for both unit 1 and unit 3 for EDEXCEL GCSE Business Studies.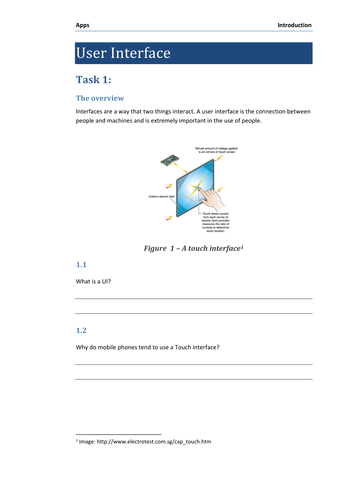 A session to teach students about user interfaces. Suitable for KS3 or KS4, and has an activity where they think about the features of a UI that will be suitable for a children's tablet.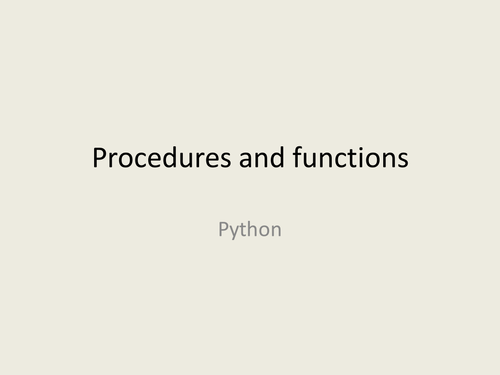 Teaches students about procedures and functions in Python. The full lesson includes booklet and homework. Practical session based around a 60 minute lesson. This resource uses Python version 3.x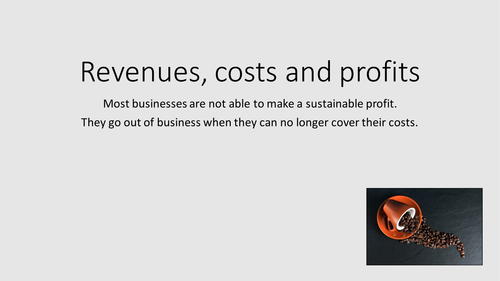 Material on Costs, Revenue and Profit Specification: GCSE Business for Edexcel (9-1) (1BS0) Part of 1.3.2 Business revenues, costs and profits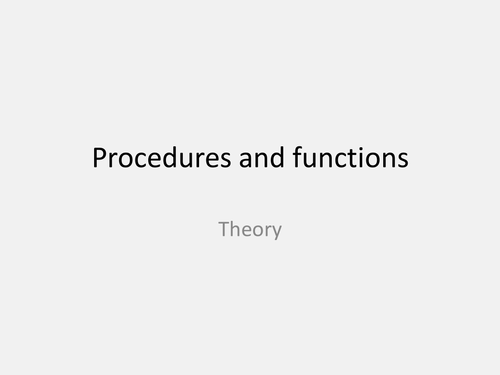 The full lesson includes worksheet, plenary and homework. This resource is not based on any particular programming language, so is applicable for any particular language you choose.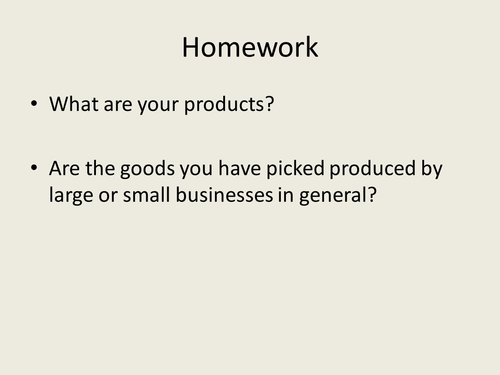 GCSE Business Studies exercise for types of organisation Split into several groups. Students write down the advantages and disadvantages of each organisational type. Students then share the results, and fill out the worksheet l5-Table-Types-of-business.docx

Designed for KS3 but easily altered to deliver to KS2 or KS4. The OECD announced that schools should teach people how to identify fake news. This assembly resource does just that. Contains video resources, slides and a script. It is recommended that teachers check the content of the script and the videos before delivering this season.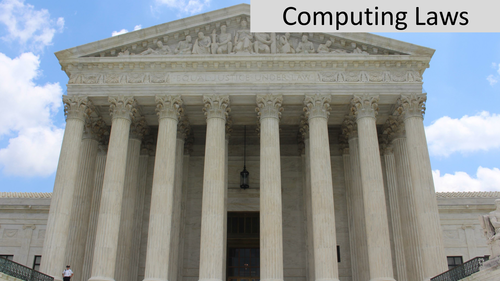 A 30 slide presentation covering everything needed to know about the - Data protection act Computer Misuse act Freedom of Information act Copyright, Designs and Patents Act Creative Commons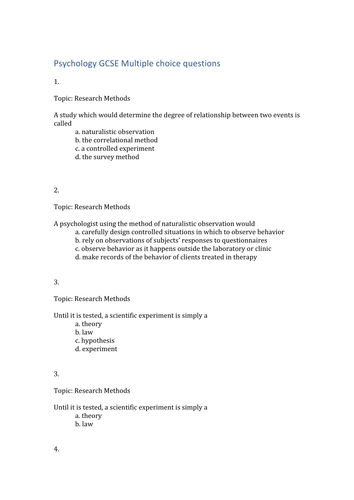 More than 100 GCSE Psychology multiple choice questions. One copy has no answers, one copy has the correct answer highlighted in bold. Possible uses include games, revision sessions and so on.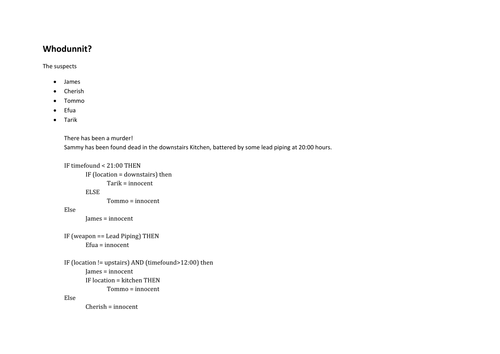 A programming task to teach about selection. I use this with Python, but it is not a language dependent task. Helpful for talking about indentation.

Heard of deep flakes? Face swapping of celebrities has become a thing online. But what does that mean for us? Do you students know about this? The KS3 resource stays away from the adult themes that are explored in the KS4 version, but do be aware that students may well be aware of the issues in swapping faces of celebrities online and may ask you about adult entertainment. Discretion is advised and you will know what your students are ready for and will be able to handle. Created to promote my ethical computing resources and . This resource is entirely free, but do look at my website if you have time, as any visits and feedback will help me to create other resources.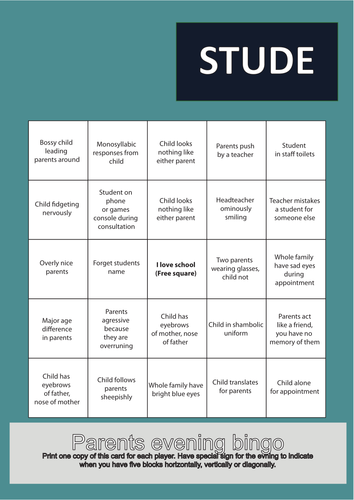 Guide to parents' evening in Word format. Also included is a fun bingo game to play with your colleagues, just the type of thing to wind down before that evening at work!