552Uploads
164k+Views
60k+Downloads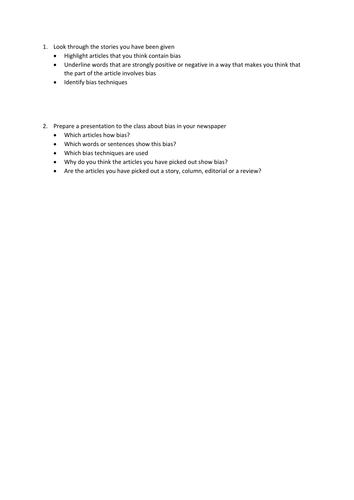 Before this lesson the teacher will need to do one of the following: Either give each group a physical newspaper, or print out the top 10 articles from BBC news, the guardian website, daily mail website etc. It is very effective to use relevant stories from a particular day or week, although students are seldom up to date with the news on a daily basis.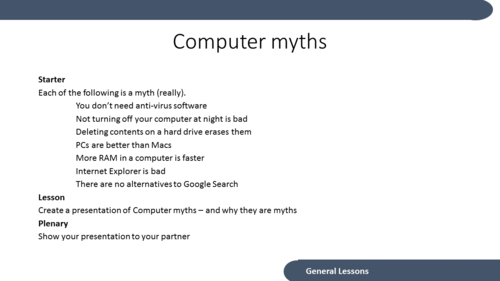 35 ideas (starter and plenary included) fully aligned to the KS3 curriculum. Sometimes we all need a little help with a lesson, or want something "out of the box" that can get going in seconds. These are outstanding ideas, and a full lesson can be built from them in minutes. Some are suitable for a few minutes, or can be used as mini-sessions within your lesson. The idea is to save you time with the least preparation time possible. Topics covered include: Computational abstractions Key algorithms Programming Boolean logic Hardware and software Instructions within a computer system Data storage Creative projects Digital artefacts E-Safety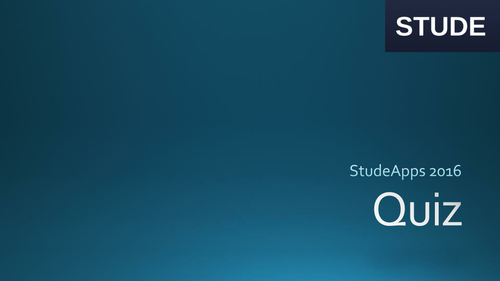 You can use this quiz as something at the end of a topic, or as an end of year quiz

HTML and CSS Computing KS3 Scheme of work + more! Full scheme of work plus end of term quiz

Fully resourced ice breaker games. Use these to help students introduce themselves to each other (and to you). There are 9 activities, some need no preparation, others need cards to be printed. You are free to pick and choose, but of course you can contact me for support if you need it. In order to use the App you would need to organise a set of iPad (or let student use or share iPhone or iPod as avaliable), but it is not essential to be used for the lesson.

Designed for KS3 or high ability KS2 in Citizenship, English or Tutor groups. Contains worksheet, presentation, quiz, activities, poster and quiz all within this wonderful bundler. Schools have become extremely interested in Fake news since the the OECD announcement instructing schools to teach students how to identify fake news. These lesson resources do just that, and more!

For the AQA GCSE 9-1 Specification, and also suitable for OCR J276. Designed as a revision carousel. Print out the worksheets before the session starts. The students can then move around the sections in groups. I run these as open book sessions and allow the students to revise / look up material on their phones / talk to try to solve the work as necessary. Moving around the stops You can tell the students that they have 10 minutes for each stop. If you pursue this strategy you can be flexible with the amount of time that the students have at each stop Work and then present Each section has quite an amount of sheets, and you could choose to put them all out and the students present what they have learnt after a 15-20 minute session. Alternatively, the students move around the stops, and at each one write on post-it notes any queries that they have. You could then address these at the end of the session.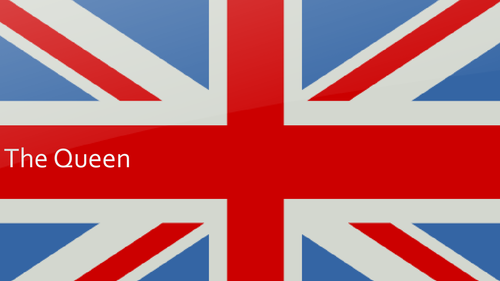 A presentation about the Queen for her Birthday, with 30 slides that could be used for an assembly or a tutor / information session. Designed for Key Stage 2. This assembly looks at - The Queen What the Queen does What the Queen likes This assembly has slides so you can add you own text, or remove/ add slides of your own. Each slide makes a simple point so that you don't need to learn a script.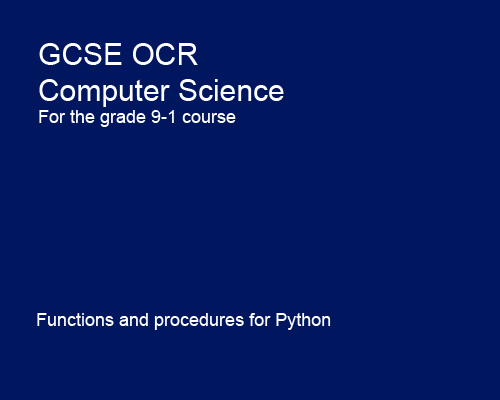 A complete bundle for OCR 9-1, introducing Python. Has both theory and practical lessons; could be spread over two, three or four lessons as suitable for your context.

A stand alone lesson designed for GCSE business studies covering the different intellectual property available to business, but would also be suitable for As and A2. Full worksheet and presentation is in this lesson.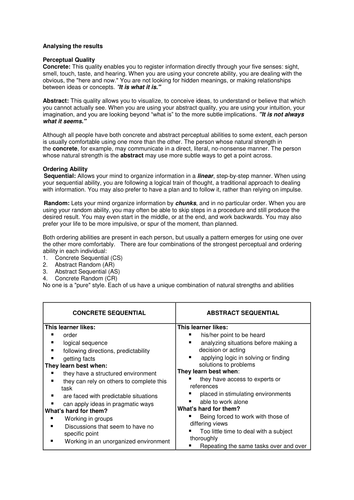 Personal thinking test - run through with your tutor group to see their results! I would recommend this for Late KS3, KS4 and above (although you could try it with younger students). So give out Personal thinking test, and get the students to answer the questions one by one. They then add uptake results. For fun they can then plot it on the grid (PersonalThinking.pdf). They can see which personality type they skew to. They explain the differences from PersonalThinkingTest.docx of give the students the sheet to read.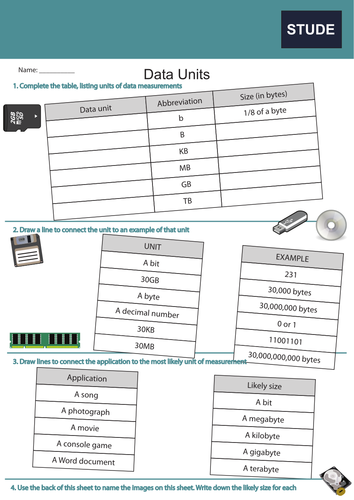 Suitable for KS3 or perhaps GCSE computing. Based around data units, contains both questions and answers.

Worksheets and active games for a fantastic full session. A full and interesting lesson. Worksheets, active learning games, extension tasks, this resource has it all! Designed for use with KS3 groups.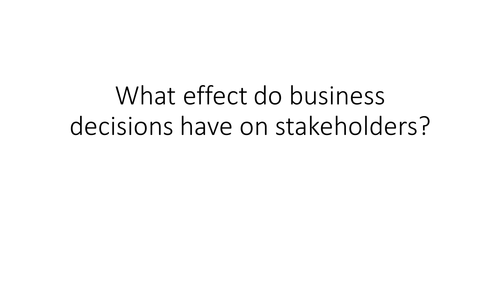 Material on the Stakeholders. Presentation with all the materials you need, ready to go. Specification: GCSE Business for Edexcel (9-1) (1BS0) Part of section 1.5.5 External influences

A PowerPoint presentation with over 100 ethical and legal debates for the Pearson Edexcel GCSE in Computer Science. Helps learners study the following specification reference: 1.8 Ethical, legal, cultural and environmental concerns. How to investigate and discuss Computer Science technologies while considering: - ethical issues - legal issues - cultural issues environmental issues. privacy issues. Written by subject specialists, with in depth debates that are relevant to students. Content covers AI, automation, gaming, privacy, hacking, security, cloud services, piracy, copyright, algorithms, emerging technology, wearable technology and more! The pack includes a voting card that you may choose to use for students to vote, or students can move from one side of the room to another. A great resource that can be used for starters or plenaries, and can also become the basis of an entire lesson.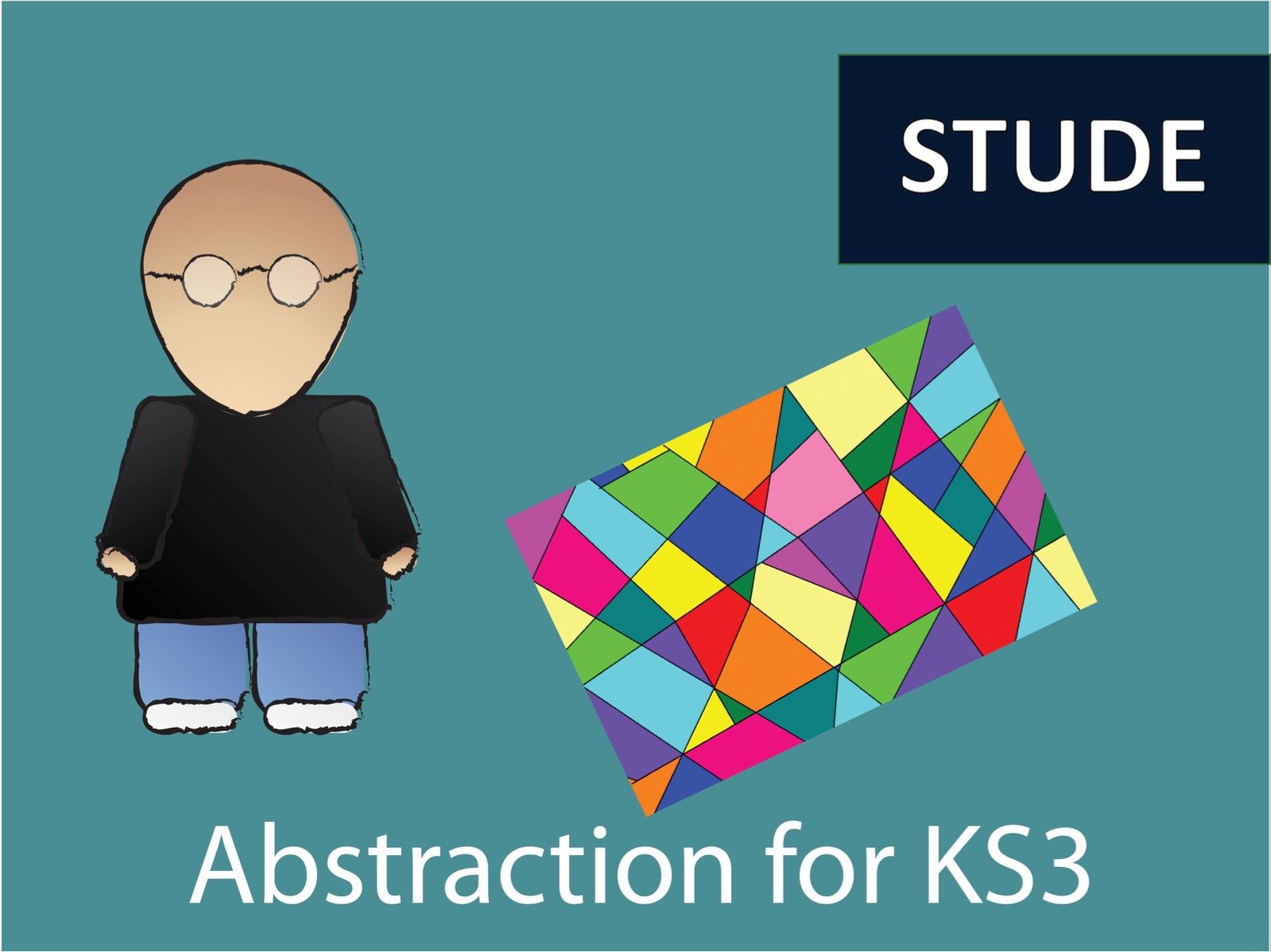 A fantastic set of resources. Abstraction is one of those topics where teachers may need a little extra help. Here are three resources that cut through what abstraction is and how students can really get to grips with this concept that is essential for computer science!

Dijkstra's Algorithm The way I would run this is to talk through the motivation for the algorithm from the presentation, and give the terminology worksheet to be filled in (answer in the presentation). We'd then work through the brute force worksheet. I might then run through the example, then give them the simple graph to fill in. Than we would work through TaskGraph1 for the graphs. Then I might get them to either code, or come up with graphs for them to solve in small groups or in pairs. Included: TPT presentation Labels to fill in worksheets to give structure for the students to fill in answers TaskGraph1 3 graphs to run Dijkstras on. AnswerGraph1 and 2 -answers for the graphs Brute force worksheet and brute force worksheet answers

A planned assembly for the topic of responsibility.

A lesson and presentation pack. The PowerPoint presentation contains 18 slides. There are a selection of accompanying worksheets Churchill's speech Diary European Map Activity Imagine activity Brainstorming activity Timeline activity Union Jack Activity These resources can be completed in class, or conceivably be sent electronically and completed at home.

19 different activities in this great pack! A selection of cover lessons and one off sessions. Suitable for non-subject specialists and experienced teachers alike. Some cover lessons are created for off the computer, some traditional computer room lessons and some a combination of the two! Contains classic puzzles, whole lessons, Excel lessons…the list goes on. Added resource for 2019 - Webquest. If you purchase this resource regularly check back for added resources and updates!