525Uploads
84k+Views
33k+Downloads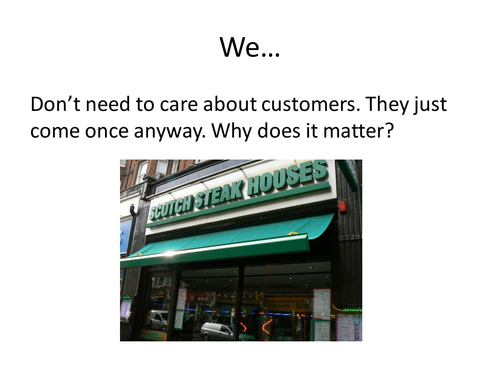 Material on Consumer Protection. Specification: GCSE Business for Edexcel (9-1) (1BS0) Part of section 1.5.3 Legislation and business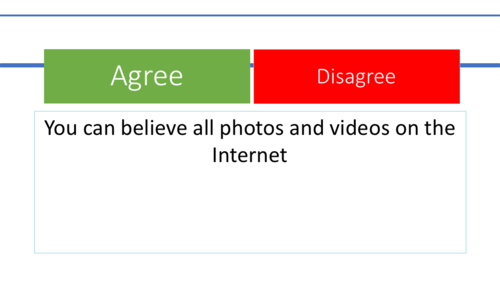 A PowerPoint presentation with over 100 ethical and legal debates for AQA Computer Science 9-1 (8520) Investigate and discuss Computer Science technologies while considering: ethical issues legal issues cultural issues environmental issues. privacy issues. Written by subject specialists, with in depth debates that are relevant to students. Content covers AI, automation, gaming, privacy, hacking, security, cloud services, piracy, copyright, algorithms, emerging technology, wearable technology and more! The pack includes a voting card that you may choose to use for students to vote, or students can move from one side of the room to another. A great resource that can be used for starters or plenaries, and can also become the basis of an entire lesson.
More than 80 GCSE Physics multiple choice questions. One copy has no answers, one copy has the correct answer highlighted in bold. Possible uses include games, revision sessions and so on.
Exercises, handout and presentation on the conditional subjunctive in German
Teaches the requirements for GCSE Computer science, and based around using Microsoft Access (database included) to execute SQL commands. 2.2 Programming techniques The use of SQL to search for data SELECT FROM WHERE LIKE AND OR wildcards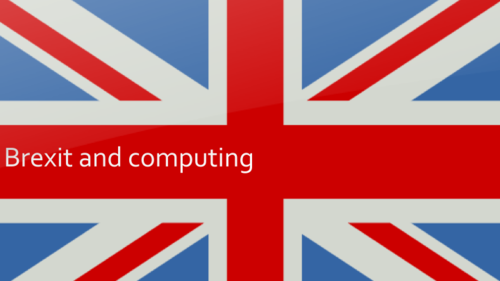 Computing teachers now have a resource for both British values and for ethical, legal, cultural and environmental concerns, related to Brexit and also teaching the Computer Science legislation required by courses. I would start students off with the pair work of News1 and News2 as a discussion task. You can then run through the presentation, and then there is a discussion tasks. Students take the worksheets (starting with Discussion in the file name) and then map the issues that Brexit might cause onto them. They can be provided with information about the various legislation that they need to study (Starting with FactSheet in the file name) OCR's GCSE Computer Science specification (9-1) J276 requires students to discuss Computer Science technologies while considering: Ethical issues Legal issues Cultural issues Environmental issues Privacy issues And legislation relevant to Computer Science: The Data Protection Act 1998 Computer Misuse Act 1990 Copyright Designs and Patents Act 1988 Creative Commons Licensing Freedom of Information Act 2000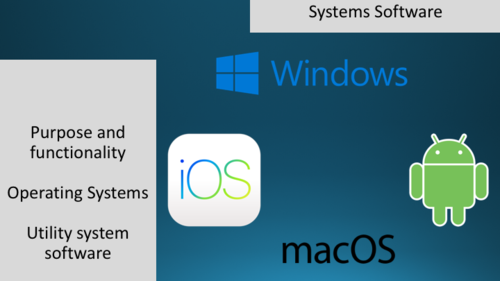 Designed for AQA Computer Science (9-1) 8520 but is more than useful for Computer Science students. Contains a PowerPoint presentation, and three worksheets to help you deliver the content in the specification. Specification reference 3.4.3: Software classification Understand the need for, and functions of, operating systems (OS) and utility programs. Understand that the OS handles management of the: • processor(s) • memory • I/O devices • applications • security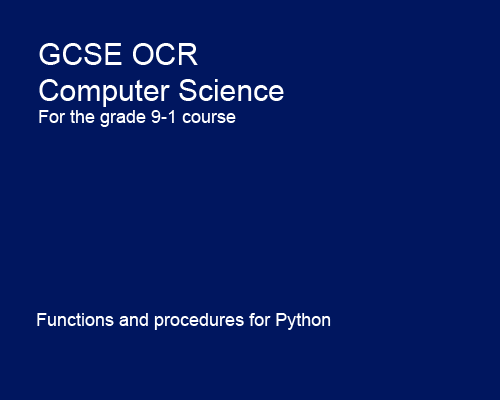 A complete bundle for OCR 9-1, introducing Python. Has both theory and practical lessons; could be spread over two, three or four lessons as suitable for your context.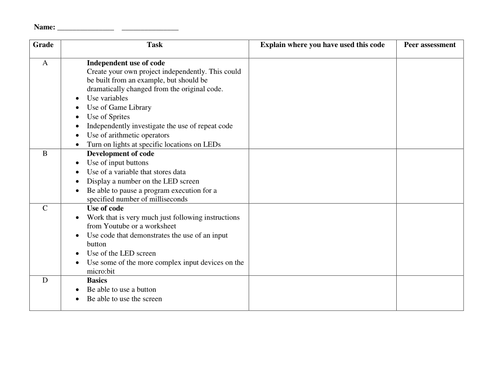 Three lesson scheme of work for KS3 Each lesson has video support
More than 90 A Level Biology multiple choice questions. One copy has no answers, one copy has the correct answer highlighted in bold. Possible uses include games, revision sessions and so on.

Students learn about how installing Apps onto mobile phones needs some consideration. Learning objectives: o Be aware that Apps from alternative sources may not be safe o Understand that you exchange some element of privacy in exchange for using Apps on a phone The narrative flow of the lesson follows the following: • How malware is installed on computers • How malware is social engineering - making people install Pokémon go from other sources is dangerous • Pokémon Go is actually known as malware for some people! • Pokémon Go was just the type of App that people were excited to get they would take risks for: but was this worth it?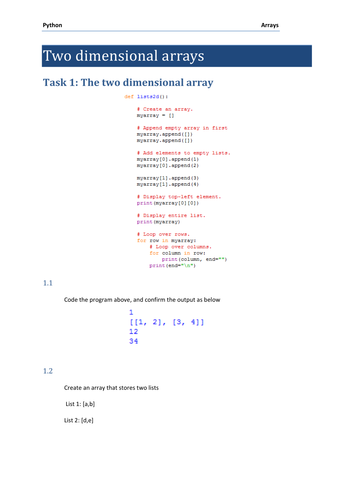 Teaches students about two dimenstional arrays (lists). The full lesson includes booklet and homework. Practical session based around a 60 minute lesson. This resource uses Python version 3.4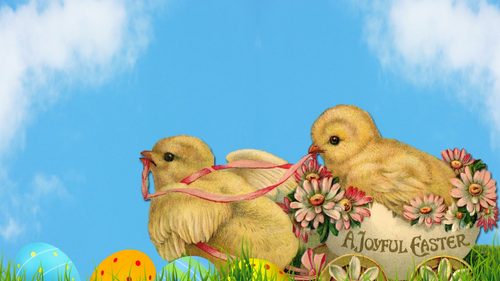 Students find who kidnapped Mavis! Complete a range of two step equations.  Complete with sheet and answer key to solving the problem!
A whole class quiz specifically designed for groups that are taking OCR computing 9-1 (J276), although will also be suitable for other specifications. Contains both seasonal questions and computing revision questions (aligned to the specification). Contains 8 rounds and more than 50 questions. Print out the answer sheets (either one per student or one per team) and run through the quiz on the whiteboard. The answers are provided on the EasterendofYearGCSEQuizQuestions.docx. Any problems, please do contact me through www.studeapps.com/contact or if you're happy please do spend the time to leave me a review.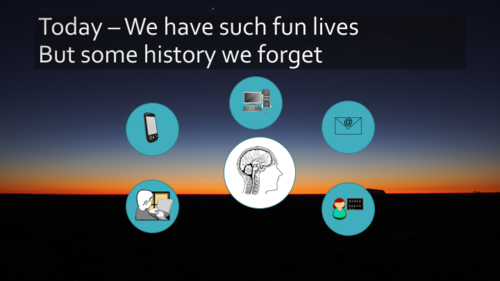 A presentation about Anzac day with 20 slides that could be used for an assembly or a tutor / information session. This assembly looks at - The origins of Anzac Day How Anzac Day is commemorated Anzac Day around the world This assembly has slides so you can add you own text, or remove/ add slides of your own. Each slide makes a simple point so that you don't need to learn a script.
A full bundle including Assembly resource A huge number of worksheets Wordsearch Posters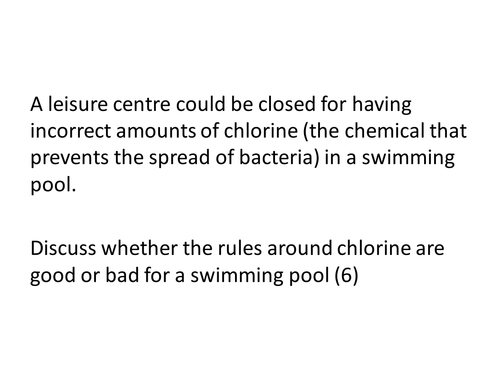 Presentation covering impact of the Government and the EU
Designed for KS3 but can be easily adjusted for KS4 groups. Contains worksheet, presentation, mini-quiz, activities and more! The OECD announced that schools should teach people how to identify fake news. This computing lesson resource does just that.
AS Level Business Studies multiple choice questions. One copy has no answers, one copy has the correct answer highlighted in bold. Possible uses include games, revision sessions and so on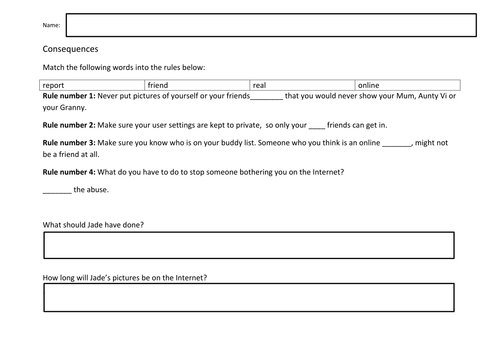 Full lesson including lesson plan for the dangers of social media (KS3). Fixed problem with first video.