530Uploads
98k+Views
36k+Downloads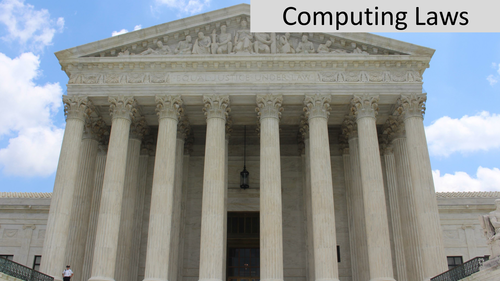 A 30 slide presentation covering everything needed to know about the - Data protection act Computer Misuse act Freedom of Information act Copyright, Designs and Patents Act Creative Commons

Test definitions with this great game in a "blockbusters" style. Full interactive resource (it uses PowerPoint) and questions. Fantastic!

Overview of nominative, accusative & dative cases in German including cases charts for students to memorize and work on from home.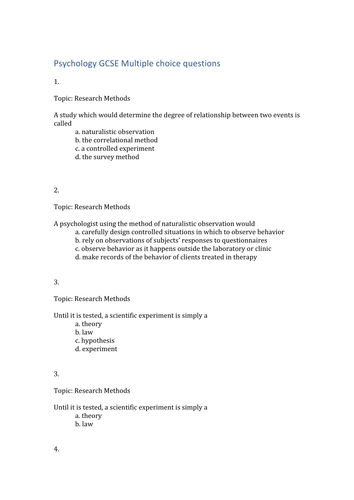 More than 100 GCSE Psychology multiple choice questions. One copy has no answers, one copy has the correct answer highlighted in bold. Possible uses include games, revision sessions and so on.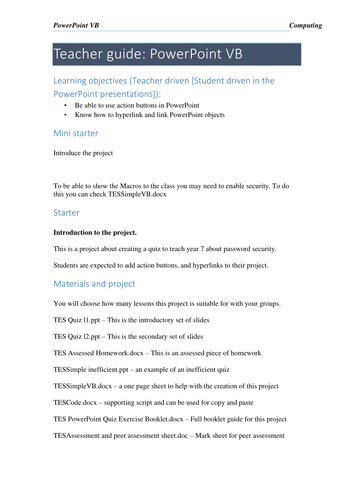 A project for Microsoft PowerPoint that teaches Visual Basic by allowing students to create an interactive quiz. A great hit with students and teachers alike! Full project including assessed homework, assessment sheet and full guide.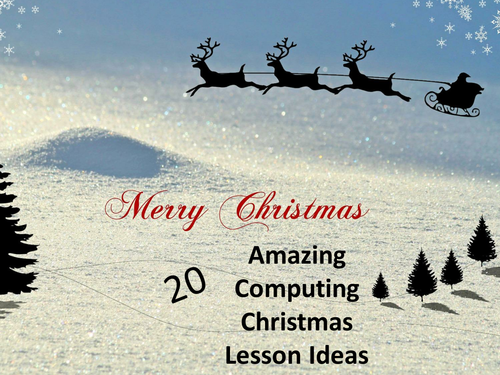 20 ideas that encompass the Computing Programmes of study for KS3. Some of these ideas are really great, and a full lesson can be built from them, some are suitable as starters or fun mini-sessions within your lesson. Headings: Decorate a Christmas Tree Christmas Myths Create a spreadsheet model A Christmas story in 2016 PowerPoint 12 days of Christmas Cost Create a poster Programming – 12 days of Christmas song 12 days of Christmas – presents programming Celebrations around the world Sorting Bitmaps Photoshop Programming Create Solving problems Naughty or nice Abstraction Reindeer Puzzle Just for fun…

Designed for Edexcel. A unit with resources for all of the following; a) Introduction to Customer Needs b) Stock Control c) Design and R and D d) Quality e) Competitiveness f) Customer Service g) Consumer Protection Laws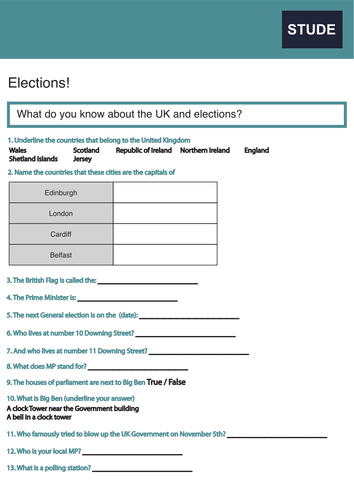 British Prime Minister Theresa May called a General Election for 8th June 2017. This web quest, suitable for KS2 and KS3 is a great way to have a discussion, or for you to use up those few extra minutes in a computer room.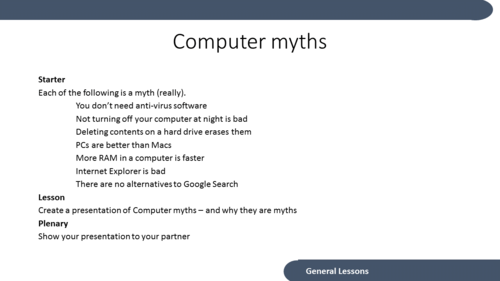 35 ideas (starter and plenary included) fully aligned to the KS3 curriculum. Some ideas are really great, and a full lesson can be built from them in minutes. Some are suitable for a few minutes, or can be used as mini-sessions within your lesson. The idea is to save you time with the least preparation time possible. Topics covered: Computational abstractions Key algorithms Programming Boolean logic Hardware and software Instructions within a computer system Data storage Creative projects Digital artefacts E-Safety

19 different activities in this great pack! A selection of cover lessons and one off sessions. Suitable for non-subject specialists and experienced teachers alike. Some cover lessons are created for off the computer, some traditional computer room lessons and some a combination of the two!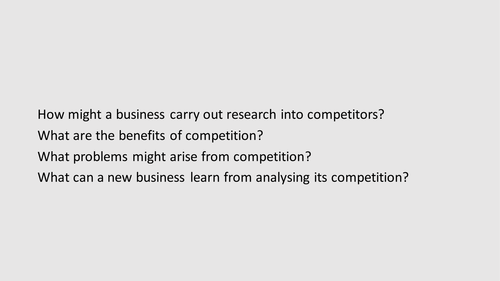 The competitive environment Specification: GCSE Business for Edexcel (9-1) (1BS0) 1.2.4 Competitive environment

A complete resource pack for respect and diversity in the KS3 classroom. Created to teach the following objectives: Investigate respect and what it means, and why it is important Be able to distinguish between respectful and disrespectful behaviour Learn to respect the differences between people Know that a great way to deliver self-respect is to behave in a way that makes them feel good about themselves They are responsible for their own behaviour, and that respect begins with ones self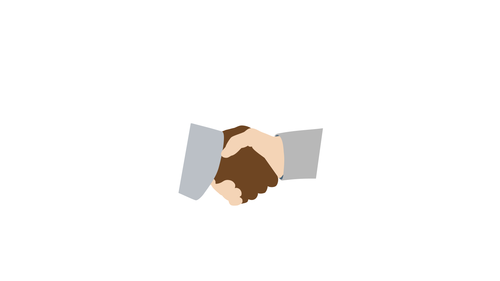 Designed for KS3 but easily modified to deliver to KS2 or KS4. After recent events, it is more important than ever for our students to respect both themselves and each other. This is more than just discipline and liking other people. This is about respecting difference and diversity in every context that we encounter. This assembly helps you to deliver just that.

Designed for KS3 or high ability KS2 in Citizenship, English or Tutor groups. Contains worksheet, presentation, quiz, activities, poster and quiz all within this wonderful bundler. Schools have become extremely interested in Fake news since the the OECD announcement instructing schools to teach students how to identify fake news. These lesson resources do just that, and more!

Looking for a quick activity to do? Use this! Remember to follow StudeApps on Twitter or through tes for more free resources!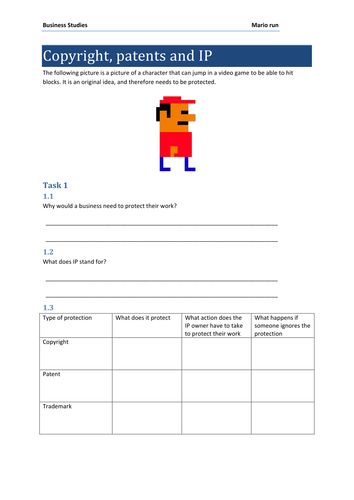 A stand alone lesson designed for GCSE business studies covering the different intellectual property available to business, but would also be suitable for As and A2. Full worksheet and presentation is in this lesson.

94 Computer science challenge cards that can be used to extend students. Designed for GCSE Computer Science OCR (9-1) J276 and is suitable for any programming language These cards are based on the topics that are examined in GCSE Computer science as end of class plenaries, extension tasks or flipped homework tasks. Designed for OCR GCSE (9-1) J276. Topics covered: 1.1 Systems architecture 1.2 Memory 1.3 Storage 1.4 Wired and wireless networks 1.5 Network topologies, protocols and layers 1.6 System security 1.7 Systems software 1.8 Ethical, legal, cultural and environmental concerns 2.1 Algorithms 2.2 Programming techniques 2.3 Producing robust programs 2.4 Computational logic 2.5 Translators and facilities of languages 2.6 Data representation This is also offered in the great value bundle KS3 Computing without the planning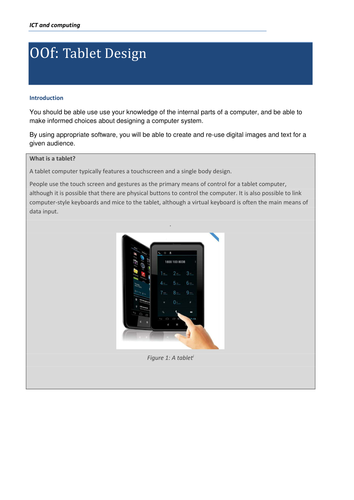 Tablet Design cover lesson - suitable for computing courses from KS3 to KS4