525Uploads
80k+Views
31k+Downloads
Designed for KS3 or high ability KS2 in Citizenship, English or Tutor groups. Contains worksheet, presentation, quiz, activities and more! The OECD announced that schools should teach people how to identify fake news. This lesson resource does just that.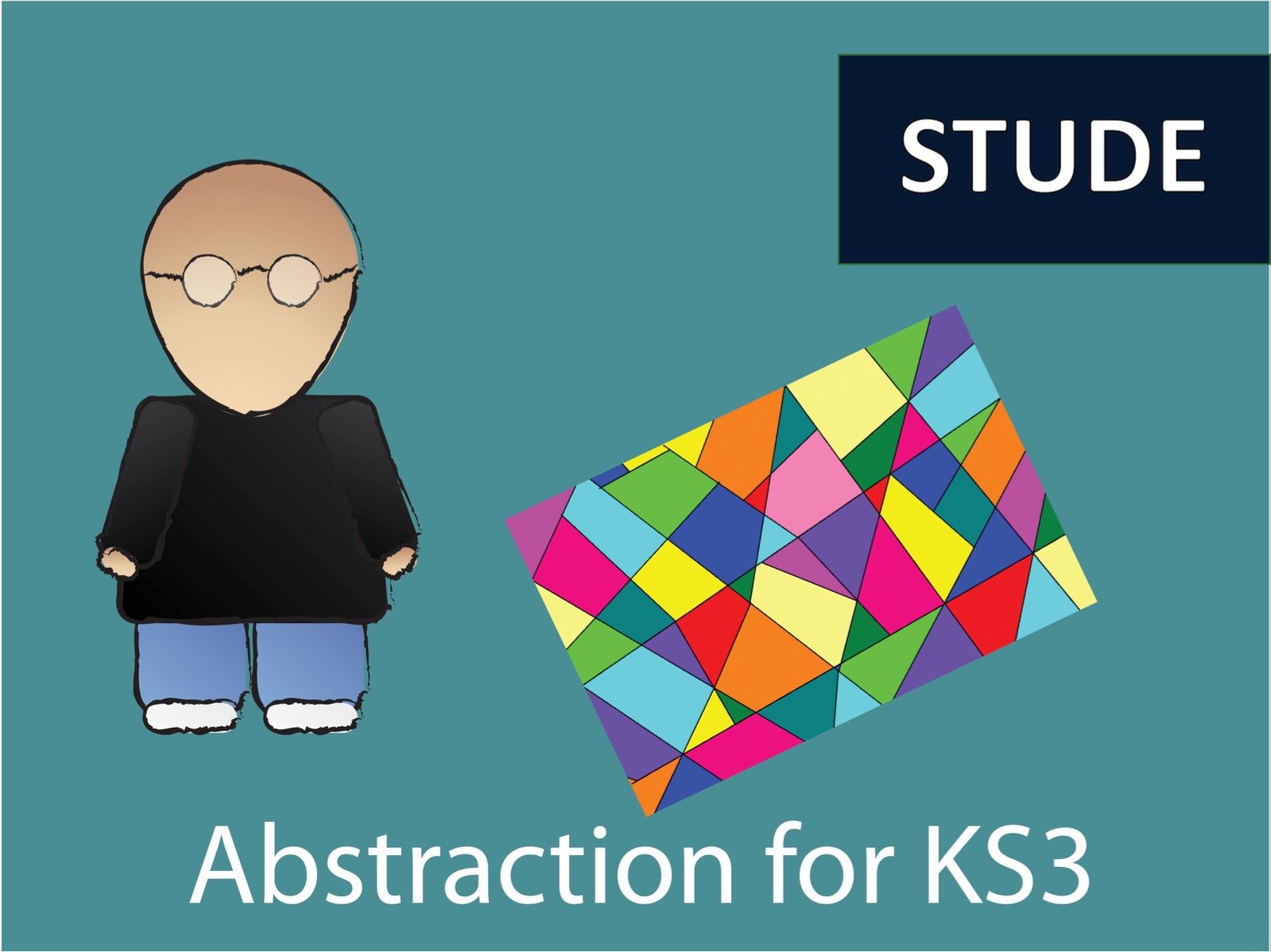 A fantastic set of resources. Abstraction is one of those topics where teachers may need a little extra help. Here are three resources that cut through what abstraction is and how students can really get to grips with this concept.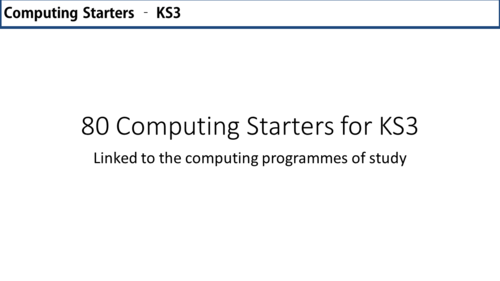 An incredible amount of generic starter ideas for KS3 computing lessons. They are aligned to the Computing programme of study for Key stage 3: offering you some ready-planned (no teacher time required) starters for your lessons. Generic starters are offered, as well as specialist starters covering the following topics: Computational abstractions Key algorithms Programming Boolean logic Hardware and software Instructions within a computer system Data storage Creative projects Digital artefacts E-Safety All designed to help you improve your practice, and are formatted for you and ready to go! This is also offered in the great value bundle KS3 Computing without the planning
A PowerPoint presentation with over 100 ethical and legal debates for the Pearson Edexcel GCSE in Computer Science. Helps learners study the following specification reference: 1.8 Ethical, legal, cultural and environmental concerns. How to investigate and discuss Computer Science technologies while considering: - ethical issues - legal issues - cultural issues environmental issues. privacy issues. Written by subject specialists, with in depth debates that are relevant to students. Content covers AI, automation, gaming, privacy, hacking, security, cloud services, piracy, copyright, algorithms, emerging technology, wearable technology and more! The pack includes a voting card that you may choose to use for students to vote, or students can move from one side of the room to another. A great resource that can be used for starters or plenaries, and can also become the basis of an entire lesson.
94 Computer science challenge cards that can be used to extend students. Designed for GCSE Computer Science OCR (9-1) J276 and is suitable for any programming language These cards are based on the topics that are examined in GCSE Computer science as end of class plenaries, extension tasks or flipped homework tasks. Designed for OCR GCSE (9-1) J276. Topics covered: 1.1 Systems architecture 1.2 Memory 1.3 Storage 1.4 Wired and wireless networks 1.5 Network topologies, protocols and layers 1.6 System security 1.7 Systems software 1.8 Ethical, legal, cultural and environmental concerns 2.1 Algorithms 2.2 Programming techniques 2.3 Producing robust programs 2.4 Computational logic 2.5 Translators and facilities of languages 2.6 Data representation This is also offered in the great value bundle KS3 Computing without the planning
Lesson that links regular expressions to text correction in mobile phones: makes Regular Expressions relevant to your students! This lesson gives a series of graded exercises for students. Suitable for KS3 and is great preparation for students likely to study Computer Science, a booster session or a standard class.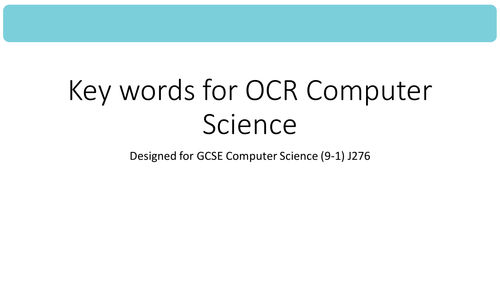 Designed for Designed for OCR GCSE Computer Science (9-1) J276. Contains 45 Key words. Featured as part of a great time saving bundle: GCSE Computer Science for OCR (9-1) J276 lessons without the planning.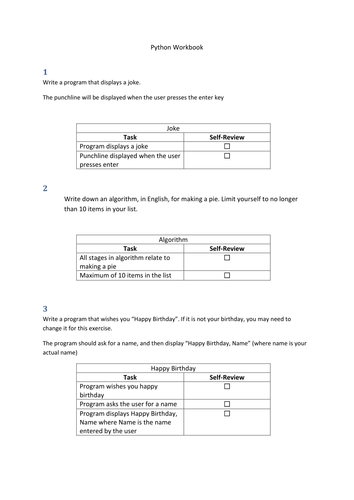 A series of 12 challenges for your classes. All are chosen as being applicable to beginner Python classes.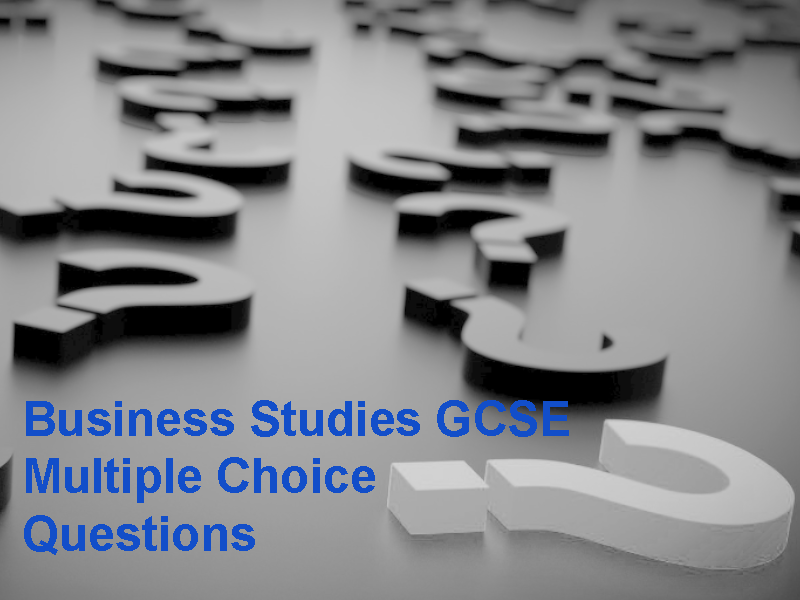 Over 100 multiple choice questions for EDEXCEL GCSE Business Studies (unit 1) Suitable for tests, games and lessons, Also definitions for both unit 1 and unit 3 for EDEXCEL GCSE Business Studies.
Great KS3 bundle with Schemes of work and displays.
Worksheets and active games for a fantastic full session. Designed for use with KS3 groups.
A lesson for valentines day. A fully resourced lesson using the turtle in Python based around a fun valentines day challenge. Full resources (teacher presentation, tasks, differentiated worksheets) and mapped to both the KS3 curriculum and GCSE OCR specification (extension and further tasks ensure that this is suitable for both).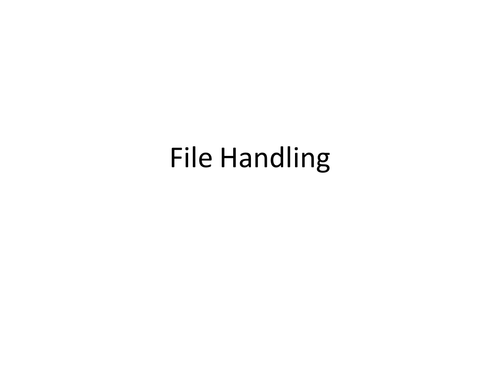 Teaches students about basic file handing including the basic operations; open, read and write. The full lesson includes booklet and homework. Practical session based around a 60 minute lesson. This resource uses Python version 3.4
Full unit of work created for Edexcel GCSE Business Studies 1.1 - Spotting a business opportunity Contains the following lessons Introduction to business Types of business Liability Sole traders Limited and Public Limited companies Franchises Customer needs Market mapping and analysing markets Analysing Competitors Adding Value Location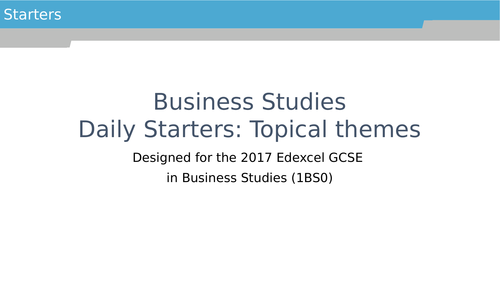 125 slides that give ideas for starters for events throughout the year. They are organised into the following topics: 1.1 Enterprise and entrepreneurship 1.2 Spotting a business opportunity 1.3 Putting a business idea into practice 1.4 Making the business effective 1.5 Understanding external influences on business Each subtopic has the reference to the syllabus.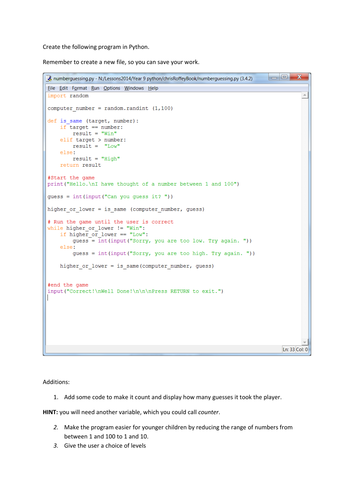 Simple number guessing game for Python 3. The starter code is in the Word document, giving support to all learners.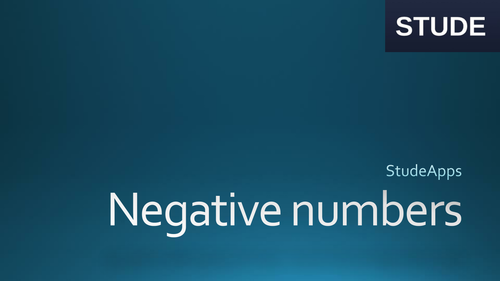 Lesson presentation covering positive and negative numbers, a homework and lesson activities